Dilraba Dilmurat recently shared a group picture with Vengo Gao, Yang Mi and Wang Xiao. With the exception of Yang Mi, the three are busy filming their new drama
Three Lives Three Worlds The Pillow Book
 三生三世枕上书 in Hengdian World Studios. Now that Yang Mi has joined them, the group apparently has a big secret that they're not telling. Can we presume that it's a cameo!?
Let's piece together a few more clues from their chat.
Dilireba: Gugu has come, Jaywalk Studio family meeting me me da @YangMi @WangXiao @VengoGao
Yang Mi:
So happy. At this moment, we need @LeonZhang. The reason, I'm not telling.
Leon Zhang: Heaven knows, earth knows, you know, we know. 
Yuan Yuxuan: What do you guys think? 
Wayne Liu Ruilin: I think the three of us need to be photoshopped into the picture. 
Yuan Yuxuan: I think that works, Dijun can you arrange it? 
Vengo Gao: Of course. 
Wang Xiao: Secret spy of the palace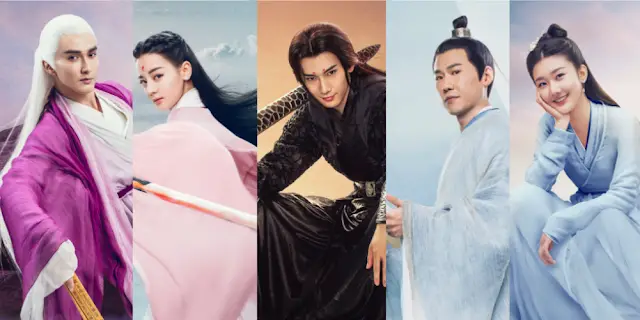 It looks like that's quite a possibility with Xuan Yuan Sword star Leon Zhang Yunlong being a bonus addition. Can we hope that Mark Chao will reprise his role too? Either Mo Yuan or Yehua will do.