The drama plaguing Ashes of Love
香蜜沉沉烬如霜
 on and off screen seems to be nonstop as there's always something to report in recent days. How much of it are rumors is getting hard to weed out.
Today, there was an alleged private chat from one of the show's screenwriters, Zhang Yuanang, where she says that many things were indeed changed in the drama without their knowledge. It was only after the show premiered that she realized the episodes were extended from 43 to 60. While the veracity of this has yet to be be confirmed, it's quite clear that the lack of focus on Deng Lun as the leading man has caused quite a stir online.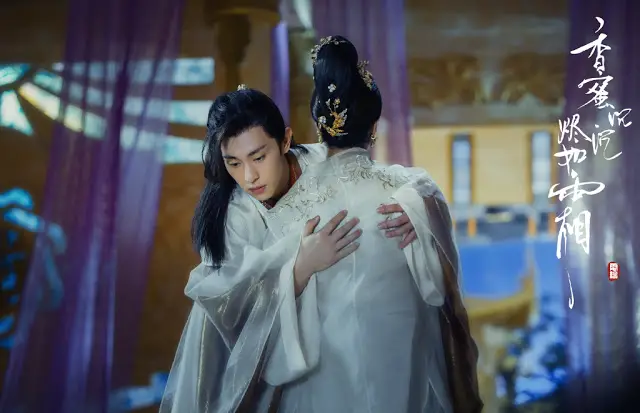 In recent episodes, it's not the God of War that we see but a man in love who's caught in between everything that's gone wrong with his life. He seems to be constantly in a reactionary role while
 the rest of the characters get their stories fleshed out. 
Believe it or not, I actually enjoyed the side story between the Demon Princess and Mu Ci. It's due to spillover love from seeing both in their previous dramas Princess Weiyoung and Siege in Fog, but their story has turned into an endless cycle about saving Mu Ci, which feels rather redundant.  
Production seems to be acknowledging
 the issues and a letter written by Head Writer Ma Jia was recently shared on the show's official weibo page. 
Ma Jia explains that Heavy Sweetness is a story that revolves around the heroine Jin Mi – her perspective on love, how she has grown to learn about love and find love herself. Heavy Sweetness has a vast world and every character is very important. There are supporting characters that are given more focus in some stages which has caused dispute among some viewers. This is really something that they, the creative team, pay attention to introspectively and they will take it as a lesson for the next drama. 
Ma Jia also explains that as a whole, the female and male lead's screentime exceed other characters, but because recent developments focused on certain storylines, it has caused viewers to feel that the leads were being overshadowed. In the episodes to come, there will be many big scenes between the two leads. Here's where it gets a bit spoilery so proceed at your own risk. 
According to Ma Jia, these scenes will be coming up: 
'Xu Feng stopping the wedding in the Heavenly Realm', 'Jin Mi sacrifices herself to save Xu Feng', 'Xu Feng's rebirth as a demon', 'Heart-wrenching developments', 'Big wedding in the Demon Realm', 'Jin Mi turning into Xu Feng's tear', etc. 
Ma Jia ends by thanking viewers for their time and hoping that everyone can continue to watch patiently. 
Given how things worked out, it appears that Leo Luo Yunxi who has garnered quite a fanbase due to exposure from the drama as the second lead has also had to deal with the downside of facing backlash. 
His studio released a statement today to defend the actor. 
"A piece of work that is a combination of everyone's effort shouldn't be stained by those who mean to incite conflict. Actors who perform with their hearts shouldn't be the subject of rumors for no reason. As of August 23, 2018, legal action is being taken on the slanderous remarks and personal attacks against 
Leo Luo Yunxi
. Rumors should end with those who are wise. Hope that everyone can distinguish the truth and stop believing in rumors. We believe that the production will give fair explanation.