Ruyi's Royal Love in the Palace
and 
Story of Yanxi Palace
 are two dramas currently airing that are about Emperor Qianlong and his inner court. The story is told from very different perspectives with the heroine in one playing the villain in the other. 
If we're keeping count, the story actually goes back further than that as the 
family ancestry of Emperor Qianlong would have started with his father, Emperor 
Yongzheng
. 
Do you remember 
Nicky Wu
 in 
Scarlet Heart
? He played the 4th Prince who later became Emperor
 Yongzheng
.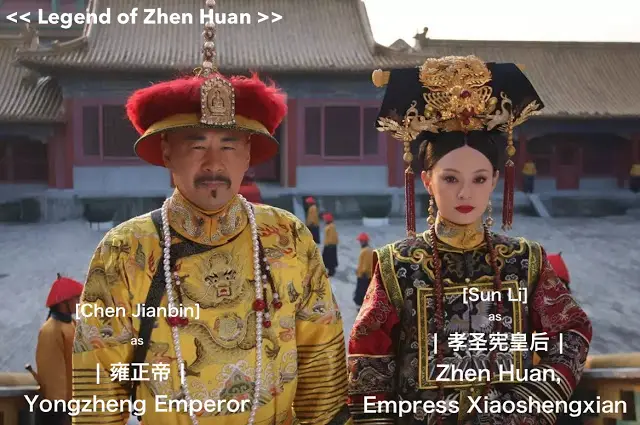 In the same year that Scarlet Heart came out in 2011, Legend of Zhen Huan was released with Chen Jianbin playing 
Emperor Yongzheng and Sun Li playing Zhen Huan who will eventually become Empress Xiaoshengxian. 
In her older years, she will be the Empress Dowager in Ruyi's Royal Love in the Palace, Story of Yanxi Palace and Lao Fo Ye in My Fair Princess. 
It's funny since My Fair Princess is the oldest among the three since it first aired in 1998. In the photo, you can actually see the physical similarities in the actresses playing the part and you can imagine the character growing older in front of your eyes. 
Zhen Huan's adopted son is none other than Emperor Qianlong. He's the trending topic now due to two dramas centered around the character, played by Wallace Huo and Nie Yuan. 
Qianlong's first empress, Fu Cha, is played by Dong Jie and Qin Lan.
Qianlong's second wife, Ulanara, the Step Empress, is played by Zhou Xun and Charmaine Sheh. 
Ruyi's Royal Love in the Palace
 portrays her as the main character while in
 the other, she's a villain. 
She was the hated villain 20 years ago too when
Dai Chunrong
played the Empress in 
My Fair Princess
. 

Qianlong's 3rd Empress, the Imperial Noble Consort, is played by Li Chun and Wu Jinyan. Wu Jinyan has skyrocketed in fame as the main character in
Story of Yanxi Palace. 
She is also portrayed as a good person
when Chen Li played Ling Fei 
in 
My Fair Princess
.
Of course, it's not a proper imperial drama without the royal consorts. Here are the rest of the ladies from both dramas –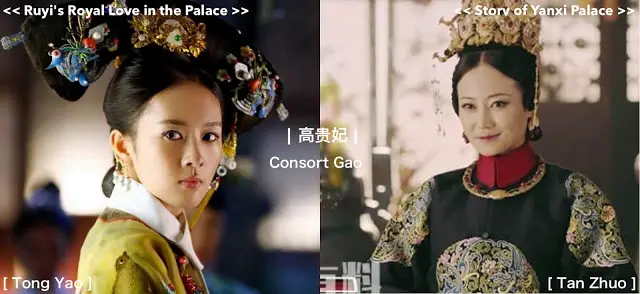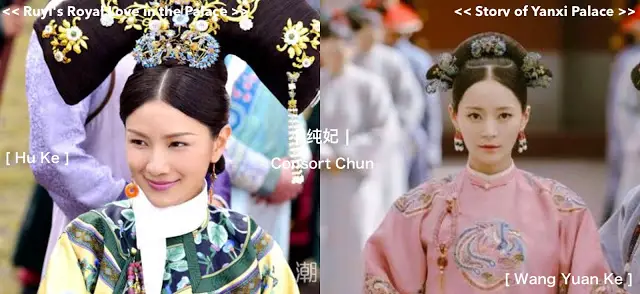 I personally like the choice of actresses playing the consorts in Ruyi's Royal Love in the Palace. I guess they look to be closer in age and somewhat alike so it gives the impression that Emperor Qianlong has a certain type which makes it more realistic.
However, I like the actresses who play the three Empresses in 
Story of Yanxi Palace
. They seem more regal than their counterparts in
Ruyi
.
I don't know. It's just my opinion. What's yours?
To wrap it up, Emperor Qianlong, played by Zhang Tielin, had kids which paved the way for the
 1998 TV series
My Fair Princess
. Looking at Fan Bingbing, Ruby Lin, Zhao Wei and Alec Su, this was so long ago!