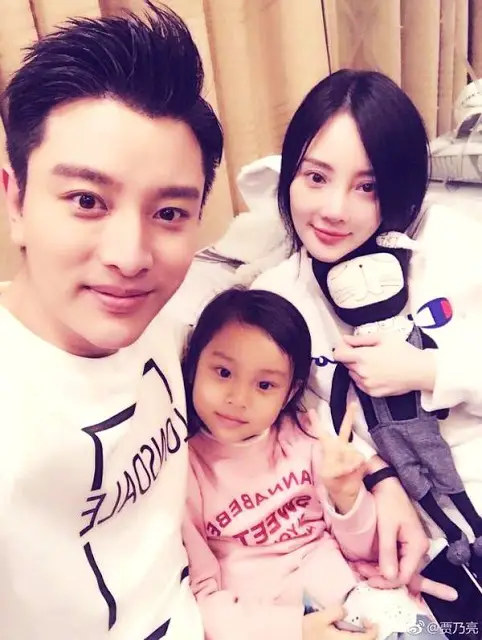 Jia Nailiang and Li Xiao Lu got married in 2012 and had their daughter, Tian Xin, in the same year.  Fast forward 6 years and the couple are embroiled in what I would say was the biggest cheating scandal of the year. 
Just as 2017 was about to end, China's #1 paparazzi, Zhuo Wei, broke the internet with photos of 
Li Xiao Lu
 leaving the Beijing home of young rapper, PG One, in the middle of the night. 
PG One
 and 
Li Xiao Lu
 did damage control and both issued statements that they are only friends and had a business meeting though it might seem uncommon since it was in the middle of the night.
Jia Nailiang
 released a statement early January requesting for space and privacy while he and his family deal with the issue but shortly after, 
Jia Nailiang
 was seen moving out of their shared residence. He allegedly brought with him his luxury cars except the Bentley that was caught in the photo that his wife, 
Li Xiao Lu
, used to meet with PG One. 
The couple has yet to confirm the real status of their relationship but even though they have since stayed out of the spotlight, every action by the family whether it's him, his wife or his daughter innocently going about their lives is being plastered in the news for the public to see. The last straw was when pictures of him and his daughter on the playground made it to the internet after his request to not post them. Last week, 
Jia Nailiang
 broke his silence with a new request for privacy.
In his statement, he expressed his gratitude for the support the fans have shown to him and his family. He added that he's been out working for the past half year since the scandal broke and that he is requesting for more people to respect their privacy because the constant presence in the news hurts him and his family. He wants this more for his daughter to grow up in a normal and healthy environment and he is asking for people to help him make this possible. He also said that Lu Lu (his wife) is trying her best to become a responsible and good mother to her daughter. 
I think his request his reasonable. 
I do wish them the best of luck and I hope that they can work something out for the sake of their daughter.