The feud between Shan Cai and Dao Mingsi is escalating. Or is it the love between them that is escalating? Or will it be Lei and Shan Cai's love story in episode two? If this was a race to win Shan Cai's heart, it certainly looks like Lei has already won.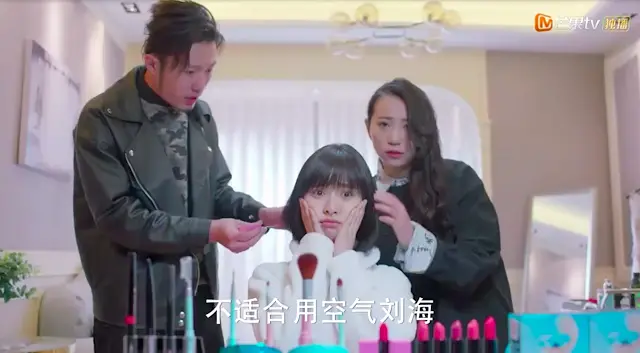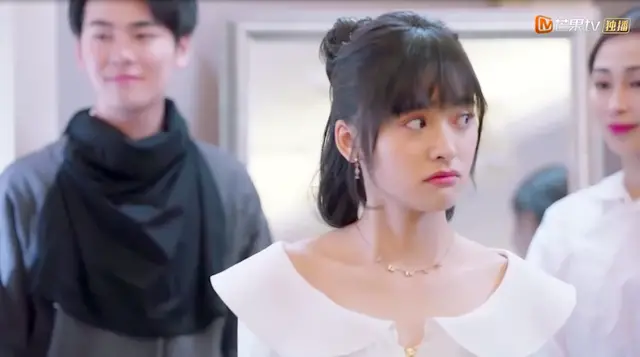 The classic makeover. After knocking out Dao Mingsi with one kick that has made her infamous through the entire school, Shan Cai is puzzled when 
two men in suits extend her with an invitation to Dao Mingsi's mansion. She wonders if it's a trick since the men claim that Dao Mingsi is ready to apologize, but she gets in the car anyway.  Upon her arrival, an army of stylists flock to her and after much poking and scrubbing against her will, Shan Cai emerges all made up in a cute outfit. 
I can let you you be my woman. Dao Mingsi takes the crown as the guy who is truly full of himself as he asks Shan Cai to be his girlfriend in the most unromantic
 way. He thinks that he is being magnanimous in allowing her to stand one meter behind him at all times and sit together with him during mealtimes. 
I do not know how other girls will react if someone courted them this way, but Shan Cai is definitely not the type to submit to this nonsense. She takes off the heels that the stylists made her wear earlier, throws it at Dao Mingsi and walks away. 
That one member of F4 who is not like the rest. Lei and Ximen Yan stop by the milk tea store where Shan Cai and Xiao You work. Shan Cai's burgeoning crush on Lei becomes apparent when she can't stop staring at him. Ximen gets to meet Xiao You for the first time, introducing what would be our second couple pairing. 
The Kiss. It's hard enough to accept when your crush has another crush, what more when he confuses you by suddenly giving you a kiss on the cheek.
Shan Cai learns about Jing 
— the woman that Lei is in love with.
When your longtime crush returns. Jing returns from Paris and gives all the members of F4 a warm hug. She leaves Lei for last and tells him that she missed him. Shan Cai sees how happy Lei is and acknowledges that Jing is clearly on another league.
Another joker card is dealt. Dao Mingsi grows increasingly jealous of Shan Cai's friendship with Chen Qinghe. Chen Qinghe opens his locker to find a joker card waiting for him, which means that the F4 are challenging him to play a game of bridge. Shan Cai immediately confronts Dao Mingsi for his immature behavior.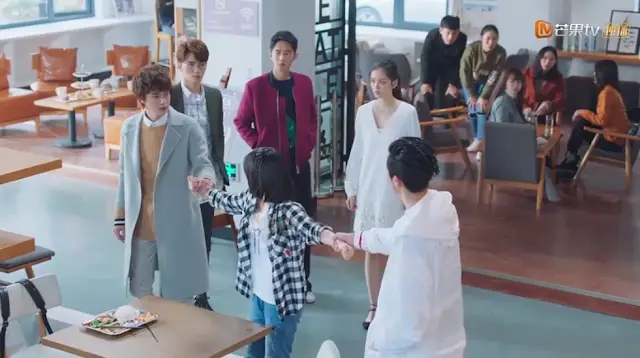 The friendship is tested over a girl. 
Shan Cai is once again in a situation where she is bullied by Dao Mingsi. After accidentally bumping into someone and spilling food all over herself at the school cafeteria, Dao Mingsi adds insult to injury by mocking Shan Cai. 
Lei helps Shan Cai up, intending to take her away but Dao
 Mingsi grabs the other hand and a tug of war begins. 
Dao Mingsi threatens Lei that their friendship would be over if he leaves with Shan Cai. Lei and Shan Cai walk out of the cafeteria.
Comments: The tension between the childhood friends is scary. With a calm and quiet Lei versus an explosive Dao Mingsi, I really wonder if they will stop being brothers. Dao Mingsi should also pick up some courting tips from Ximen and Meizuo. He is indeed terrible at it.