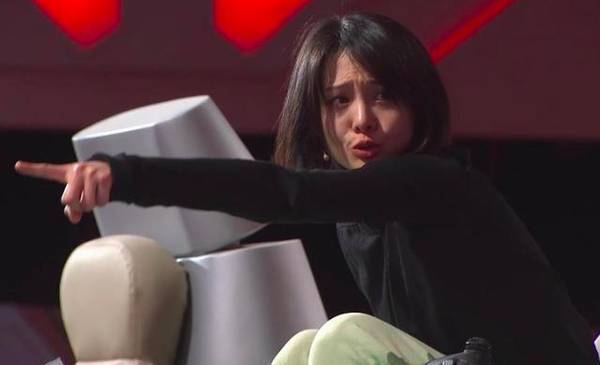 This is Fighting Robots 
这就是铁甲 is a robot combat competition on Youku. It seems like such a niche category, and I
 like to think of it as a version of 
Real Steel
but with smaller robots. Oddly enough, the last time I heard about the show was when they were apologizing to Zheng Shuang for an infraction that happened on the show. 
This is Fighting Robots is gaining attention again this week due to a
video
where Zheng Shuang causes a scene and then walks out mid-filming. 
In a nutshell, she was outraged over the referee's delay in the countdown. When the referee finally starts counting to 10, his ten seconds count seemed painfully slow. The actress later said that injustice is something everyone can face, you endure it and move on but when it's for the sake of her team, she simply could not let it slide.
Honestly, it's rare to see a public personally especially one with an idol image like her so uncontrollably angry on TV. 
Some judge her for overreacting, others take her side. I really don't follow the show to know enough but it seems kind of shady that they're trending at the expense of Zheng Shuang. And just from the video, her cries seemed to be falling on deaf ears, it's no wonder she lost her cool. 

The are 13 robots left in the competition and Zheng Shuang seems to have the strongest lineup. Hopefully the other three managers Zhang Yishan, Wu Chun and Sa Bei Ning don't gang up on her cause it's been mentioned on more than one occasion that they just might.