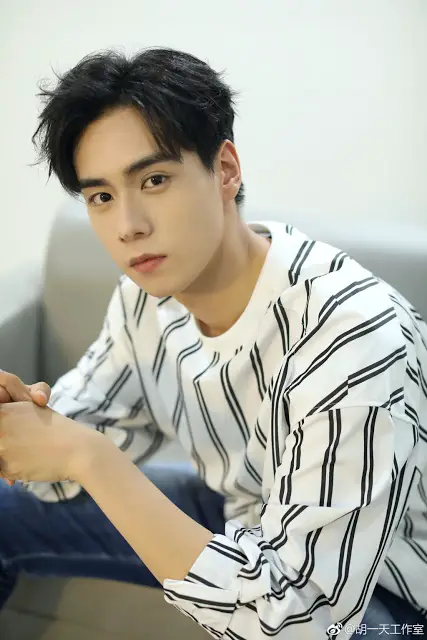 A netizen recently leaked CCTV video footage of a man meeting a woman in her hotel room at night and staying there for around four hours. The man is allegedly rising star Hu Yi Tian while he was filming a drama in Hengdian (see pic). There are more reports that the woman arrived at the hotel around dusk on April 21, 2018. Two hours later, Hu Yi Tian and his assistant allegedly arrived at the same hotel and that Hu Yi Tian left around 11:30pm. 
The woman in question whose name is Bei Ye Bei initially denied the rumors, but later claimed that she is indeed the woman in the video and that she can stand by what she says in court. She also reveals a leaked audio and chat messages that she claims is from Hu Yi Tian who has now blocked her on WeChat. 
In the leaked audio, the man is asking whether he needs to respond to them (fans?). Bei Ye Bei answers that it is because of his other half (Shen Yue)? in the drama and her image that they'll assume that's his type. The man says that they typically don't cast very beautiful woman to play the leading lady. Bei Ye Bei can be heard saying that it's because most women are like that. The man agrees that it makes it relatable.
What we have fueling these rumors are clues that shouldn't even be given the light of day because it's impossible to identity the person in it. Nonetheless, the gossip mill has started running and the actor is currently embroiled in the center of it all. Fans can be seen imploring for Hu Yi Tian Studio to make any kind of statement to do some damage control.