The episode again starts with a scene of He Lan Jing (Ah Xi) and Huiyan from when they met. I'm really liking how we get to start each episode seeing the beginnings of their story and relationship. In what is a really cute scene, Ah Xi is having Huiyan cover her eyes to guess how many fingers he is holding up. He can't see that Huiyan is not covering her eyes at all, but just throwing out random answers. As Ah Xi holds up one finger, Huiyan guesses, "Ten." As he holds up three fingers, Huiyan guesses, "One hundred". Lol. She can barely keep herself from laughing.
Eventually, when she closes her eyes for real, Ah Xi takes her left hand and places a bracelet on her wrist.
Huiyan

admires how pretty it is and how it glows. Ah Xi tells her that it's a Fox Clan tradition, that now they can be together forever.
Huiyan

is very happy hearing Ah Xi's words, and leans in to rest her head on his shoulder. Aww.
In the present day, Pi Pi wakes up and all her papers on visas to the United States scatter to the floor. As she picks them up, the dress He Lan Jing gave her to wear to that night's auction catches her eye.
Xiao Ju goes to a café to meet with one of her friends, Cheng Nan, after agreeing to help test whether his ex-girlfriend still has feelings for him. I don't think this is going to turn out well since Xiao Ju actually really likes Cheng Nan. Inside the café, the girlfriend and a group of their mutual friends are having coffee and chatting.
When Cheng Nan approaches, the girlfriend rudely announces that they have broken up and to sit elsewhere. Xiao Ju comes into the café and pretends that she and Cheng Nan know each other and just happen to be running into each other. The group is very surprised as Xiao Ju pulls him over to another table. 
Cheng Nan admits that he and his girlfriend have been together so long that he can't tell if they are fighting or simply not suited for each other. He says that he'd want to be with someone who suits him. Xiao Ju: "I feel the same way."
Nonetheless, their act works and the girlfriend comes over, wanting to talk to Cheng Nan in private. As Xiao Ju watches from inside, Cheng Nan and his girlfriend reconcile. Aww, poor Xiao Ju. She looks so sad.
Wang Xuan gets ready for the auction and decides to use the lipstick that Qian Hua had given her.
The auction turns out to be an exclusive event being held in Asia for the first time. Wang Xuan is attempting to make it into the VIP section, but is turned away at the entrance by security because she doesn't have an invitation. She whines that she just wants to go in to see a friend and will leave in two minutes, but it doesn't work. Ha! 
Pi Pi approaches, and Wang Xuan just tells her to leave and go home. 
Pi Pi holds out her VIP invitation, and when Wang Xuan sees it, she grabs it out of her hand so she can enter herself. Ugh, I hate her. She's unbelievably rude and annoying. When security scans the invitation, PI Pi's picture comes up because it is tagged to her, and security welcomes her in. They also ask her if Wang Xuan is harassing her – Pi Pi is way too nice and says everything is fine. 
Wang Xuan is trying to storm her way in with Pi Pi when Xiu Xuan approaches and tells Pi Pi that He Lan Jing has been inside waiting for her for a long time and escorts her past security. Wang Xuan starts screaming after Pi Pi when Kuan Yong casually asks if she's just going to keep screaming if she can't get in. He helps her get in as his plus one. Dammit, he's way too nice. He should have let security throw her out. 
Pi Pi enters the auction room, and sits with He Lan Jing and Qian Hua. Pi Pi asks He Lan Jing if he's ready to tell her why he invited her in the first place, and he tells her she'll know when the evening is over. Pi Pi is very impressed by the event, saying that she's only seen this in movies, and asks if it's true that you just hold up the auction card to buy an item. 
When He Lan Jing sees how happy Pi Pi is looking at the auction card, he says she can help him bid later. When Pi Pi comments how expensive the items are, He Lan Jing tells her that each item has a story behind it. For the next item, a jade butterfly necklace, it belonged to a woman who sent it to her lover who was at war a long time ago. When he returned from war, the woman was gone, and he spent 20 years looking for her. Pi Pi asks what happened, and He Lan Jing tells Pi Pi that he doesn't know because he lost contact with that general. Lol. Pi Pi tries to process He Lan Jing's response before deciding that he is joking around with her. He Lan Jing: "In this life, I have never lied to you." Pi Pi: "This life? We've only known each other for a few days."
During an intermission before the next auction, Wang Xuan approaches He Lan Jing and lies that she is a friend of Qian Hua though it's the worse timing since Qian Hua shows up just then and whisks He Lan Jing away for a private conversation. 
Xiu Xuan joins in and starts talking about the orb that will be auctioned. Before the orb is put on exhibition, it will be examined and authenticated by two experts. The authentication process is going to be the best time to steal the orb. It's going to be close, with a tight time window, dozens of cameras, and hundreds of people around. Kuan Yong will be assuming a fake identity as one of the two experts.
Wang Xuan comes over to Pi Pi and asks her if she knows who Kuan Yong is. Pi Pi says she doesn't, but the others – He Lan Jing, Qian Hua, Xiu Xuan, and Kuan Yong, obviously live in a different world. Wang Xuan says that it's Pi Pi who lives in a different world from them, including herself. She is delusional.
Xiu Xuan tells the group that he needs a 15-minute window to hack the computer network and enter Kuan Yong's ID information. It will be He Lan Jing's responsibility to make sure the auction lasts long enough to give Xiu Xuan the time he needs, by entering into a bidding war with another attendee. Xiu Xuan picks a woman attendee that they can bid against, but Qian Hua says that he's wrong, and that Xiu Xuan hasn't done his homework well. Lol. She suggests that the right person to make the bidding war work is that one man who has been fidgety all night waiting for a specific item to come up for bid. 
Wang Xuan continues to be a condescending witch to Pi Pi, when He Lan Jing comes over and says that Wang Xuan is being shallow for only caring how much something costs. Ha. He asks Pi Pi if there is anything she wants to eat. He's being so nice to Pi Pi – I love it. Pi Pi says she wants to have fried buns (a simpler, cheap dish that doesn't really fit the occasion), and He Lan Jing immediately orders it for her. Wang Xuan flounces off. Oh wonderful, we're rid of her for now. As He Lan Jing and Qian Hua chat, a waiter comes to deliver Pi Pi's order. Pi Pi is delighted.
The next auction has started, and Qian Hua reports to He Lan Jing that the man for him to bid against is Kuan Zhihao, a descendant of Kuan Hanching, a famous writer from the Yuan Dynasty. He is here to buy a fan, which is said to have Kuan Hanching's writing on it. The auction continues on. Pi Pi is excited for the chance to raise their bidding card, but gets more and more bored as the night wears on and He Lan Jing hasn't started bidding on anything.
Meanwhile, Xiu Xuan hacks into the computer system and starts the process of entering Kuan Yong's ID information. We see behind him a man sitting on the floor, knocked out and tied up. Kuan Yong enters the waiting area and introduces himself to the others as being an expert from the authentication center.
Finally, the final item of the auction has been presented, the fan with Kuan Hanching's writing. Kuan Zhihao immediately sits up and takes notice. He is the first to bid. The price goes up to one million RMB when Kuan Zhihao becomes the only bidder. 
He Lan Jing directs Pi Pi to bid, which makes her ecstatic. Pi Pi and Kuan Zhihao go back and forth up to 1.5 million when Kuan Zhihao doubles the price to 3 million. Wow. The auction can't end yet because there are still eight minutes and 20 seconds left on the clock. 
He Lan Jing directs Pi Pi to keep bidding. They go back and forth to 3.5 million and double up to to 7 million. Crazy. Pi Pi asks He Lan Jing if the fan is really that important to him, to which he says that it's not that important, but he wants it. Pi Pi again tries to make sense of his answers to her questions, which are very odd.
Kuan Zhihao can't believe it, and asks for a pause so he can talk to Pi Pi. He tells Pi Pi that the fan has the writing of his ancestor on it, and asks if she will withdraw and let him win. Pi Pi is about to agree when He Lan Jing steps in. He says no, he definitely wants the fan and they should continue bidding, making Kuan Zhihao very upset. 
Pi Pi tries to convince He Lan Jing to let the fan go, but he refuses. When the auction starts up again, Kuan Zhihao raises the price to 8 million. There are still 3 minutes 48 seconds to go. The bidding goes up to 9.8 million. With one minute and 22 seconds left, Pi Pi refuses to bid anymore so He Lan Jing raises the card himself to raise the price to 9.9 million. At that, Kuan Zhihao is forced to give up and He Lan Jing wins. The computer upload also finishes at the same time.
Kuan Yong is about to enter the authentication room when Wang Xuan (ugh, her again) approaches him and starts asking him how he knows He Lan Jing. Qian Hua takes over her voice and has her ask him to meet later on a date. Wang Xuan is dumbfounded at the words that are coming out of her mouth through no control of her own.  Xiu Xuan tells Qian Hua that he's worried about the women who buy lipstick from Qian Hua's company. Lol.
The authentication experts examine the orb, and Kuan Yong takes advantage of the moment to switch out the orb for a fake when the other expert sneezes. He affirms that there is no issue with the orb. When the orb is placed on exhibition, it's immediately obvious that it is fake, and the alarm goes off.
Mission accomplished, Qian Hua, Xiu Xuan, and Kuan Yong prepare to leave. I'm having fun watching the scenes with this group. Wang Xuan runs up to the car and asks Kuan Yong for his contact so they can talk online. Xiu Xuan interrupts and says that they are friends because they are pretty. Wang Xuan doesn't fit the bill. Wow. She finally gets a taste of her own medicine.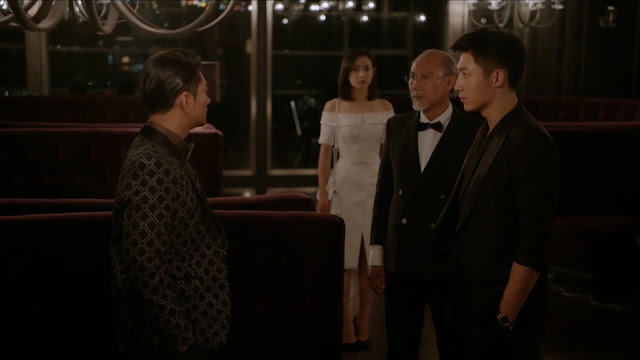 He Lan Jing approaches Kuan Zhihao who is drinking alone after the failed bidding. He Lan Jing tells Kuang Zhihao that his ancestor was a very knowledgeable and admirable man. He Lan Jing also says that he will have the fan delivered to Kuan Zhihao as it's only right that he should have the fan as the rightful descendant. Pi Pi overhears this as she walks towards them. He Lan Jing uses a term to describe Kuan Hanching that Pi Pi used earlier, not realizing that it's completely inappropriate. Pi Pi quickly comes over and says that He Lan Jing is just confused. She tells him not to use words he doesn't understand. LOL. Cute, funny scene.
As He Lan Jing and Pi Pi are walking, he stops and shows her a necklace with the orb on it. Pi Pi recognizes it immediately as the stolen item and asks if they stole it. He Lan Jing tells Pi Pi that the owner will be paid double the price, so everyone ends up with what they want, because the orb is very special to him and his "friend" (Huiyan/Pi Pi). 
He wants to return the orb to its rightful owner. He forcibly puts the necklace around Pi Pi's neck, but his mood immediately turns disappointed when the orb does not glow. Pi Pi tries to take the necklace off, but can't.
Xiao Ju and Pi Pi meet up and drink. Xiao Ju smells Pi Pi and asks her if she is wearing perfume, to which Pi Pi says she isn't wearing any. It must be the necklace. Xiao Ju tells Pi Pi that Cheng Nan has reunited with his girlfriend. She pretends that she didn't have feelings for Cheng Nan, while she obviously does, because she's very sad and depressed. 

In her voiceover, Pi Pi says that when we think of returning something to its rightful owner, it generally means a happy ending. However, for someone who wanted that item, they are not happy with and cannot accept that kind of ending at all.
Xiu Xuan and Kuan Yong are waiting for He Lan Jing to return home. When he does return, He Lan Jing walks by them, saying only that when Pi Pi wore the orb, it didn't glow.