The episode starts with flashbacks of Pi Pi in the different times and lives where she and He Lan Jing had met and fallen in love. The final flashback is when Pi Pi met He Lan Jing in this current life. Things go awry when she doesn't fall in love at first sight and mistakenly assumes that he was a beggar asking for money. We come to realize we are in He Lan Jing's dream when he wakes up with a start, as if from a horrible nightmare.
Pi Pi visits a clothing store to buy a birthday gift for her boyfriend. It's a high-end store and definitely outside Pi Pi's price range. The saleswoman directs Pi Pi to the shirt she is looking for, and Pi Pi is shocked when she sees the price tag. She asks if the shirt is really that expensive – and of course it is. It is even on sale already. Pi Pi decides to buy it anyway but has no idea what size to get.
Pi Pi looks around, and spots a well-dressed man standing across the store with his back to her. Pi Pi sneakily holds her hands out to him to try and measure the width of his shoulders. The man of course turns out to be He Lan Jing himself, and he agrees to try on the shirt to help her out.
When He Lan Jing comes out of the fitting room, Pi Pi points out that he has buttoned the shirt incorrectly. He Lan Jing says it is difficult for him because of his blindness and as he turns back to the fitting room to fix it, Pi Pi stops him and tells him she'll that she'll do it for him. Ooh la la. 
As Pi Pi fixes the buttons, she tells He Lan Jing that she wants to buy the shirt for her wonderful boyfriend. You can tell He Lan Jing is upset by her words.
When Pi Pi goes to pay for the shirt, none of her cards will go through. She goes to the ATM downstairs to get cash, which doesn't have enough money either. In the meantime, He Lan Jing uses his American Express black card to buy the shirt. 
It's obvious that He Lan Jing is wealthy – he is in the same world as Pi Pi's boyfriend, perhaps even more so. When Pi Pi returns, she hears that He Lan Jing has bought the shirt and for a moment, she thinks He Lan Jing bought the shirt for her and promises to pay him back. He Lan Jing bursts her bubble and tells her that he didn't buy the shirt for her, he bought it for himself. This really upsets Pi Pi, and He Lan Jing tells her that he'll give her the shirt if she can pay for it. Of course, she can't.
Pi Pi follows He Lan Jing outside and stops him from getting into his car. In the brief tussle, He Lan Jing's sunglasses come off to reveal his greenish fox eyes to Pi Pi. She is stunned by what she sees, and He Lan Jing quickly covers his eyes with his hand. He demands that Pi Pi retrieve his sunglasses. After she does, he takes off in his car, leaving her in shock.
That night, He Lan Jing burns the shirt that he bought. His comrades Kuan Yong and Xiu Xian watch from a distance. Xiu Xian comments that this is the first time in a thousand years that he's seen He Lan Jing act jealous.
It turns out that Kuan Yong is a plastic surgeon, and he is having a consultation with a middle aged woman who won't stop hitting on him. Xiu Xian witnesses Kuan Yong's predicament and jokingly flirts with him to chase the woman away. When they are alone, Kuan Yong hands Xiu Xian contact lenses for He Lan Jing, so his eyes will appear normal.
He Lan Jing is working out – they really don't miss any opportunity to show off his body – when Xiu Xian returns home and hands him the contact lenses. He Lan Jing mentions that Pi Pi must not be feeling well because she saw his eyes, and cuts his hand so his blood drips onto an apple. He tells Xiu Xian to give the apple to Pi Pi so she'll feel better – but not right away, he wants Pi Pi to suffer a bit. That's not nice at all.
Sure enough, Pi Pi is in the bathroom at her workplace, and she can't stop throwing up. Her boss tells Pi Pi to go home, but Pi Pi wants to stay. During their team meeting, they discuss what kind of story to write about Qian Hua, a businesswoman they have been tracking. 
Pi Pi's boss turns down most storylines until Pi Pi's coworker suggests a good one that will definitely get the most hits. Ugh, I don't like this coworker – she's annoying, stuck up and obviously thinks she's better than everyone else there because she is a "real reporter". 
Pi Pi goes to see her friend, Xiao Ju, at her café, and Pi Pi is clearly still feeling very unwell. Kuan Yong and Xiu Xian come in to order a sandwich each – Kuan Yong doesn't eat meat, and Xiu Xian doesn't eat vegetables, which earns a bewildered look from Xiao Ju. Lol. 
They offer He Lan Jing's apple to Pi Pi, who says she doesn't like apples. Kuan Yong and Xiu Xian encourages her to take the apple by saying that it'll make her feeling better. She accepts it, but they realize too late that Pi Pi has sneaked out. Oh no. They freak out even more when Xiao Ju takes a bite of the apple. Xiao Ju is so cute – I hope the apple doesn't have any bad side effects on her.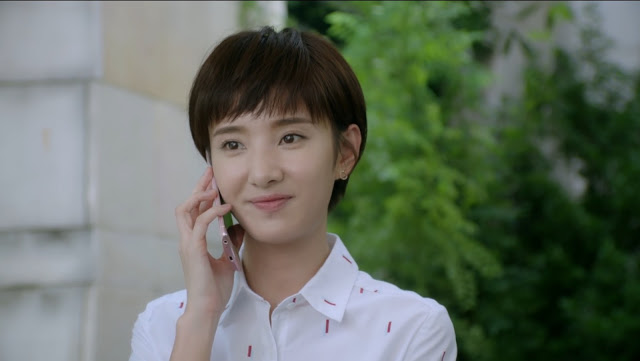 As Pi Pi leaves the café, she receives a call from her friend, Tian Xin. Tian Xin tells Pi Pi that Jia Lin's (Pi Pi's boyfriend) mother invited her to Jia Lin's birthday dinner that evening, and asks if they should just go together. Pi Pi says that she won't be able to, since she is going to the hospital to see a doctor.
When Pi Pi goes to see the doctor, the doctor tells her that he can't find anything wrong with her, and as such is unable to prescribe any medicine.
That night, Pi Pi goes to Jia Lin's house for his birthday dinner. The house is huge – Jia Lin's family is obviously very well off. Jia Lin's mother comes to open the door, and is clearly disappointed to see that it's Pi Pi. 
Pi Pi awkwardly follows Jia Lin's mother into the house, and gives Jia Lin what she brought him for his birthday – her mother's homemade paste. It's a very humble gift compared to how well off Jia Lin's family is. Tian Xin soon arrives, and Jia Lin's mother is very excited to see her, the complete opposite of when she saw Pi Pi. It's clear that Jia Lin's mother doesn't like Pi Pi, and would prefer her son to be with Tian Xin. Tian Xin brought a bottle of wine to the dinner, which is placed next to Pi Pi's jar of bean paste. Good metaphor. When the group sits down to eat, it's very awkward for Pi Pi, as Jia Lin's parents are visibly impressed that Tian Xin is about to go work at a large company, and biased towards Pi Pi who is working for a tabloid.
When it comes time for gifts, Tian Xin shoves a shopping bag to Pi Pi and tells her to give it to Jia Lin as if it came from her. When Pi Pi peeks into the bag, she sees an expensive Paul Smith shirt in size XL. Oy. 
It's the gift that Pi Pi wanted to buy for Jia Lin but didn't have the money for. It's telling that Tian Xin was able to buy it for him and knew exactly what size to buy. 
After the gift exchange, Tian Xin takes her leave. Jia Lin's parents push him to walk her out and after they are outside, he thanks her for the gift, as he knew this whole time that it came from her. Tian Xin brushes it off. I think that Tian Xin secretly really likes Jia Lin, but won't act on her feelings because she and Pi Pi are close friends.
Pi Pi, still very sick, goes to the bathroom to throw up, and Jia Lin's parents essentially tell him that they don't want her to stay over. Pi Pi takes the bus home, even though Jia Lin offers to let her stay over,. That night when she is asleep, He Lan Jing comes to see her. While he is there, he knocks over the picture of Jia Lin and Pi Pi together.
Thanks everyone for reading!