Oh! My Emperor 哦我的皇帝陛下 opens in a modern day hospital. Luo Fei Fei (Zhao Lu Si) is an intern doctor (the drama says she's 20 years old – which, honestly seems kind of young to be an intern? Am I the only one who finds that weird?). She just wakes up from a nap, and is startled by her disheveled appearance in the mirror. She checks her phone when a nurse comes in and informs her that she has a new patient. 

Fei Fei is exhausted since she just worked a 20 hour shift and asks if someone else can handle it. The nurse advises Fei Fei to sort herself out before going to go see the patient – if she doesn't, she'll regret it.

As she heads to her new patient (still looking like a mess), Fei Fei wonders why the hospital is so dark and quiet. She's a tense bundle of nerves, so when an arm comes over her left shoulder, she grabs it and flips the man over to the ground. Not the best idea, because the man turns out to be Jia Cheng (Gu Jia Cheng),
a very popular and award-winning singer.
Fei Fei immediately excuses herself and comes back in a short dark blue dress and black heels. Lol. She even bats her eyes at him a little, so completely starstruck that she trips and falls on her face in front of Jia Cheng (couldn't he have jumped forward to catch her?). 

At least he extends his hand to help her up. Jia Cheng winces as it turns out that his hand is injured – the reason he came to the hospital in the first place. I don't understand why he reached out his injured hand to her – seemed obvious she would use it to pull herself up? Fei Fei bandages Jia Cheng's hand and apologizes, offering to call a specialist friend of hers. Jia Cheng says he doesn't have time – he has an event to attend. Fei Fei is impressed that even though he is injured, he still plans to go to his event. After Fei Fei reveals that she's a big fan of his, he offers her tickets to his show that night. Fei Fei is absolutely thrilled.
Unfortunately, on her way to the show, Fei Fei's taxi hits a cyclist. The taxi driver leaves Fei Fei on the side of the road to take the cyclist to the hospital. Left with no choice, Fei Fei gets on the bike instead to rush to Jia Cheng's event. A meteor shower can be observed in the background. Her bike suddenly hits a bump in the road and Fei Fei flies through the air to land on a road divider container. Yikes.
We next go to Huang Dao Guo, straight to the palace where an ancient version of water polo is being played. The current Emperor, Beitang Yi (Gu Jia Cheng) is one of the participants. He is a Capricorn and he has the power to freeze. Cheering from the sidelines are a group of court ladies, who point out how handsome he is (of course). His two attendants chat about how well the Emperor plays, with one attendant telling the other that the Emperor never smiles or laughs. He has a very stoic and serious personality.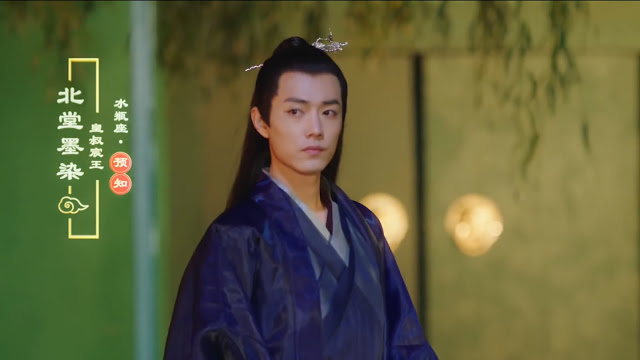 Watching the match are a group of court officials, including Shang Yu (Yan Xu Jia), an Aries with superpower speed, and Su Xun Xian (Chen Ze Xi), a Gemini with the ability to speak to animals. They are soon joined by Bei Tang Mo Ran (Xiao Zhan) who has the ability to see the future. I think he's very good looking. He also happens to be the Emperor's uncle. 
Xun Xian comments that the Emperor may beat Mo Ran's water polo record, and that coming to watch this match has been a waste of time. You can tell Xun Xian and Mo Ran are close friends and confidants with how they banter.
As they chat, the ball from the match comes flying over and knocks over Mo Ran's tea cup. When he goes to pick it up, he sees a meteor fly through the sky, and with it, visions from the future – he sees himself leaning in to kiss and carry an unknown woman (of course we know the woman is Fei Fei), and also sees her beautifully dressed with a gold headpiece and red dress. She is surrounded by people lying on the ground (dead?). His eyes turn purple when he sees visions.
We see a meteor fly through the sky and land in the palace pool, which turns out to be Fei Fei. The Emperor swims over and pulls her up out of the water, and Mo Ran instantly recognizes her from his visions. Fei Fei sees the Emperor, who looks exactly like Jia Cheng from her time, and asks, "Jia Cheng, how are you here?" She hugs the Emperor and tells him she was in a car accident and doesn't know where she is. She even wraps her legs around his waist. The Emperor is completely shocked by this strange woman's behavior and flips her over, the same way Fei Fei had flipped Jia Cheng over in the past (future?).
Fei Fei is unconscious on the ground as everyone gathers around in a circle around her, except for the Emperor and Mo Ran. They comment on how strange and revealing her clothes are, and suspect whether she could be an assassin sent to kill the Emperor.
The Emperor makes the decision to have her executed. Mo Ran steps in and says that he can't kill her. He orders that Fei Fei be taken back with them, and the Emperor asks if he asked his permission. Mo Ran tells the Emperor that Fei Fei is not an assassin, she is a dancer from his palace. Fei Fei came with him and accidentally fell into the pool. He asks for the Emperor's forgiveness and says that he'll be responsible if Fei Fei causes any more trouble. There is a lot of tension between these two. It turns out that while the Emperor has the position, Mo Ran has control over the military. As Mo Ran turns to leave, the Emperor tells him to be careful in the future.
That evening, the Emperor recalls how Fei Fei wrapped her legs around him in the pool, and he ends up with a nose bleed. Wow. Clearly our love triangle is going to be Fei Fei, the Emperor, and Mo Ran. He waves off his attendants when they express concern and says that he doesn't believe that Fei Fei is one of Mo Ran's dancing girls. His attendants also agree, saying that they never heard of Mo Ran being close with any woman. The Emperor decides to send Fang Jian to investigate. It turns out that Feng Jian has a superpower that lets him shield himself from any attacks.
Fei Fei wakes up in her room in Mo Ran's residence, only to see a maid staring back at her. She starts screaming in shock. I'm interested to see what happens next!
Additional thoughts:
It is pretty obvious from watching the first couple episodes of the drama that these are all very new, inexperienced actors and actresses who haven't acted in many dramas before. Neither the writing or the acting is the greatest. It makes sense because many of the actors are from a Chinese idol group called X-NINE, and I think this drama is a way their company is promoting them. It really reminds me of how in Korea they push the members of various music groups into acting and dramas. Normally the acting, especially at first, is pretty weak because they are doing something outside their usual experience.
Thanks everyone for reading!