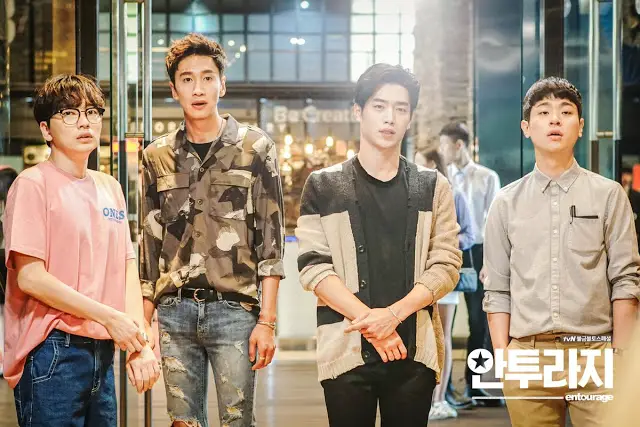 Entourage
, the 2016 Korean drama, is a remake of its successful American counterpart. But unlike the latter, it is a total commercial flop in South Korea. It seemed to breeze by without much attention.

Synopsis: The story follows a rising movie star and his entourage, comprised of his three best friends since adolescence and zealous CEO of a his management company. Together they navigate their way through the entertainment industry, relishing all the perks along the way. 

Rating: Just Another Drama (3/5) Ignoring the unnecessary and mildly explicit first episode, it's an entertaining drama to watch.




What sets Entourage apart are the variety and quantity of locations. It creates the impression of sitting on a bus tour and seeing the regular hangouts, hair salons and stores of Seoul's rich and famous. There is a constant revolving door of minor celebrity roles and cameos  –  my favorite by far being Kyung Soo-jin with her character being a hilarious nutcase – adding to a realistic feel that the guys are part of this world. The drama, in its own way, addresses a few interesting themes, for example, workaholism, codependency, and friendship. These aren't particularly prominent, but they do hover around. 


The protagonist Cha Young-bin is played by Seo Kang-joon and I'm thrilled to announce that this role redeems his utterly dismal performance in Cheese in the Trap – albeit Young-bin is mostly easy-going with minor emotional fluctuation. For the most part, the character is likable, he is exceptionally generous with his friends and views them all as equals. On the flip side, he is stubborn and often a diva expecting his management team to meet his ever-changing desires, and clean up after his messes. 

Kim Eun-gab is an industry veteran. When it comes to solving problems, he leaves no stone unturned to get his way. He is relentless. Cho Jin-woong did an amazing job bringing Eun-gab to life, his unique energy sprinkled maturity, elevated the caliber of the drama. He is the one who took Youn-bin under his wing and ushered him into stardom. When it comes to You-bin, he has a major soft spot and their bizarre codependent relationship is comedic, for example, at one point the two squabble consequently, Eun-gab fall into the depths of despair, and his wife compels him to receive counseling from their pastor.




As for Young-bins friends, they are truly a sad bunch of guys. First up we have Lee Ho-jin (Park Jung-min), who is the best friend and personal manager to Young-bin. Character-wise he is quite bland and flaky. Fortunately, as the story progresses, he rises from the ashes and becomes his own man. On a side note, surely we can agree that despite his good intentions, he is a disappointing boyfriend.




Secondly, Cha Joon (Lee Kwang-soo) is Young-bins cousin and decade-long aspiring actor. He is outlandishly desperate for fame, work, validation, and a girlfriend, causing a vicious cycle of low self-esteem and perpetual embarrassment. On top of all this he shamelessly rides on Young-bins coattails and implores him for auditions and movie roles. 




Thirdly, Geo-book, a.k.a Turtle (Lee Dong-hwi) is a total disaster. He has no job, no ambition and happily mooches off Young-bin. In some way, the other three friends take steps to move forward in life, the same cannot be said for Geo-book, who's only endeavors are lazy ones that openly take advantage of Young-bin's fame. At one point he tries to be a personal manager to Joon, but ego causes him to quit – where does his self-importance even come from?

All in all, Entourage, is energetic with a great color palette, diverse characters, and locations. This drama is a good choice to unwind with because quite frankly, there isn't all that much to think about.
---
Thanks for reading this review! For more drama musings, be sure to stop by my blog.