Moonshine and Valentine
adapted from the novel 
The Love Knot
结爱异客逢欢 is a fantasy romance drama that tells the story between rookie intern, Guan Pipi, who has felt alone and abandoned in this world and He Lan Jing, the mysterious Jade Master. Furthermore, the character descriptions reveal that a lot of the story will mainly revolve around humans and the fox clan. 
Good natured newspaper intern, Guan Pipi (played by Victoria Song) has a typical, ordinary life. She had a caring best friend and a sweet childhood boyfriend. This suddenly changed the day she met He Lan Jing. Her seemingly ordinary life is about to take an unexpected turn.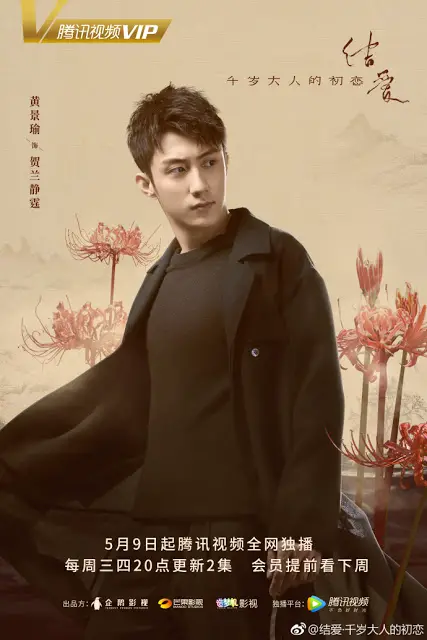 The mysterious Jade Master, He Lan Jing (played by Johnny Huang), is the Fox clan's right priest. He was born with an eye disease that makes it hard for him to see in the day but  due to a sacrifice that Hui Yan made one thousand years ago, he has excellent vision at night. 
Guan Pipi's childhood sweetheart is Tao Jialin (played by 
Xu Kai Cheng
)
who got an offer from the American Institute of Higher Learning before he graduated college. He is a bit meek and indecisive.
Xiu Xian (played by 
Li Shen
)
 is one of He Lan Jing's followers.
Zhao Song (played by 
Jiang Qi Lin
)
 is the left priest of the Fox clan.  He is the nemesis of He Lan Jing and believes that humans are the Fox clan's biggest threat. His greatest love is 
Qian Hua. He can give up everything for her.
Xiao Ju (played by Liu Yong Xi) is Guan Pipi's friend. 
Charismatic Kuan Yong (
played by 
Li Jia Ming
) 
is one of He Lan Jing's followers whom he rescued thousand of years ago 
.
Tian Xin (
played by 
Xu Fang Yi
) 
is Guan Pipi's smart and beautiful friend who has been secretly in love with Guan Pipi's long time boyfriend, 
Tao Jialin
.
Qian Hua (
played by 
Zhang Bai Jia
)
 is in love with He Lan Jing who is part of the Fox clan.