The Story of Ming Lan
知否知否应是绿肥红瘦 completed 208 days of filming to wrap on April 1, 2018. That's almost seven months which is longer than most dramas that last around three to four months. Everything about the drama has been quite promising so far, and I'll be the first to name drop that it is being produced by Daylight Entertainment which holds an impressive track record. 
As the titular lead Ming Lan, it looks like the ever-hardworking 
Zhao Li Ying
 was filming until the last hour again, though it's understandable this time since she 
joined the cast late
. 
What have we here? It's actress Li Yi Xiao who plays the second sister in The Legend of Dugu. She'll be evil here too, I presume.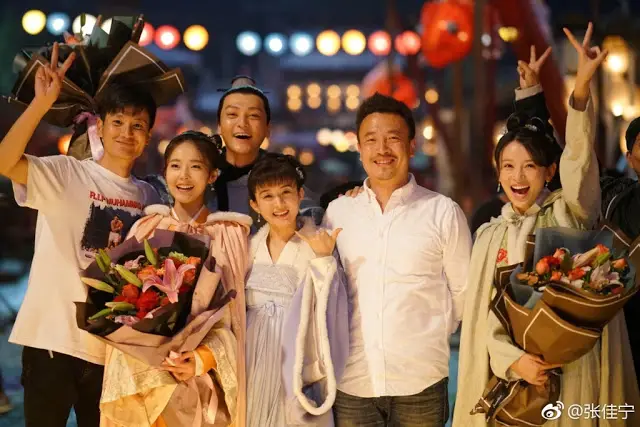 Aww, it's the Sheng Family whose relationship is probably
 nowhere near as friendly in the drama. 
Kira Shi Shi 
(
The Lover's Lie
) plays the 4th sister Mo Lan. 
Zhang Jia Ning (Ruyi's Royal Love in the Palace) plays the 5th sister Ru Lan and
Zhang Xiao Qian
 (
I Am Not An Elite
) plays the second young master of the family. They wrapped on Day 206.
Wang He Run (Colourful Bone) plays the eldest sister, but she is actually the youngest and born in 1994. 
Zhang Yan Yan reunites with Director Zhang Kai Zhou after working with him on When A Snail Falls In Love, which is also a Daylight Entertainment production. 
Feng Shao Feng (Hanson and the Beast) who plays the leading man was one of the first to bid the cast and crew farewell as he completed his scenes on March 28, 2018. 
Sword Dynasty
剑王朝 
is another costume drama that wrapped on April Fool's Day, and the cast can't help but tease that maybe they didn't really finish filming. 
There were two shooting locations – Hengdian World Studios and Yin Chuan
. 
The critically-acclaimed actor and director 
Feng Xiao Gang
 serves as the executive producer, so I'm thinking that this also ought to be good. 
It looks like the three leading ladies 
Li Yi Tong
 (Bloody Romance), 
Yao Di
 (Fighter of the Destiny) and 
Zhao Yuan Yuan
 (When A Snail Falls In Love) were among the last ones standing as they wrapped on Day 105.
Li Xian (Only Side By Side With You) who plays the main protagonist completed his scenes on Day 92. Hmm, what's going on here? All the male leads have the least amount of filming to do?