Here we go with Secret of the Three Kingdoms 三国机密, a Chinese 
historical 
drama starring
Ma Tianyu
and
Elvis Han
, which began airing two and a half weeks ago. I was captivated by Elvis Han's acting in
Siege in Fog
, so I can't wait to see him in this drama as well. I'm less familiar with Ma Tianyu's work, and given that he's the main character, I hope his acting is good too. 
The first scene takes place in a small homestead where a family is being attacked. Two men on horseback (Yang Ping / Yi He, played by Ma Tianyu, and Sima Yi / Zhong Da, played by Elvis Han) come riding to the rescue, taking out the pillagers with bow and arrows. 
Sima Yi is the more ruthless of the two as he uses his sword to cut the throats of the pillagers.
Yi He is also about to kill one of them, but the man pleads for his life and claims that he was just there to steal food and didn't harm anyone. Yi He purposely shoots the arrow a few inches from the man to spare his life. Sima Yi draws his sword across the young man's throat, leaving him with a long cut, but the man is ultimately allowed to live.
Sima Yi makes fun of Yi He for being so compassionate, lightly tapping Yi He on the shoulder with the arrow. As Yi He's teacher, Sima Yi finds Yi He's soft side embarrassing and jokes that it's no wonder Yi He's father left him under the care of the Sima household twelve years ago.
Yi He responds that he actually wouldn't mind living in the Sima household forever. They are suddenly passed by a group of soldiers on horseback. Sima Yi tells Yi He that the soldiers are from Western Liang – that even if Yi He wants to live peacefully, he cannot avoid the chaos and fighting plaguing the times.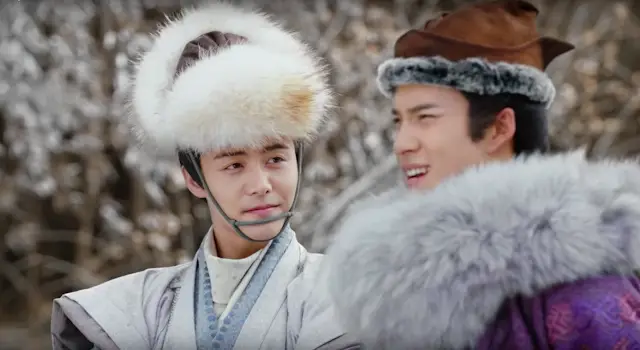 Yi He answers that he will just remain by Sima Yi's side forever as Sima Yi competes against the other warlords for power. Sima Yi doesn't think highly of the warlords saying: "I have no interest in fighting against those weak warlords."
Yi He: "Since you're not interested in avoiding conflict nor engaging in it, there is one position best suited for you."
Yi He: "Emperor!". Sima Yi just laughs. Aw, I like the relationship dynamic between these two.
When they arrive home, Sima Yi's older brother informs them that Yi He's father Yang Jun has arrived. Yi He races in to see his father while Sima Yi's older brother sends Sima Yi away on an errand.
It turns out that Yang Jun was there to take Yi He home – immediately, without even letting Yi He say goodbye to Sima Yi. Aww, I'm disappointed that they're to be separated when the bromance has barely begun. 
Maybe it's a good sign for the drama overall that things won't drag on. Before his departure, Yi He remembers his first stay at the Sima household when all he did was cry that he wanted to go home. It was Sima Yi who convinced him to stay, saying that the Sima household was now his home. The Sima kids all come out to say goodbye to Yi He and tell him that they'll miss him. Sweet. 
Along the way, Yi He and his father meet up with another carriage. Yang Jun kills the driver of their own carriage, which shocks Yi He. To make matters even more confusing, Yang Jun cuts off his arm. What is happening!

Yang Jun tells Yi He that he needs to go with the people in the other carriage and that Yang Tai Wei will explain everything. Yi He refuses to leave, but his father forces him to go, saying that if he doesn't follow, he will give up his life rather than lose just an arm. Reluctantly, Yi He follows his father's wishes. Back at the Sima household, Sima Yi orders his horse to be prepared, intending to go after Yi He.
Inside the carriage. Yi He hears the truth of who he is – his real name is Liu Ping, the son of royal concubine Wang Mei Ren (Consort Wang) and the previous emperor. The current emperor Liu Xie is his twin brother. Yi He seems a lot more calm than I would be if I were the one hearing the news?
The story continues – when Consort Wang gave birth, the Empress had her poisoned to death. The Dowager Empress arrived in time to save the baby – Liu Xie – before the Empress could have him killed as well. The Dowager Empress confronts the Empress about her evil actions, but the Empress doesn't back down and proudly relishes what she's done. The Empress is terrible, but I do respect her a little for owning up to her deeds.
Since no one else knows the truth that Consort Wang actually gave birth to twin boys – Liu Ping is secretly taken out of the palace He was taken to his adoptive father's home to be raised as his true son, and then subsequently to the Sima household so that he would be safe.
Meanwhile, Sima Yi hears that Liu Ping and his father had encountered bandits who killed
Liu Ping

and the carriage driver. They hear that
Liu Ping

's father's arm and bloody tatters were found, but no body was in sight. Sima Yi stumbles backwards in shock and grief before demanding to know where the bodies were.
Liu Ping is told that he is being brought to the palace to be by his brother's side and to help his brother through difficult times. Liu Ping still doesn't understand and finds the story unbelievable, but is told by Yang Tai Wei that everything will be clear once he meets his brother.
Sima Yi is shown two bodies 
and hears about Liu Ping's death directly from Yang Ping who is recovering from his injuries
. The face of one of the bodies had been destroyed in a plan to make everyone think that Liu Ping is dead. Sima Yi tells his older brother that he knows the body is not Liu Ping's, as the two of them had grown up together. Smart man!
Sima Yi decides that he will find Liu Ping and help him through whatever difficulty he has encountered. He asks his older brother for all his money (lol) so he can go to Xu Du to look for Liu Ping.
Liu Ping is brought to an abandoned estate, where he meets with Consort Hong Nong, Tang Yin (played by Dong Jie). She provides him eunuch clothes to change into so it will be easier to sneak him into the palace. Consort Hong's carriage is stopped at the entrance and searched, but they luckily get a pass with Liu Ping dressed in eunuch's clothing, pretending to be the servant.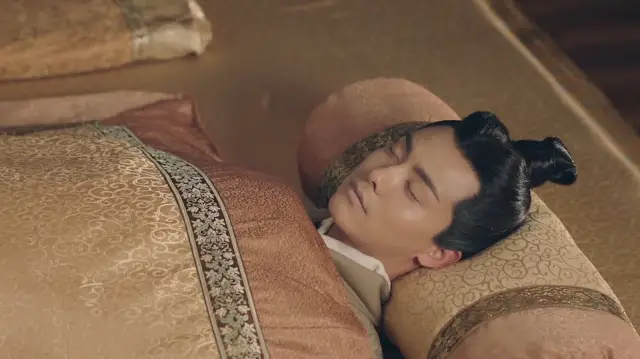 Upon arriving at the Emperor's chambers, Liu Ping meets the Empress (she's beautiful – played by Wan Qian). His brother is lying down, eyes closed as if he's sleeping. Liu Ping, upon seeing that they look exactly alike, starts believing that he and the Emperor are brothers. It turns out that Liu Ping didn't make it to the palace in time – his brother died that very morning.
Thanks everyone for reading! Please leave comments!
?