Wu Xin: The Monster Killer is about an immortal being named Wu Xin (Elvis Han) who doesn't remember who or what he is, and he pretends to be a monk as a cover for his abilities to fight mystical ghosts and monsters.
Here are just some of the reasons why you should consider watching this awesome drama: 
1. Elvis Han
I mean Elvis Han alone is enough of a reason to take a peek at this drama. It is Elvis Han after all! Of course, he is a complete charmer, but he also has all of the qualities you would want in a hero: he's brave, strong, kind, and romantic. He will also do whatever is necessary to protect the people he cares about. He's definitely my favorite monster killer!
2. The Romance
Wu Xin takes a liking to the lovely Yue Ya (Jin Chen) after she helps him out. They have lots of cute bickering but are also so sweet together. They go through so much which creates a deep relationship full of love and devotion.
3. Magic and Monsters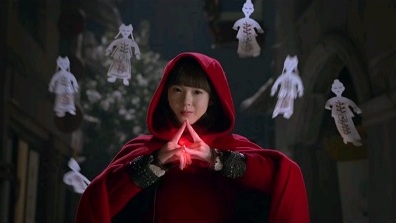 If you like magic and monsters, Wu Xin is a great drama for you! I really love fantasy and enjoyed the many fantasy elements with some very creative and interesting monsters that our hero has to battle. It's all just a whole lot of fun!
4. The Heroes
Aside from Wu Xin, our other heroes are pretty great too! Yue Ya is spunky, strong and doesn't back down from anyone. I really liked this girl! And Commander Gu (Wang Yan Lin) is absolutely priceless. He's completely full of himself, but his hilarious personality makes him so likable. It's also great watching his friendship with Wu Xin blossom. These two perfectly round out our trio of amazing heroes.
5. The Villains
And a drama isn't complete without some awesome villains! Our main villainess Yue Qi Luo (Chen Yao) is small but deadly. She's super powerful, and she makes quite a nemesis for Wu Xin. Then her right man Zhang Xian Zong (Zhang Ruo Yun) sees his way to power through her. But his growing feelings for her create quite an interesting relationship between the pair.
As you can see, there is a lot to like about Wu Xin: The Monster Killer. With great characters, an interesting story, and just being all around fun, it easily kept me entertained!
So what are some more reasons to love 
Wu Xin: The Monster Killer
?
---
Kay is the creator of KdramaKisses.com where she is dedicated to bringing 
you 
the latest in kdrama news as well as reviews for kdramas, a dash of cdramas, and more.
Happy drama watching to everyone!