Gosh, I miss Nirvana in Fire 
琅琊榜. It's been almost three years since this masterpiece of a drama, and nothing has changed, it is still my number one. It's a nice coincidence to be seeing updates on the cast in recent days, and here's a quick look at each one. 
Hu Ge
who took a break from acting in early 2017 has been back in China working on the stage play
A Dream Like A Dream
. Thanks to 
Shu Qi
 and Viki Zhao who watched the show together, we get a glimpse of the A-list celebrities in one frame.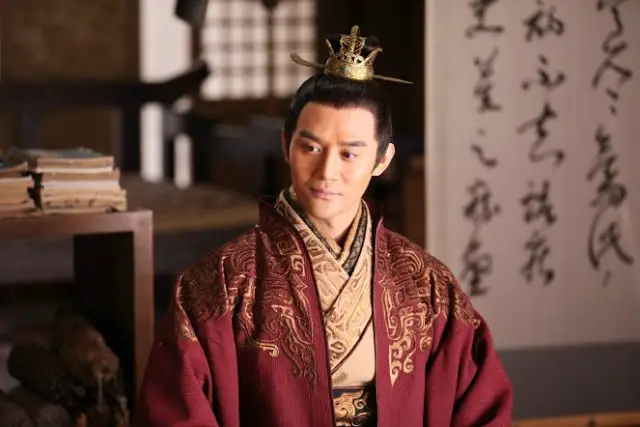 Wang Kai has been working non-stop since his breakout role in 
Nirvana in Fire
. 
His recent appearances on the red carpet and on social media had people commenting that the actor has lost so much weight.
According to Wang Kai, he lost the weight for the sake of his latest drama Eastward Flows The Changjiang River, which is still in the process of filming. As it is a period drama, he mentioned that people from that time won't be too heavy. However, he claims that it isn't really too bad since it's just his face that looks different. Overall, his weight didn't change by much.
Seeing as Nirvana in Fire 2 happened many many years after the first. There isn't really any opportunity for crossovers between the main actors, but real life is a different story in the world of Chinese showbiz.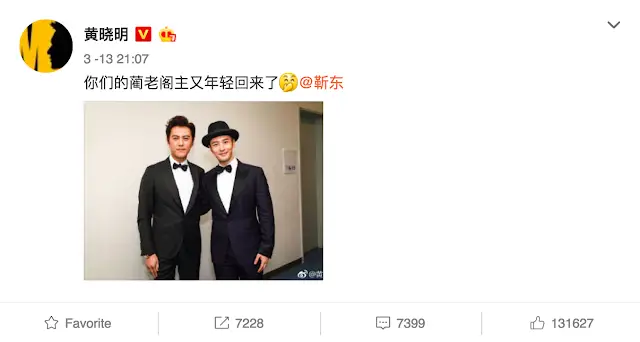 Huang Xiaoming ran into Jin Dong at the 2018 China Quality TV Drama Awards. He shared their photo together and added the caption, "Your old master of Lang Ya Hall has become young again."
Although a supporting character, Chen Long also became a fan favorite for his portrayal of Meng Zhi.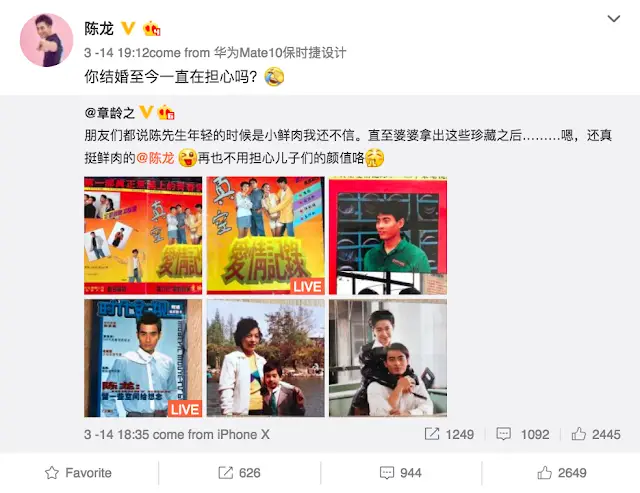 Chen Long's wife Zhang Ling Zhi recently shared pictures of the actor from his younger days. She jokingly said that friends had always mentioned that her husband was also considered a little fresh meat (young and handsome) back then. 
She never believed them until her mother-in-law busted out his old pictures. Now, she's no longer worried about their kids' visuals. 
Chen Long helplessly responds, "Were you always worried from the time we got married until now?"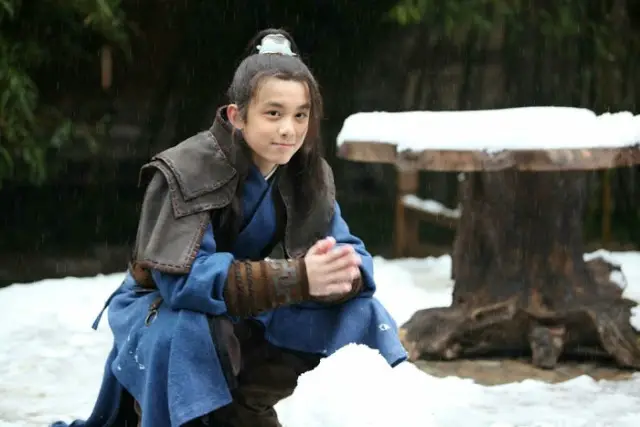 He barely had any updates on weibo this month probably for that reason though he recently uploaded the picture above and insisted that he's not thinking of playing basketball (yea, you are)
. It looks like he will only get busier as he will soon be appearing as a regular member on the new variety show Who's The Keyman.
Last but not the least is Liu Hao Ran who plays the main protagonist in Nirvana in Fire 2 in spite of his young age. 
He's currently 20-years-old.
I don't even know how real this is but a questionnaire that he supposedly filled out when he was a kid is making the rounds online. In it, he announces his dream of becoming a millionaire.