A new fantasy romance to warm all our hearts and welcome Spring,
Evergreen (That Man Oh Soo)
tells a modern Cupid's tale with a side of coffee.
Spunky Policewoman Seo Yoo Ri (Kim So Eun) can't seem to get a break, running into Oh Soo (Lee Jong Hyun) a Barista, Cafe owner, and genius Engineer all rolled into one. Despite his cold exterior, Oh Soo plays Cupid, following a family tradition by making people fall in love, serving them love potions containing various pollens disguised as a simple cup of coffee. It's about a man who thinks he knows everything there is to know about love and lacks interest but when a coffee-potion mishap results in a breakup and broken heart, he becomes entangled with his exact opposite, Seo Yoo Ri.
I'll be honest, I enjoyed watching this even if the cringe factor is extremely high (not as much as My Secret Romance thank God!) and the plot isn't anything amazing. What I do like, is how the drama is diving into some unchartered waters. Playing Cupid or being Cupid isn't a theme many K-dramas have so I find the material new and fresh. And the added element of magical potions served in a cozy coffee shop is definitely something I've never seen before or even thought of.
So yes, it is essentially the 'rich guy meets poor girl' story, but it isn't necessarily a rags to riches tale since our male lead isn't exuberantly wealthy and the female lead isn't poor to the point where she's working a million part time jobs or running away from loan sharks. I'd say this is about average people more than anything even if Oh Soo is so accomplished. I guess what the show is trying to get at, is that you can have everything but if you've never experienced love then you haven't really lived. 
And while I'm digesting this, I'm glad Kim So Eun didn't accept a damsel in distress role because Seo Yoo Ri is after all, a Policewoman and can take care of herself. It's just her taste in men that sucks. She can handle a mob of bullying school girls, cares for strangers crying in toilet stalls, and asks advice from a dog while drunk – she's simply a likeable character. 
I also appreciate the fact that Oh Soo's wealth and brains isn't an element overly used or blaring in our faces since these types of male leads have been showcased far too many times. He is intelligent, but the show doesn't go out of it's way to depict that he's rolling in money or that he's a bonafide rich boy. The entire coffeeshop setup crushes these notions, so Oh Soo as a man of many talents coupled with his abilities as Cupid is intriguing.
I genuinely like the entire cast, even the secondary characters since I've seen most of them in other dramas so I know I won't have to worry too much about acting as long as the script doesn't disappoint. People shouldn't have high expectations for this however, since OCN romance dramas are more of a light watch and can drip with cheesiness (sometimes that's welcomed) but if you love romance then add this to your list.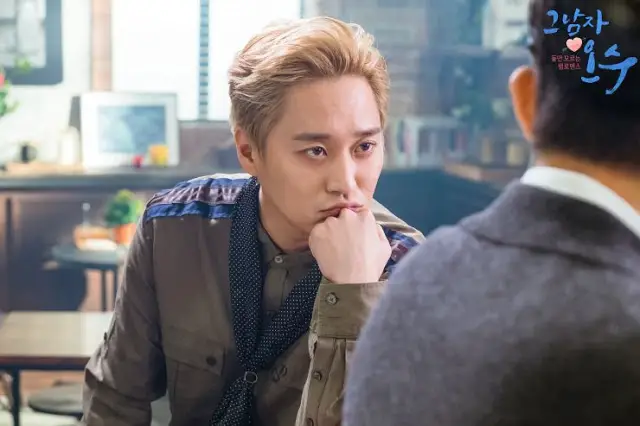 This is a great watch for those short on time or if you don't want anything too exhausting, I personally watched the premiere while having breakfast so it was enjoyable since it contains light material and easy plot, finishing the first episode in no time. With so many intense shows currently out there, it's nice to see something that's more fun, providing K-Drama fans with some variety.
If you're looking for something to melt away your winter blues or hunting for a watchable romance, Evergreen (That Man, Oh Soo) offers a new kind of love story that will make you desire a cup of coffee. 
Release Date: March 5, 2018 (Eng sub available on Dramafever)