Lunar New Year is a busy time for Chinese moviegoers who take advantage of the long holiday to visit the theaters in droves, spouting box office hits like
Stephen Chow's
trademark fantasy comedy films. He may have passed on the race this year, but competition continues to be intense and dominated by the usual 
fantasy and Monkey King sequels. Which one will you watch?
---
Genre: Fantasy, Action, Romance
Starring: Aaron Kwok, Feng Shao Feng,  Zhao Li Ying, Xiao Shen Yang, Chung Him Law
Synopsis: A story about a master and his disciples and their unexpected journey into the Kingdom of Women.
---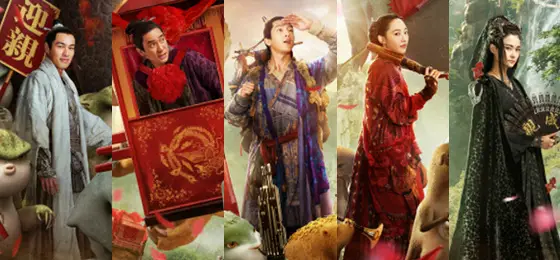 Starring: Tony Leung, Bai Bai He, Jing Boran
Synopsis: The sequel follows a wacky, hearty and fun-filled story as Song Tian Yin and Huo Xiao Lan embark on a search for Hu Ba.
---
Starring: Wang Bao Qiang, Liu Hao Ran, Xiao Yang
Synopsis: The uncle and nephew detective duo are at it again as they risk their lives for another investigation in New York.
---
Starring: Zhang Ze, Huang Jing Yu, Hai Qing, Du Jiang
Synopsis: A story revolving around an 8-people team that form the 'Dragon Attack Squad' in the Chinese Navy as they strive to protect the nation's interest.
---
Bonus: Since it's the Year of the Dog and all, there's this movie about dogs. It stars 
Cheng Yi
 who played Lin Jingyu in 
Legend of Chusen
.