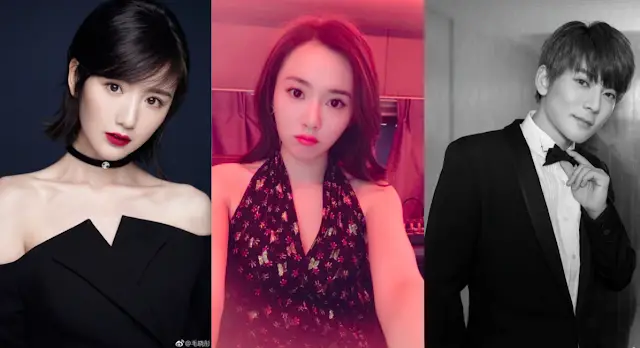 Oh noes, more cheating news have surfaced since the Li Xiao Lu, PGone, Jia Nailiang scandal, and it affects a couple that was once so adorable together. Like Chen Xiao and Michelle Chen, Mao Xiaotong (Princess Weiyoung) and Chen Xiang (The Legend of Modern Man Steps into the Past) were another reel-to-real couple from Romance of the Condor Heroes, but they broke up last October. 
Back then, Mao Xiaotong posted, "
Never imagined that such a scene will flash before my eyes." 
Fast forward to this month and a leaked
video
allegedly taken from Chen Xiang's condo reveals the backstory. The CCTV footage from the elevator shows Chen Xiang heading out in the wee hours of the night and then returning the next evening with Kiton Jiang Kaitong (Warm Love). Mao Xiao Tong arrives soon after and five minutes later, Kiton Jiang leaves. At around 2am, we see movers coming in and out and Mao Xiao Tong also vacating the building. Chen Xiang accompanies her out then heads home alone.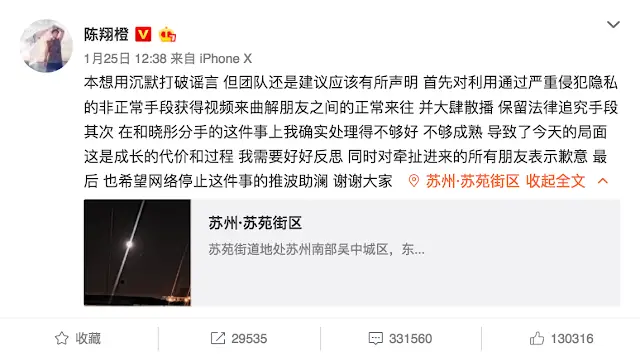 The video is quite blurry that it's not easy to tell who's who but netizens have pieced together clues through the clothes that the actors have been wearing on the same day to make a convincing argument that it's the real deal. In response to the scandal, Chen Xiang writes a post saying that he wanted to keep quiet initially but was advised by his team to speak up. He basically says that he reserves the right to use lawful means against the illegal and wilful distribution of the leaked video that misconstrues normal interactions between friends. He also says that he didn't handle the breakup with Mao Xiaotong well enough and wasn't mature enough. He ends with an apology to all the friends who were dragged into the issue and hopes that the internet can stop adding adding fuel to the fire. 
Granted that the leaked video is a whole can of questionable ethics and shouldn't have happened, but I think it's pretty obvious what transpired.