Light hearted and sweet, if your life is too complex then this simple romantic comedy is perfect for you.

About a hard-working Assistant who juggles everything her Executive boss throws at her, Jwa Yoon Yi (Baek Jin Hee) finds herself kicked to the curb over a misunderstanding circling around her boss and his cheating, good-for-nothing affair scheming ways. 

She ends up being reassigned after months of waiting to Nam Chi Won (Choi Daniel) a Managing Director who's prickly and anti-social, one that refuses to have an Assistant to the annoyance of other Directors. Of course, he makes her life difficult, while she expects her new boss to lean on her completely and rely on her as her previous boss did (relentlessly in fact). The two will learn to find a balance in a corporate world that seems highly unprofessional with the way Assistants are mistreated and expected to work with romance tied into the mix.
All right, so I went into this with a sense of neutrality since the whole Boss-Subordinate relationship has been done on numerous occasions and it's always the male lead who's the boss with serious social issues, requiring the female lead to open him up and change his heart…And that also happens to be the case here but unlike other dramas, Choi Daniel's character has a solid understanding of humans and their emotions, choosing the life of a recluse. So kinda different but not really?

Jwa Yoon Yi as a heroine has been done before – striving to get by in life but being chewed out by the universe and society. Even if it's a character we've seen countlessly, Baek Jin Hee brings a little something that leaves me feeling satisfied. However, the tropes are common ones and the plot is nothing extraordinary…I did say it was simple.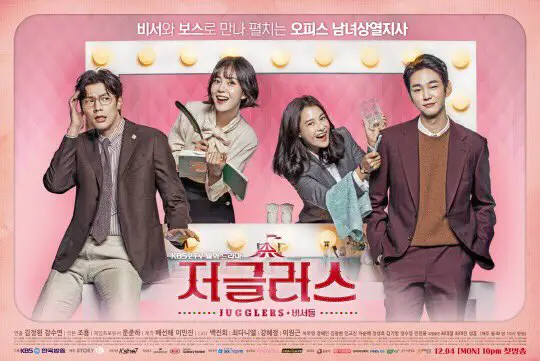 After two weeks, I hope the show plans to explore Superior-Subordinate relationships more and the hierarchy of corporate businesses that belittle those at the bottom. Every employee needs to be valued and treated in a way that doesn't overstep boundaries. Assistants in this drama have to deal with both professional and personal lives of their bosses which is quite irksome, and it creates this image of lousy, useless executives who could never function without someone assisting them. 
Nam Chi Won is the exception, but major changes are required for everyone to have the same mindset as him – even Jwa Yoon Yi can't come to terms with his dismissal of her wanting to handle all aspects of his life. I mean, okay if that's the case then they should all walk around wearing diapers with pacifiers in their mouths T_T
So what exactly does the drama have going on for it? The comedy. I really like how the humour in the drama works since it's simple but unexpected at the same time. Both Choi Daniel and Baek Jin Hee have played serious characters from their previous projects so seeing them throw themselves out there for the comedy has paid off – I find myself choking and spluttering my tea while watching this show.

Of course, I can't leave out Lee Won Geun and his million dollar smile which has my heart melting. His bromance with Choi Daniel is adorable so that's another thing worth mentioning since it's a major highlight for me!
The drama is simplistic in it's vision and mainly offers a decent watch with actors who know their craft. Due to the writing being almost transparent and the acting on point, Jugglers is one drama you should add to your list of rom-coms if you've got time on your hands or are looking for something that won't exhaust your brain.

If you learn things like this, how could you not be interested? ?


Release Date: December 4, 2017