Hi everyone!
I thought I would go back to writing the episode by episode recaps for The King's Woman in case there's still interest. I also haven't found another drama to watch and recap yet. If you have any requests for dramas you would like to see recapped, please write them in the comments section.
Madam Min and Zhao Gao form an agreement with Li Si to help each other bring down Li Er. They will use the spring hunt the following day to execute their plan.
The morning of the spring hunt, Li Er realizes her Gongsun family sword is missing, it having disappeared overnight. She asks Qing Er if she's seen it. Qing Er hasn't, and suggests that it has been misplaced. Li Er wonders out loud if someone stole it, and Qing Er says that no one would be that brave to steal her sword. She says that she'll help Li Er find it after the hunt.
Ying Zheng leads the procession for the spring hunt on his horse while Li Er and Madam Min travel together by carriage. Li Er tells Madam Min that there's recently been some events that she doesn't understand. She pulls out a green bottle decorated with glass beads, and comments that Chu Liang Ren previously gave one just like it to Han Zhang Shi. It just so happens that Han Fei drank poison from an identical bottle, the one that Chu Liang Ren had given Madam Min as a gift. Li Er tells Madam Min that when Han Zhang Shi visited her before, she smelled the scent of sandlewood on her clothes, Madam Min's favorite.
Even though it might appear that Han Zhang Shi was working for Chu Liang Ren, in fact, she was working for Madam Min. Li Er tells Madam Min that she's figured out what transpired – Chu Liang Ren helped Li Si frame Han Fei for secretly working with Han, and in return, Li Si arranged for Li Er to be kidnapped from the palace. However, since Li Si and Han Fei were previously classmates, Li Si wouldn't have wanted Han Fei to die. It was Madam Min who was behind Han Fei's death. She had found out Chu Liang Ren's plan to poison Lord Chang Ping, and she used the opportunity to poison Han Fei instead and have Chu Liang Ren take the blame. Madam Min says that all Li Er has are her accusations.
Li Er says that Madam Min pretends to have no interest in state affairs, but what she wants is to help Zhao Jia become the King of Zhao and take revenge on the current King because he abandoned her. Madam Min strongly denies it. Li Er says there is no way for her to deny her relationship with the King of Zhao. Li Er tells Madam Min that she didn't go and inform the King because she wants to help her. She asks Madam Min if it is really her goal to make Zhao Jia the King of Zhao.
Madam Min tells Li Er that she doesn't need her help, and pulls out Li Er's sword. She points it at Li Er and tells her that because she's too smart and too meddlesome, she's become a threat and now she has to get rid of her. Madam Min screams for help, which stops the hunting procession.
When Ying Zheng arrives at the carriage, he sees Li Er with her sword in her hand and Madam Min clutching her arm, which is wounded and bleeding. Ying Zheng grabs the sword from Li Er and asks what is going on. Madam Min tells Ying Zheng that it was Li Er, that she wanted to kill her. Li Er denies it, "I didn't. I really didn't."
Back in the palace, Ying Zheng has gathered everyone in the main hall. I don't understand why Li Er has to kneel. Because she's already thought of as guilty? Madam Min tells Ying Zheng that Li Er used her sword used to harm her, and Li Er asserts that she never used her sword to harm anyone. Ying Zheng asks Li Er then how her sword ended up in the carriage, and Qing Er responds that the sword was stolen, that it had been missing since that morning. Ying Zheng says that Li Er always carries the sword with her, and asks who else could've gotten it. Li Er tells Ying Zheng she never thought of using her sword to harm Madam Min. Ying Zheng: "If it wasn't you, then did Madam Min take the sword and harm herself?" I really don't get this. Ying Zheng is very suspicious and disbelieving of Li Er, which is really weird considering how close he and Li Er have become and how much love and trust is between them. He doesn't have complete trust in Li Er? Is it because the sword used was hers? Or he can't bring himself to mistrust Madam Min? Ugh. Madam Min tells Ying Zheng that she's never learned martial arts, and is afraid of blood. She says she would not have used Li Er's sword to harm herself.
Li Er reveals that Madam Min was the one behind Han Fei's death. She arranged for the poison to be given to Han Fei to frame Chu Liang Ren, and she also had Han Zhang Shi killed so the truth wouldn't come out. She says that Madam Min was also behind Jing Liang Ren's death, using the same poison as Han Fei to further raise their suspicions of Chu Liang Ren. Madam Min says that everything is lies and that Li Er is trying to escape punishment for her own crime, and that's why she is trying to blame everything on her. Of everything that's just been said, Ying Zheng decides to focus on what crime Madam Min is accusing Li Er of trying to cover up. This is ridiculous. Madam Min tells Ying Zheng that Li Er wanted to kill her because she was about to expose that it was Li Er who helped Yan Dan escape from Qin. This stuns Li Er and she can't find anything to say. She says that Li Er being kidnapped had just been part of the plan to help Yan Dan escape. Madam Min's maid says that the night Li Er and Han Shen discussed helping Yan Dan escape Qin, she had overheard them outside. So that was the noise that Li Er and Han Shen had heard. She says that Li Er had been the mastermind behind the plan to help Yan Dan leave Qin. In fact, the assassins that stormed Yan Dan's manor that day had included Li Er's other martial arts brother. Madam Min says that everything her maid has said is the truth. Madam Min tells Li Er that it doesn't matter if she doesn't admit it. The only thing that matters is whether the King will believe her.
Just then, Li Si arrives. Madam Min says that she asked Li Si to come because he can help prove that everything she's said is the truth. Li Si tells Ying Zheng that although he had Li Er kidnapped from the palace, it was because he was suspicious that Li Er was working against Qin. Li Si tells Ying Zheng that Li Er's family had been killed by Qin soldiers, so he suspected her of ulterior motives. He reveals that when Li Er was kidnapped, the one who rescued her was her second martial arts brother, not Han Shen. Jing Ke had also taken part in Yan Dan's escape. Ying Zheng is already angry, and becomes even more so when Li Si mentions that Jing Ke and Li Er had been childhood sweethearts and their relationship is not innocent.
Li Si's words have definitely hit their mark as Ying Zheng remembers when Li Er told him when she entered the palace that her child was hers and her martial arts brother's. Li Zhong also finally realizes that the person who helped Yan Dan escape had been Jing Ke. He hadn't recognized him initially because it had been so dark that night. Li Si digs the knife in further by saying that after Li Er was kidnapped, she and Jing Ke had spent a full night alone together before she returned to the palace. He wonders if they rekindled their past relationship. Li Er tells him not to create rumors and spread falsehoods. Li Si says that if she didn't feel guilty, she wouldn't be so upset. Ying Zheng orders everyone to leave except for Li Er.
Ying Zheng is a combination of hurt and angry when he yanks Li Er to her feet and asks her if what everyone said is true. When Li Er doesn't say anything, he tells her that if she doesn't answer him, he will have everyone in Yan Dan's manor from Yan executed. Geez. Li Er: "It's true." Ying Zheng: "The person highly skilled in martial arts who helped Yan Dan escape. That was your martial arts brother. Right?" Li Er: "Yes." Ying Zheng accuses Li Er of going to help Yan Dan because she knew Jing Ke would be there. Li Er denies it, she says she just wanted to help Yan Dan return home. She didn't want Yan Dan to have to suffer in Qin. She tells Ying Zheng that he didn't want Yan Dan to stay and die in Qin either, but he couldn't lower his pride and release a hostage. Li Er says she'll accept any punishment from Ying Zheng.
Ying Zheng: "Helping Yan Dan escape is just an excuse. You wanted to see him. You wanted to be with him. Your abduction was also part of your plan. Han Shen was also included." Ying Zheng, you're so wrong. What is wrong with you, why won't you believe Li Er? Li Er: "Getting abducted was only to help Yan Dan successfully escape." She tells Ying Zheng that everything had been her plan and no one else had anything to do with it. Ying Zheng lets go of Li Er and says, "I was so worried about you. You schemed with that person to fool me?" Li Er: "I feel very guilty." Ying Zheng: "On one hand, you helped Yan Dan escape Qin. On the other hand, you pretended to have feelings for me. Is that your guilt?" Li Er: "It's not like that."
Ying Zheng: "Stop lying to me. Until now, you haven't stopped loving that man, right?" Li Er shakes her head no. Ying Zheng: "The martial arts brother you think about day and night." Li Er keeps shaking her head no. Ying Zheng: "You've never loved me. You lied to me for your own interest. You and your martial arts brother must have rekindled your relationship when you were alone together." Li Er shakes her head and tells Ying Zheng it wasn't like how he is thinking, she only wanted to help Yan Dan leave Qin. She touches Ying Zheng's arm and tells him that her feelings for him are real, she does love him. It's not what he thinks. Ying Zheng throws her hand off him and tells her, "Enough! I won't believe you anymore." Li Er says she's sorry, but Ying Zheng tells her to get lost and storms off. Li Er keeps apologizing.

That was not fun to watch. Ying Zheng was so upset that he wasn't able to look past his anger to hear what Li Er was trying to tell him, which is that she really does love him. Madam Min and Li Si were very effective in their plan to make Ying Zheng doubt Li Er and their relationship, especially when they brought up Jing Ke. Jing Ke is truly Ying Zheng's sore spot.
After storming out of the main hall, a furious Ying Zheng orders Li Zhong to have Li Er thrown into Yongxiang Prison. Li Zhong: "Yongxiang?" Ying Zheng: "Do you not understand?" Li Zhong quickly agrees to do as Ying Zheng has ordered. He orders for everyone in Yan Dan's manor to be arrested and put in prison as well.
Meanwhile, General Fan expresses his doubts regarding Han Shen again to Yan Dan and Tian Guang, that he might have been sent by Ying Zheng. They tell him that they trust Han Shen and to stop worrying. He had purposefully let Jing Ke injure him so they could escape from Qin.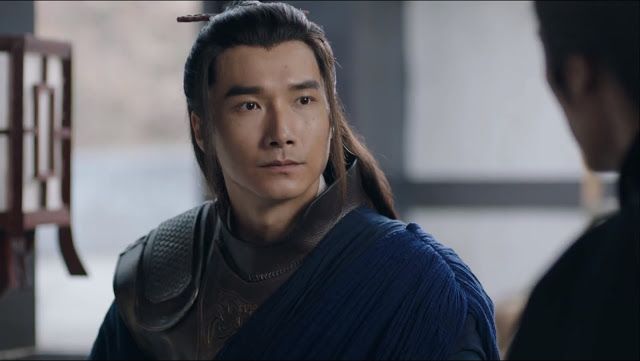 Jing Ke asks Han Shen to tell him if he is really there on Ying Zheng's orders. Han Shen tells Jing Ke that his objective is really something else, but he can't let anyone else know other than Tian Guang. Jing Ke says he believes him. Han Shen tells Jing Ke that he might think that he and Li Er are now Ying Zheng's people, but the truth is, Li Er has never changed. She is still willing to give help to anyone who needs it. Li Er getting involved in helping Yan Dan escape Qin is proof. Just then, Jing Ke notices someone watching them. Han Shen and Jing Ke are attacked, and they head off after the attackers. Yan Dan suspects that Ying Zheng has found them, but Tian Guang says to leave it up to Jing Ke to handle it. Han Shen and Jing Ke pursue their attackers, and Jing Ke kills two of them without any difficulty. His martial arts skills are amazing now.
Meanwhile, Li Er is being whipped in the Yongxiang Prison with Li Si overseeing. Can't believe Ying Zheng put Li Si in charge of Li Er's interrogation when he knows Li Si has a serious grudge against Li Er. It looks like it's been going on for a while as Li Er already has a number of wounds. Oh, poor Li Er. Li Si tells Li Er that he will pay her back for what he suffered in the past. Li Si questions Li Er as to why she helped Yan Dan leave Qin, and if she is conspiring with Yan. Li Er denies it. She says that she just wanted to help Yan Dan escape Qin, that it doesn't have to do with anyone else. Li Si accuses her of causing trouble for Qin. Li Si orders for Li Er's punishment to continue. Li Er tells Li Si that if his ability was even half of Han Fei's, he wouldn't be there in Yongxiang Prison torturing an insignificant person like her. She says that he's only able to use his power to bully others. Li Si is furious that she has insulted him and Qin and has her punishment continue.
In Zhao, the Dan Ding sect invades Yan Dan's residence and Tian Guang and General Fan are knocked unconscious. Dan Ding's leader tells Yan Dan that he is there to bring him back to Qin. He knocks Yan Dan out and has him taken with him.
Ying Zheng arrives at the prison as Li Er is being tortured. Ying Zheng and Li Er look at each other for a few seconds before he turns his back on her to ask Li Si how the interrogation is coming. Li Si says that Li Er is very stubborn and has so far not admitted to working with the King of Yan. Ying Zheng tells him to continue Li Er's interrogation. Li Si uses the whip on Li Er, and tells her to reveal the truth. Li Er says that as she already told him, she didn't get any benefit from the King of Yan. She had just wanted to help Yan Dan. As Li Si continues to whip Li Er, Ying Zheng remembers the times in the past that Li Er had rejected him. He storms out from the prison.
This scene made me so upset and frustrated with Ying Zheng. I don't care how angry or disappointed he was, I can't believe he would treat Li Er this way. He did nothing but stand there as Li Si hurt Li Er. Sickening. It's especially annoying because he doesn't shut up about how much he loves Li Er

and how much he wants her to love him, and then he goes ahead and has Li Er whipped and tortured by her adversary. Seriously, he doesn't deserve her. I don't know what it is that Ying Zheng has for Li Er, but it doesn't seem to be love. It seems more like obsession or possessiveness. Li Er needs to leave and get as far away as possible.
In Zhao, Han Shen and Jing Ke realize that they have lured away as a distraction and hurry back to Yan Dan's residence. They find Tian Guang and General Fan unconscious on the floor, and Yan Dan missing. Jing Ke shakes General Fan awake and General Fan tells them that Yan Dan was taken away by an old man.
Ying Zheng goes to visit Madam Min, and Madam Min pretends to be concerned about Li Er being tortured in Yongxiang Prison. Ying Zheng: "She hurt you so badly, and you still talk on her behalf. I didn't think she would do something like this." I hate him. Ying Zheng asks Madam Min if he should send soldiers after Yan Dan, and Madam Min tells him that Yan is in a weak state. Even if Yan Dan returns to Yan, it doesn't mean he can help. If he pursues Yan Dan, everyone will say he is cruel and heartless. It wouldn't help his goal of unifying the world. Madam Min tells Ying Zheng that she thinks he should attack Han and Wei, because they are weak and not difficult to defeat. Ying Zheng asks her if it will make her happy to see him withdraw his troops from Zhao.
Thanks everyone for reading!