Midnight Diner 深夜食堂 premiered to poor ratings and bad reviews. Of course, I
 tuned in for Mark Chao
 anyway, and it could be my infinite bias for him talking but I enjoyed the entire segment of Mark's Daughter which also starred Qi Wei, Ma Qianyi and Huang Lei. 
If a drama's success depends on how well it resonates with an audience, then this one definitely struck a chord with me who cried along with the characters and empathized with their story. 
Episode 6 begins five years ago when a seaman first walks into the Midnight Diner. He's a handsome guy who constantly gets hit on by the ladies, but then he opens his mouth, barely able to speak as he says, "Hi, I'm Mark, I can't hear."
 I
t's enough to turn away some girls while there are also those who stay for a drink, all in good fun.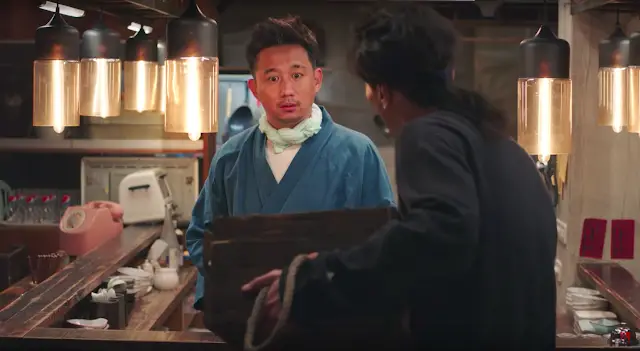 However, in the quiet of the night, Mark actually leads a lonely life and finds more comfort at sea than in the big city. One day, he comes running back to the diner to ask the Chef for help. He's found a baby!
Fast forward to the present and the baby is now an adorable five-year-old girl named Lele (Happy). She's extremely sensible for her age – cue the scene where she's buying groceries on her own. She's realizing that her dad is not like other dads, and the Chef jokes that Mark isn't like other dads because he's an alien. It puts a smile on her face as she declares that she likes his (her dad's) way of communicating.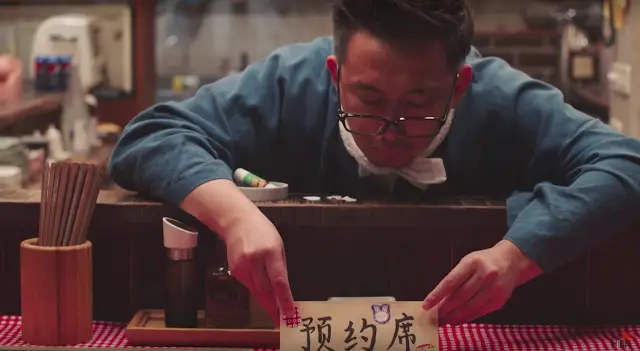 The ensuing scenes highlight the affectionate relationship between father and daughter. Fridays nights are reserved for a special veggie-infused burger meal courtesy of the Chef to combat Lele's extreme aversion to vegetables. Mark and Lele are happy campers, and yes, those are faces of delight at being served two bottles of Pepsi (this show is entirely unabashed when it comes to product placements).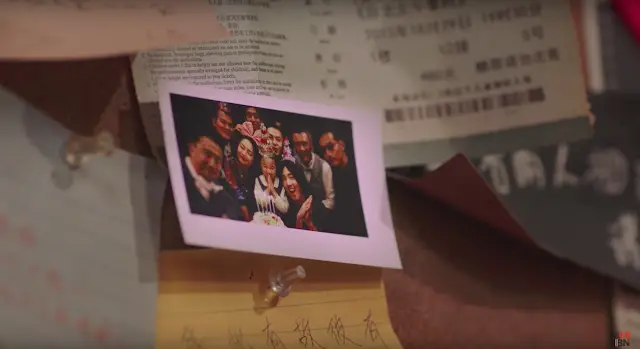 The customers at the diner have grown to become Lele's extended family. There's a gangster wearing dark shades and his sidekick, a flamboyant grandpa and a spirited dancer lady who has a huge crush on Mark.
Despite their abundance in love, finances can be a problem for a blue-collar worker raising a daughter on his own. Lele looks longingly at a Barbie ad on the train (yup, more product placement), but tells her father that she doesn't want one when he asks. 
Going to the bank can also prove to be a challenge when neither dad nor daughter can read a contract (she's too young, and he's illiterate). When asked where Mom is, Lele answers that she's in Hawaii and that they're saving up money to go and find her.  
Trouble hits home when Lele gets into an accident. Mark has his back turned, so her cries for help literally fall on deaf ears
. 
Mark is in a fit of panic by the time he rushes Lele who has fallen unconscious to the hospital and it's just heartbreaking to see. It gets even more heartbreaking when the incident results in her being taken away. 
The authorities find out that Mark's blood type is O and Lele's blood type is A, which means that it's impossible for him to be her real father, thus leading to this scene where Mark demands a lawyer.
One of the officers handling Mark's case also frequents the diner, and he shares that all data from parents with missing children are stored in one place so they'll know soon enough whether there's a match or not.
Dark-shades gangster hires a lawyer for Mark, but given the circumstances, Lele may be taken away for good. At least the lawyer gets Mark a chance to see his daughter, yet just when things can't seem to get any worse, Mark is told that they've found Lele's birth mother. 
Mark recalls the night he found Lele. Two men were stashing boxes onto a boat and hurriedly left as he approached. He opened the one box that they left behind and inside was a baby. 
Mark takes the opportunity to tell Lele that her mom is not really in Hawaii. 
She asks Mark if there's anything that he hasn't told her – her mom threw her away and he found her, right? He nods yes but says that they will be separated forever now that her mom is coming to pick her up. Lele tears up even more and suddenly proposes, "Let's run away." The next thing you know, they're on a speedboat. 
Episode 7 begins with a flashback to the time when Lele was still a baby. Back then, the Chef couldn't even fry food for fear that it'll wake the baby who was temporarily sleeping in the attic with Mark. One of the customers asked how Mark is supposed to know that the baby's crying when he's deaf, and the Chef says that Mark has his ways. We find out that he has tied a string connecting him to Lele so that he'll be alerted whenever she starts to cry. 
We also find out that Mark was the one who chose the name Lele which means Happy. It's a blissful moment, except the next scene takes us right back to the present where Mark has been booked in jail for attempting to escape with Lele via speedboat. 
Lele's mom returns from living abroad, and she's pissed that her daughter's kidnapper had the audacity to try to take her away again. She asks about a certain picture of the diner, and her lawyer answers that it's a restaurant that the man (Mark) takes her daughter to every Friday and it only opens at midnight.
Lele throws a fit at the Child Services lady and tells her that the police should imprison her too because running away with Mark was her idea in the first place. The lady says that they won't be doing that, which causes Lele to start throwing things and demanding to be with Mark. 
Lele's mom pays a visit to the diner, and she's instantly recognized by the Chef who says, "You're Lele's mom, right?" She's surprised that the Chef knew, and he reasons that it was because no customer has ever walked into the diner with so much antagonism towards everyone else. 
Even though the people at the diner only have good things to say about Lele and refers to Lele as their happy pill, Lele's mom takes it the wrong way and starts berating everyone for being a terrible influence on Lele. She also stresses that her daughter's name is not Lele but Wang Jing Zhen. 
She considers the diner to be a shady place that operates at midnight and invites all sorts of people (looks pointedly at dark-shades gangster). She can't imagine what kind of life her daughter lived in the past five years, and it's a nightmare for her child and for her.
Meanwhile, mother and daughter finally meet in person. Mom is nervous excited while Lele is more curious. Their reunion is reported in the news because Mom who's name is Ai Zhen is a corporate bigshot. 
Dark-shades gangster asks the lawyer for his opinion on Mark's case, and the lawyer goes on to explain that it's easy to prove that Mark has nothing to do with the smugglers. He was out at sea the day Lele was kidnapped and his bank account and subsequent actions back up his story. The hard part is that Mark wants custody of Lele when it's impossible, what's worse, the plaintiff's lawyer will make sure that Mark never sees Lele again.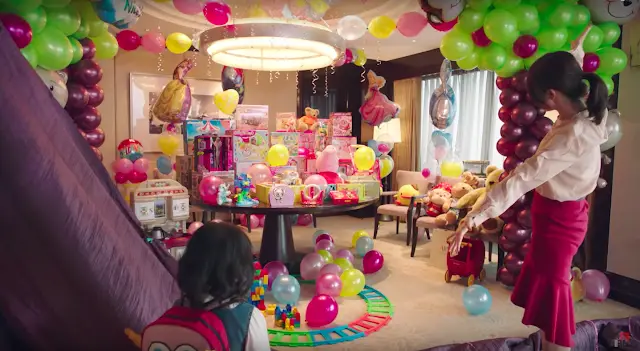 Lele and Ai Zhen make it back to the hotel. Ai Zhen tries her best to make Lele feel at home and showers her with enough presents to fill a room. It's something that ought to make any kid happy especially one like Lele who wanted but couldn't afford a Barbie set not too long ago, but she doesn't perk up at the sight.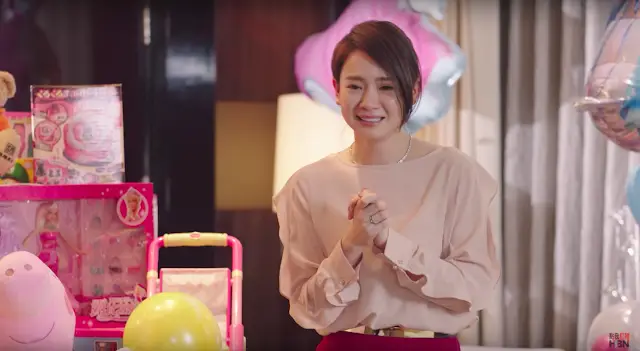 Ai Zhen is almost in tears because she really does seem to be desperate to reconnect with her daughter and to win her approval. Lele asks to sit by the window, and we see that it's a spot overlooking the red lighthouse that was her old home with Mark. 
Ai Zhen talks to someone over the phone and tells them to delay their flight home because she's not able to take Lele away yet.
The mood back at the diner is grim. Mark has been released on bail, but Ai Zhen still believes that Mark kidnapped her daughter and refuses to let them see each other. Everyone offers words of comfort to Mark which gives him renewed confidence to continue the fight for his daughter because if Lele wants to return to him, it's up to Mark to make it happen. 
The next morning, Ai Zhen panics when she wakes up and Lele is gone. She's relieved to find Lele in the bathroom brushing her teeth, but it doesn't stop her from breaking down into tears at the thought of having to relive her nightmare all over again. 
We get more mother and daughter moments from the time when Ai Zhen was still pregnant to how she is in the present with Lele, and she truly seems to be nothing short of an amazing loving mom. It's sad that distance have caused these two to meet each other as strangers but they were easily able to bond over breakfast. Lele cracks her first real smile at her mom when she finds out that just like her, Ai Zhen can't eat anything with veggies. 
Mark goes to see the Chef to ask for his help in learning how to read and write, but instead of helping, the Chef actually advises him that returning Lele to her real mom might be better. This gets Mark all riled up as he declares that he is Lele's father. He walks out and seems to have gotten the help of dancer lady instead.  
Episode 8 opens at the diner. No one knows where Mark has gone since the day he walked out on the Chef, and it was only after some prodding that dancer lady finally admits that she's been meeting with Mark for the past couple days to teach him how to read and write. The next scene takes us to the courtroom, which if you haven't cried at all through this entire thing is a pretty fitting time to start bawling. 
The judge asks Mark whether he took the baby from the hospital. Mark shakes his head in denial and his lawyer further defends that it's not possible for Mark to be the culprit as he was at sea at the time and in the past five years, he's been working hard to raise Lele. 
His disability comes into focus, and his lawyer stresses that precisely because of his disability, Mark has been working ten times, twenty times harder than most. 
Ai Zhen's lawyer counters that even setting aside the fact that Mark won't be able to give the child a better life, his inability to react at first instance led to bigger damage. They don't believe there is a reason that Mark should get custody or visitation rights. 
The reality of it sends Mark into a panic as he starts muttering words albeit with great difficulty, "I can. I can read words and speak." 
Everyone including the judge is surprised since Mark isn't supposed to be able to speak, and he tries his hardest to read the words in Little Red Riding Hood out loud and refuses to stop even when his lawyer tells him to. It's a painful and emotional scene as Mark keeps repeating, "I can take care of Lele," whilst the guards hold him down. Ai Zhen leaves, but she seems to be affected by his sincerity.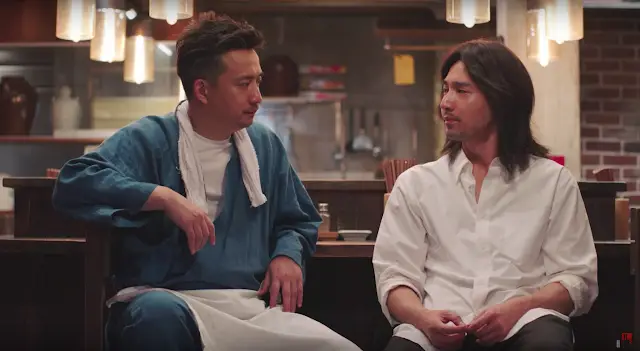 Back at the diner, the Chef and Mark have a thoughtful conversation. The Chef says that he knows Mark will do anything for Lele, but her mother's love for her is also complete. She will also give Lele everything, and it's much more than they can ever provide. He also asks Mark whether he's ever considered the pain Lele's mom felt when her baby was taken away as it would have been worse than what Mark is feeling. In a way, Lele is simply going back home. 
The Chef pays a visit to Lele and Ai Zhen who's about to go abroad for good. He's able to convince her that she needs to find the five years that Lele was away in order to truly be with her. Ai Zhen tries the Chef's veggie-infused burger and also learns about Lele's life. 
Dark-shades gangster (who might not even be a gangster) is Lele's P.E. teacher, flamboyant grandpa is her art teacher and dancing lady is her dancing teacher. Just when Ai Zhen has her guard down and manages a smile, Mark walks in and instantly sets off her protective instincs towards Lele. 
| | |
| --- | --- |
| | |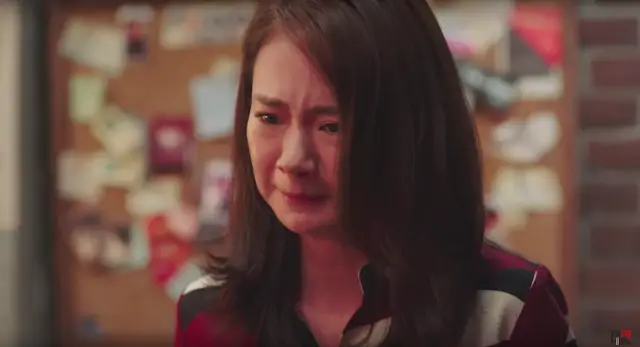 The Chef explains that Mark just came to say goodbye, and Lele's insistence to be carried by Mark leaves Ai Zhen no choice but to relent. However, she finally has an outburst as she's had enough, "Are you trying to provoke me? He's deaf mute, so I should give him time and understand him, but what about me? Do you know how I lived in the past five years?" 
The Chef comes after Ai Zhen to explain that Mark was actually trying to convince Lele to leave with her, which seems to appease her a bit.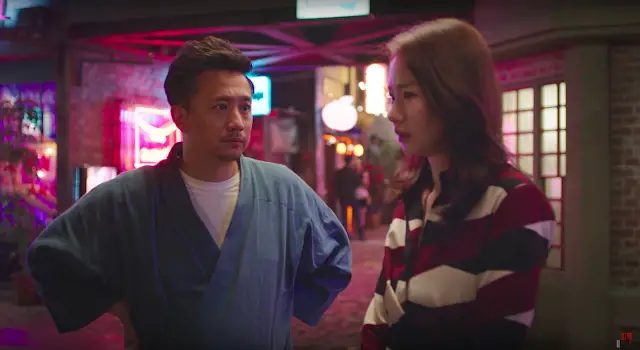 We're on to the final stretch and the show has squeezed in some more mother-daughter scenes. Lele finds her mom watching old videos and asks whose voice she hears. It's her real dad and it turns out that he left Ai Zhen after believing that they would never find Lele again. 
Ai Zhen cries and repeatedly says that she can't lose Lele again. Lele assures her mom that she shouldn't be sad anymore because she'll go back with her. Mark still has everyone, but her mom only has her.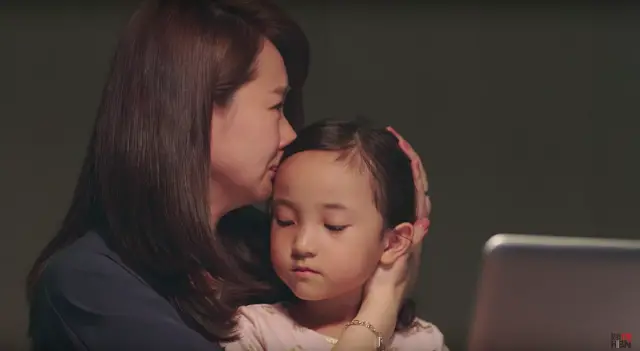 By now, I think it's become clear that there is no bad guy here so let's get to the end. Ai Zhen takes Lele back to her old house for a proper farewell with Mark and her extended family. 
Lele like a little adult as she reminds Mark to take care of himself well while she's away – don't oversleep, don't forget to eat, remember to wash his hands… 
It's a tearful goodbye between the two. The car drives away and Mark starts sobbing uncontrollably.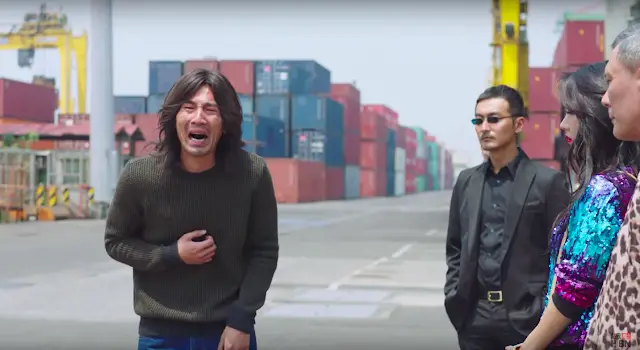 But wait, it ends happily. Two days later, Ai Zhen sends Mark a plane ticket, and in a slightly more comedic turn of events, it's dancer lady who's crying now that Mark has gone. 
Comments: I don't think this is a story that needs to be picked apart and dissected as it has quite a simple premise that's more about conveying the most basic human emotions. 
The moral of the story seems to be never to claim another's kid as your own. The whole story wouldn't have happened if Mark had just returned the baby he found right away, saving the real mom a lot of trouble and heartache. I think what he did was wrong, but maybe it wasn't a conscious decision on his part (he could have thought Ai Zhen gave the baby to the smugglers?), but at the end of the day, it's no longer about who's right or not, but about how much these two people love their child
. I cried, more than once, and it really helps that the show had a solid cast of actors from Mark and Ai Zhen down to Lele who is the most adorable kid (she's up there with Ah Li in cuteness).