The Gods 封神 has been dropping stills since early 2015, but has yet to secure an air date amidst intense competition. The story which is another take on the 16th-century Chinese novel The Investiture of the Gods follows a highly fantastical premise that revolves around gods, demons, men and a half-god half-human who takes the lead as the main protagonist. 
Luo Jin as Yang Jian, later known as Er Lang Shen. As a descendant of a god and a human, he
 possesses a third eye in the middle of his forehead. He leads a difficult life and falls into a romance that is destined for heartbreak, yet all his experiences pave the way for him to become a hero. He is the disciple of Yu Ding Zhen Ren.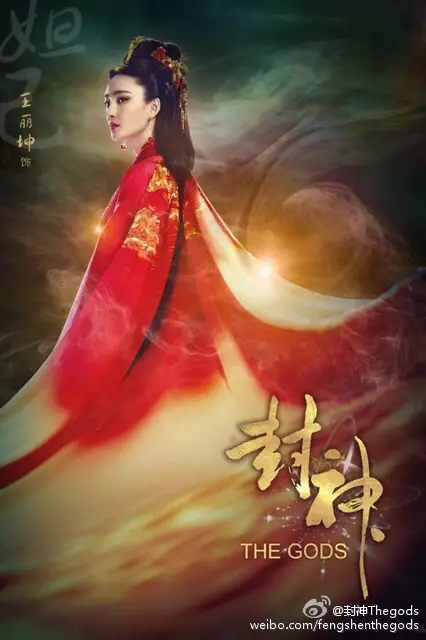 Wang Likun as Su Da Ji, a woman with a dual personality and finds herself in a constant struggle between good and evil. Zhou Wang becomes infatuated with her ethereal beauty and claims her as his bride. She becomes one of the three demons, an incarnation of the thousand year old nine-tailed fox. 
Zhang Bo as Ji Fa, later known as Zhou Wu Wang of the Western Zhou Dynasty. He is the second son of Ji Chang. 
Yu He Wei as Jiang Ziya, a disciple of the Heavenly Elder. During the reign of Zhou Wang, the gods were lacking in numbers while the demons were wreaking havoc in the human world. Jiang Ziya takes on the important mission of assisting a benevolent King into the throne, and he is also in charge of the investiture of the gods. 
Deng Lun as Zi Xu, the King of the Nine-Tailed Fox Tribe. He makes a deal with Da Ji to grant a wish of hers in exchange for her soul. As he protects Da Ji, he comes to realize the goodness in humans.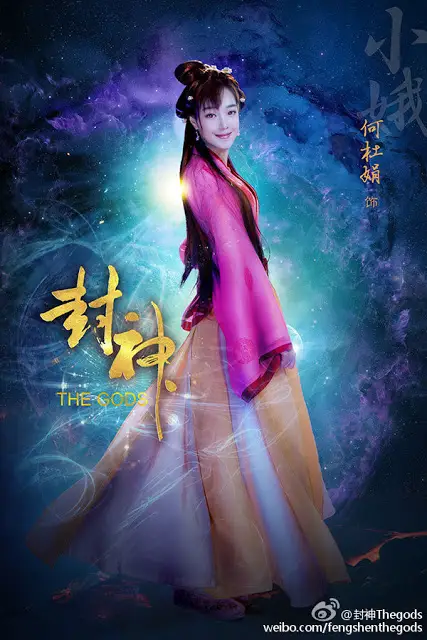 He Du Juan as Tian Xiao E, a young woman in a one-sided love with Yang Jian. 
Colin Chou as Zhou Wang of the Shang Dynasty. As the Emperor, he has the world at his feet and he exploits his power to become one of the most tyrannical and abusive leaders of his time. 
Hu Jing as Empress Jiang, the wife of Zhou Wang. 
Bai Shen as Madam Su, the mother of Su Da Ji. 
Hai Yi Tian as Shen Gong Bao, Jiang Ziya's martial arts junior. He grows increasingly jealous, thinking that their master the Heavenly Elder favors Jiang Ziya, which is why he begins conniving with others to plot against Jiang Ziya. 
Jin Jiang Ri as Fei Zhong, a corrupt court official who serves Zhou Wang. 
Sun Bo Hao as Yin Jiao, the eldest son of Zhou Wang. 
Guo Yuan Yuan as Lan Ying, Jiang Ziya's daughter.