So many enjoyable scenes between Ying Zheng and Li Er to watch – and re-watch over and over again – in these episodes!
After his time of reflection, Jing Ke decides to set aside everything that's happened to him and focus only on mastering his swordsmanship. He makes a promise to his Master and Li Er that he will not disappoint them. The next morning, Lan Er is upset with her father for how hard he pushed Jing Ke, but he says that it was necessary to push Jing Ke out from his depressed state. Jing Ke returns from practicing his swordsmanship and appears to be in much higher spirits. He even brings breakfast for Ge Nie and Ge Lan. Jing Ke tells them that he has decided to stop wallowing in self pity and that he plans to head out and look for the Huluo sword technique that his Master left him. He really seems ready to move on. Good for him. It's about time. Lan Er tells Jing Ke that she will accompany him on his journey, and her father shoots her a look. He doesn't like that idea at all. However, he knows that there is nothing he can do to stop her.
The Grand Dowager has gathered the royal consorts to discuss the recent lack of propriety and discipline in the palace, especially Li Er's behavior and how it makes the inner palace look to outsiders. Madam Chu compares Li Er to a bug in a cup of tea which must be eliminated. Grand Dowager warns the consorts to be smart about who they talk to and interact with in the future. She's determined to punish Li Er for breaking the rules of the palace.
Ying Zheng visits Li Er's residence one night, and she asks him why he's there. When Ying Zheng tells her that he plans to stay the night with her (eee!), Li Er can't believe it and asks him how that can be. Amused, Ying Zheng decides to question Qing Er. Whose palace is this? Does he not have the right to decide which consort he wants to spend the night with? Is there a problem with him deciding to stay with Li Er? Of course, Qing Er says that this is Ying Zheng's palace and he can stay the night with Li Er if he wants. Ying Zheng tells Li Er that even a palace maid knows better than her. Lol. He dismisses Qing Er for the night.
After Qing Er leaves, Li Er asks him what he's really there for. Ying Zheng gets up and strokes her hair as he tells her exactly what is on his mind – even though Li Er entered the palace more than a year ago, they never consummated their relationship, that was out of his respect for her, but Ying Zheng's reached his limit: "I want to have you now – will you give yourself to me?" OMG. I think my heart skipped a beat. He kisses her and prevents her from backing away by holding onto her head. Very hot. Li Er resorts to biting him to get him to stop kissing her. Ying Zheng: "You still like to bite people." (lol), and he kisses her a second time.
When Li Er breaks away, she covers her mouth with her hands to prevent him from kissing her a third time. Li Er: "You said you want to respect me." Ying Zheng: "That's because I have no choice. I can't help myself. If you don't give yourself to me tonight, I'll come again tomorrow. I'll wait until the day you willingly give yourself to me." He pets her head and tells her to rest well before he leaves. OMG. That was so intense and hot.
Ying Zheng is more than ready to take their relationship to the next level. You can tell he wanted her from the first moment that she entered the palace, but he always restrained himself because he knew she wasn't ready and he adored her so much. It couldn't have been easy for someone like him who is used to getting everything he wants to wait this long. 

Did anyone else watch the press conference they had for the drama? They played a clip of this scene for the audience, and Vin Zhang was so embarrassed by it that he covered his face, it was so cute. He said that it was the first time for him to watch the scene, lol. He and Dilraba did a little skit where they acted out the scene, but they exchanged places, so Dilraba acted as Ying Zheng and Vin acted as Li Er. Dilraba kept messing up the lines, and at the very end Vin pulled Dilraba into him. It was very adorable and Ying Zheng-like.
Ying Zheng plays chess with Madam Min, who he says he feels the most comfortable with. The vibe is much more brother-sister than King-Consort. Ying Zheng tells her that she has an open heart, to which Madam Min says that she just understands the ways of the inner palace. The more you fight, the higher your hopes become and the easier it becomes to fall. Others would be able to use your weaknesses to get rid of you. Ying Zheng says that not fighting is also a way of fighting. Ha. 
Ying Zheng decides to turn the conversation to the recent events in Zhao state. He asks Madam Min if she ever hated him because his actions led to the King of Zhao's death. Madam Min tells him that since she married into Qin, she doesn't concern herself with state and government affairs. She just tries to live peacefully.
Ying Zheng tells Madam Min that he was surprised when Zhao Qian became the King of Zhao, because it was Zhao Jia who was the more qualified one. Unfortunately, it was Zhao Qian's mother who was the more favored consort. He knows that Zhao Qian loved her since they were young, and so was surprised when Madam Min said she wanted to marry into Qin. Madam Min brushes it off by saying that Zhao Qian's words are not worth taking seriously. To her, there is no difference between being a consort of Qin and a consort of Zhao. I don't trust Madam Min one bit. It's always the nice ones who are the most dangerous. I can see how smart she is though – she really seems to be playing at a level higher than everyone else. I wonder if she married Ying Zheng so she could work behind the scenes in the Qin palace for Zhao and Zhao Qian.
As Qing Er brushes Li Er's hair, she tells Li Er that she's afraid that Ying Zheng will return that night. Li Er says that she knows he will. Qing Er tells Li Er that what Ying Zheng said is correct, the entire palace and all of the consorts belong to him. That includes her. She tells Li Er not to fight him anymore, because she won't be able to win. Li Er tells Qing Er that she won't fight anymore.
Sure enough, Ying Zheng comes to see Li Er again. Li Er takes a hairpin and hides it behind her back as she walks towards Ying Zheng who is seated on the bed. That hairpin does not look sharp enough to cause much damage, if any, lol. I can't tell if Li Er's intentions are

really to

kill Ying Zheng, or to hold him off. Ying Zheng: "I'm here like I promised. Are you prepared? … You're beautiful tonight. I told you that I'd wait for the day that you are willing to give yourself to me. Tonight….are you willing or unwilling?" Li Er: "What do you think?" Ying Zheng: "I think that you want for both of us to die. You will kill me first, then kill yourself. But, have you considered Tian Ming?" 
At these words, Li Er tightens her grip on the hairpin. She starts tearing up as Ying Zheng takes the hairpin from her and tells her that he's already sent Tian Ming outside the palace. Although Ying Zheng says that it was for Tian Ming's protection, Li Er doesn't buy it and says that he's using her son as a hostage so she has no choice but to stay with him. Ying Zheng tells her that she's right – he does want her to stay in the palace with him. Li Er accuses him of blackmailing her, and when Ying Zheng tells her that it's not without precedent for princes to be sent out of the palace, Li Er asks him if he just thinks of her as a country that he's at war with. Ying Zheng says that it's with the same desire that he has to rule the world that he wants to have her – he wants her to give him her heart. He tells Li Er that he's the only one in the world who can protect Tian Ming which seems to strike a chord with Li Er. Ying Zheng gives her back the hairpin and tells her that hairpins should be used to pin hair before leaving. That was intense.
The Grand Dowager meets with Madam Chu and they discuss how much Ying Zheng dotes on Li Er. It's unbelievable that Li Er protected Han Shen and they question whether Han Shen and Li Er have an inappropriate relationship. If they have been deceiving the King, it is a capital crime. They say Li Er is uneducated and doesn't follow the rules, and it drives Madam Chu crazy. 
Grand Dowager has a plan to use Ying Zheng's upcoming birthday celebration to get rid of Li Er.
When Li Er meets with the Grand Dowager, she tells Li Er that her leaving the palace caused a lot of trouble for Ying Zheng and there is much discussion about it among the consorts. The Grand Dowager thinks she has a solution to address both issues and bring peace back to the palace – for Li Er to perform a sword dance at Ying Zheng's birthday celebration. Li Er agrees, but in return she asks the Grand Dowager to be there and protect Tian Ming and his safety if someone tries to harm him in the future. The Grand Dowager promises Li Er that she will do so.
Li Er practices the sword dance with Han Shen who tells her that he is suspicious of the Grand Dowager's intentions in asking her to perform, however, Li Er tells him that the Grand Dowager has promised to protect Tian Ming in the future. It was a bargain worth making for Tian Ming's sake. I wonder if she really thinks the Grand Dowager would keep her word. It seems to me that Grand Dowager would take the first opportunity she can to eliminate Li Er's son. I think Li Er thought that it was at least worth

a

try.
Ying Zheng's birthday celebration is a grand affair and everyone who's anyone is in attendance, including the Grand Dowager, the royal consorts, General Meng Wu, and Li Si. Even Crown Prince Dan of Yan state is attending. Han Shen is also there to

keep an eye on

things. After Madam Min presents a beautiful musical piece, it's Li Er's turn to present her sword dance. Everyone looks intrigued while Madam Chu and Grand Dowager definitely look up to something. In fact, they've schemed to have Li Er accused of conspiring against the King. The Grand Dowager has brought her guards to the celebration under the guise of protecting her, but Li Er is their true target.
Li Er performs her sword dance with a fake wooden sword, and it's visually stunning. Ying Zheng looks

very pleased

as Li Er dances

and

spins and twirls. It's nice to see Ying Zheng smiling. Meng Wu, Crown Prince Dan, and Li Zhong all look a little dazzled as well. Right before the end, Li Er points her sword at Ying Zheng, leading everyone to

feel

a little startled. A

t

the

end

of Li Er's dance, she uses her sword to open up a ball hanging above her

and

release the red and purple flowers that are inside. It's beautiful.

U

nexpectedly, a real sword comes falling out of the ball. Li Er is totally surprised and she takes the sword as it drops down. Her plan set into motion, the Grand Dowager instantly calls for her guards to protect the King.
Unbeknownst to everyone, there's a second plan that's put into motion. Crown Prince Dan signals one of the palace maids standing behind Ying Zheng, who is actually there to assassinate him. Li Er spots the assassin and starts making her way towards Ying Zheng, fighting against the Grand Dowager's guards who get in her way. To everyone else, it appears like Li Er is heading towards Ying Zheng to harm him, and it becomes complete chaos in the hall as everyone jumps up from their seats. As Li Er gets closer and closer to Ying Zheng, two of the Grand Dowager's guards move to attack her from behind, and Han Shen fends off their attack. However, he is stabbed by Meng Wu in the shoulder and in the side, becoming seriously injured.

Li Er is in the motion of throwing her sword to kill the assassin behind Ying Zheng when she is stabbed by Li Zhong, who doesn't know what her intentions are. That's now the second time Li Er's been stabbed helping Ying Zheng. Everyone watches as the sword sails by Ying Zheng and kills Crown Prince Dan's assassin, finally making it clear that Li Er had been trying to save Ying Zheng all along.
Ying Zheng runs through the palace, carrying Li Er in his arms. Ying Zheng is furious and wants answers from Li Zhong. Li Zhong informs him that the guards who Li Er was fighting are under the Grand Dowager and were supposedly there for protection. Ying Zheng angrily asks Li Zhong how an assassin was able to make it into the palace, to his birthday celebration. Li Zhong, more flustered than we've ever seen him, promises to investigate and report back to Ying Zheng.
Ying Zheng asks Li Zhong if he drew his sword because he thought Li Er intended to kill him. When Li Zhong hesitates to respond, Ying Zheng tells him he can feel free to be honest because he trusts him. Li Zhong tells Ying Zheng that at the time, with Li Er headed straight for Ying Zheng, he did think that Li Er's intention was to harm Ying Zheng. Li Zhong tells him that if Li Er hadn't killed the assassin, the one who would be hurt right now would be Ying Zheng, and that would've been disastrous. Now that he's thought about it, if Li Er really wanted to kill Ying Zheng, she's had many opportunities to do so and didn't have to plan to assassinate him at his birthday celebration, with so many people and guards present.
Madam Chu and Madam Min have a run in at the palace. Madam Chu pretends that she had no involvement in the day's events and to her, it just looked like Li Er wanted to harm Ying Zheng. Madam Min says she knows that Madam Chu was behind what happened, but she must not have anticipated that Han Shen would become involved in the fight. She says that it's obvious that Li Er was actually protecting Ying Zheng. Madam Min tells Madam Chu that the truth will be revealed, and advises Madam Chu that she will bring about her own destruction.
The physician examines Li Er, and tells Ying Zheng that she is no longer in danger. Ying Zheng dismisses everyone and says he will personally take care of Li Er. Aww. Li Er mumbles out for her martial arts brother, and Ying Zheng tells her that he will save him too. In a scene reminiscent from Luoyang City, Ying Zheng takes a cloth and wipes Li Er's forehead. Li Er opens her eyes briefly and sees Ying Zheng taking care of her, but then goes back to sleep. Ying Zheng is very gentle and the look his eyes … he is so sorry and concerned that Li Er was hurt.
A servant reports to Crown Prince Dan that Ying Zheng is focusing his attention on the Grand Dowager's guards because it was Grand Dowager who arranged the sword dance, leading to Li Er and Han Shen becoming injured. He is not paying much attention to the assassin. Crown Prince Dan says that as Qin is going against the Six Kingdoms, it's not even surprising for there to be an assassin. Yan shouldn't be implicated in the matter, since the assassin was from Wei. Her family had been killed by soldiers from Qin, and was not anyone remarkable. 
Crown Prince Dan wonders about the condition of Li Er and whether she was just acting as a chivalrous heroine, or if her intention was to protect Ying Zheng. His servant questions his interest in Li Er, but Dan says that it's because she is different from the other consorts in the inner palace, since she never involved herself in the fight to be named Queen, and she has never been afraid to go against Ying Zheng. He thinks that it will be difficult to bring Li Er to their side because of her strong personality, and he's envious of Ying Zheng for having such a woman at his side.
When Li Er wakes up, she sees that Ying Zheng has fallen asleep. She sees that his brows are furrowed from a nightmare, and is going to smooth out his forehead when Ying Zheng wakes up and grabs her wrist. Ying Zheng tells Li Er that he's never wanted to sleep next to another person, and Li Er tells him that she knows from when he told her the same thing in Luoyang City. Ying Zheng smiles at the memory. It says a lot that Li Er is the one person Ying Zheng is comfortable falling asleep next to.
Li Er asks after her martial arts brother, and Ying Zheng tells her that he lost a lot of blood and is currently being treated. Li Er starts to rise so she can go see him, but Ying Zheng stops her because she needs rest for her wounds to heal. He tells her not to worry and that he will look after Han Shen. Li Er tells Ying Zheng that her intention wasn't to assassinate him, that suddenly a real sword appeared and she headed in his direction because she saw the assassin behind him. She says that if Han Shen hadn't blocked the guards' attack on her, she may have been heavily injured or may even have died. Ying Zheng tells her that he plans to investigate the matter thoroughly. Li Er thinks that the events that day were very suspicious and that the plan to frame her and the plan for the assassin seems set up by different people. Ying Zheng tells her that Qin is the enemy of the Six Kingdoms, and there are a lot of people who want to kill him, like it's the most normal thing in the world. Ying Zheng tells her that the people who used her sword dance at his birthday celebration to go after her are even worse than the assassin.
Qing Er arrives with Li Er's medicine. Ying Zheng takes it from her so he can feed Li Er personally. Li Er resists and says that she can take the medicine herself, or Qing Er can feed her. Ying Zheng says that since Li Er is his wife, it's only natural for him to feed her and that he will cut the head of anyone who tries to take over his "chores". Lol, and aww. Li Er remembers the red date kiss, and agrees for Ying Zheng giving her the medicine. 
Ying Zheng goes to visit Han Shen to see how he is doing. The physician tells him that Han Shen will be fine if he can make it through the next couple of days. The physician compliments Han Shen's dedication and says that if it had been Li Er, the consequences would be unimaginable. Ying Zheng says that Han Shen put his life on the line for Li Er, which isn't something everyone can do. Ying Zheng tells the physician to do everything he can to save Han Shen and to let him know if he needs anything.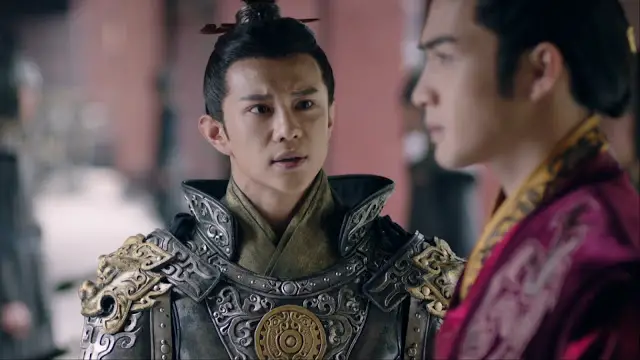 Ying Zheng tells Li Zhong that the Grand Dowager brought her guards to his birthday celebration under the guise of protecting him, but it was really a trap to harm Li Er. Li Zhong reports that the palace guards from that day are at the Grand Dowager's residence, and the Grand Dowager refuses to allow them to be questioned. That angers Ying Zheng, who does not believe that he cannot talk to the guards when he is King of Qin. 
He starts heading for Huayang Palace when Li Zhong reminds him that the Qin army has just been deployed to help the Wei state attack Chu. He is concerned that if they go after the Grand Dowager, Chu will use it as an excuse to align with Wei and attack Qin. Ying Zheng refuses and says that if the Grand Dowager does decide to bring Chu into this matter, it provides him an opportunity to clean up the inner palace. They head for Huayang Palace.
Meanwhile, the Grand Dowager and Madam Chu are meeting with Li Si and laying the groundwork for a partnership. The Grand Dowager and Madam Chu offer an extremely valuable jade to Li Si. In exchange for the gift, Li Si informs Grand Dowager and Madam Chu that Qin has sent out an army to help Wei attack Chu. Grand Dowager and Madam Chu are shocked, and Li Si tells them that Ying Zheng has made up his mind on the matter. Just then, the Grand Dowager's maid rushes in to report that Ying Zheng is headed their way with Li Zhong and a group of soldiers.
Ying Zheng arrives at the Grand Dowager's residence to arrest the Grand Dowager's palace guards. The Grand Dowager says that it is a huge disrespect to her and they'll arrest her guards over her dead body. Ying Zheng doesn't back down and orders his soldiers to arrest the guards, surprising even Li Zhong.
Just then, Li Er arrives and asks Ying Zheng to show mercy and spare the guards. Ying Zheng says that even if Li Er can forgive them, he won't because the day's events were obviously a trap and they were using him to harm Li Er. He hates being used the most, and can't tolerate it. Li Er argues that it looked to everyone there that day that she was going to harm Ying Zheng, so the guards were just fulfilling their duty. Since Li Er's spoken up for them, Ying Zheng tells the guards that as punishment for breaking the palace rules, he is removing them from the palace and sending them to guard the frontier. Madam Chu is angry that they gave an opportunity for Li Er to put herself in a good light in front of Ying Zheng and the Grand Dowager. Not only did she save Ying Zheng from assassination, but she spoke up for the Grand Dowager's guards.
On their journey, Jing Ke and Lan Er encounter Swordsman Gao in Daliang City, who is in the process of competing in and winning a martial arts contest. When Gao mentions that there is something different about Jing Ke, he admits that he's found a way to move on. Gao tells Jing Ke and Lan Er that Qin sent troops to help Wei attack Chu, and even though Qin expected a quick victory, the fighting has come to a draw. In order to win, Qin may send more troops, which will only lead to innocent civilians being harmed. Gao wants to help, and Jing Ke and Lan Er agree to join him. They toast to world peace. Meanwhile, a member from Dan Ding Group has been spying on them.
Li Er thanks Ying Zheng for sparing the Grand Dowager's guards since she wouldn't want their lives on her conscience. Ying Zheng shares with her that Qin's attack on Chu has been unsuccessful, and the Grand Dowager may incite her home state of Chu. Li Er tells Ying Zheng that from her perspective, it is Wei who has the most to gain. When Qin and Chu fight, they will both be weakened. When Ying Zheng doesn't respond, Li Er tells him to disregard what she's said if it's inappropriate. Ying Zheng tells Li Er that no, what she said makes sense, and she might've helped him find a solution to his problem.
In the mountains, Gao, Jing Ke, and Lan Er see the Qin army retreating and they know that the order must've come from Ying Zheng. They decide to go to Song Shan for training. When Gao describes the nearby mountains, it jogs something in Jing Ke's memory regarding the location of the Huluo sword technique, and he realizes the technique must be hidden there.
Ying Zheng and Li Er visit the Grand Dowager and Madam Chu, and the Grand Dowager offers oranges from Chu state for Li Er to try. Li Er says that the oranges are indeed good, better than the oranges from Huaibei. She says that Huaibei oranges taste as they appear, which is ordinary, but the oranges from Chu, some are pretty on the outside, but are ruined inside. She asks if this is the same as the customs and practices of Chu. At that, Ying Zheng just smirks. Ha.
Ying Zheng informs the Grand Dowager and Madam Chu that he has already ordered the Qin troops to retreat from Chu. He tells them that it was actually Li Er who helped him come to the conclusion that attacking Chu would only help Han and Wei. Furthermore, in thanks for retreating, Chu provided rations to Qin to improve the two states' relations. The Grand Dowager has no choice but to agree that Li Er accomplished a great achievement, but warns Ying Zheng to recall past instances where royal consorts interfering with state affairs led to disaster. Ying Zheng asks Grand Dowager if she remembers when he told her that he wanted to name a skilled consort to be his Queen, and the Grand Dowager says that she does indeed. Ying Zheng says that Li Er is that woman, and he plans to name her his Queen. Li Er is completely shocked.

Thanks everyone for reading!

Previous <- Episode Recap -> Next