Tian Guang tells Jing Ke that they need to rescue Crown Prince Dan of Yan who

is living

right under Ying Zheng's nose in Xianyang City. It's an extremely difficult task. Tian Guang doesn't want to impose and says that it's Jing Ke's choice, he won't force him to help. Jing Ke is immediately ready to go, and Lan Er says she'll go as well. Jing Ke tells Lan Er that this is not a good idea, since she is just recovering from her injury. Tian Guang tells her not to worry, he has made arrangements for them to be joined by other warriors from Yan.
Back in the palace, Han Shen gives Li Er a letter from Tian Guang that Jing Ke is on his way to Xianyang City. Li Er stuns Han Shen by telling him

it was her

who told Tian Guang that Yan Dan had be

en

placed under house arrest. She considers Yan Dan to

be

her friend, and she needs to help him return to Yan. If her grandfather w

ere

alive, it's what he would want her to do. 
Han Shen is very

concerned

with

Li Er taking such a dangerous risk, and if Ying Zheng finds out, she will be guilty of treason. Who knows what he would do to her and Tian Ming. He volunteers

himself

so Li Er can stay out of it (if something goes wrong, he can just leave), but Li Er says she has to be involved. She was the one Yan Dan asked for help, and she worries

about things going

wrong if she isn

'

t there. Even if Ying Zheng finds out, Li Er doesn't believe

he

would kill her or take his anger out on Tian Ming. You never know, Li Er. You're taking a huge risk. T

hat's

a lot of faith you're putting into Ying Zheng's feelings towards

you

and Yan Dan.
Li Er bel

ieves

that Ying Zheng has always considered Yan Dan a close friend, and never really wanted to p

lace

Yan Dan under house arrest. He had no choice but to take such action

as

the King of Qin. She thinks that she would be

doing

Ying Zheng a favor by helping Yan Dan leave. Um, Li Er, I don't think Ying Zheng wil

l see it

that way.
Han Shen asks Li Er why she is letting herself getting pulled into
all this
, and
that
he can't tell if Li Er is doing all this for Yan Dan or Ying Zheng. She says that her grandfather always taught her that warriors should live according to their principles. Warriors should not only care for their own safety but
should do what they ought to
. That's who Li Er is. Han Shen tells her that since her mind is made up, there's no way to go back. Li Er
says she is
not comfortable pulling Han Shen into all this. They suddenly hear a noise outside,
but
Li Er doesn't see anyone. She asks Qing Er what happened, and Qing Er says she had stepped away for a little
while
. 
Jing Ke and Tian Guang are prepared to leave on their mission to rescue Yan Dan

, and Jing Ke

feel

s

very confident. As they are about to leave, Lan Er comes rushing out and warns Jing Ke to be careful. Jing Ke tells her not to worry,

since

his martial arts skills are now at a level where he can overcome any obstacle. Heh.
The night before the plan to rescue Yan Dan

will be

put into motion, Li Er, Jing Ke, and Yan Dan stare at t

he moon,

each lost in their own thoughts.
The next morning, Li Er help

s

Ying Zheng organize his scrolls and prepares tea for him to drink. Ying Zheng smiles like he can't believe she's there. Li Zhong and Han Shen come in

and

report that Yan Dan has been feeling ill for a few days now. Ying Zheng

becomes

very concerned at this news, and tells Li Zhong to send a physician. Li Er volunteers to go and visit Yan Dan on Ying Zheng's behalf, and Ying Zheng is happy to give her his permission.
Li Er arrives at Yan Dan's residence for her visit. It turns out that no one is allowed to visit Yan Dan without a decree from Ying Zheng. That's so controlling. Han Shen hands over Ying Zheng's decree, and Li Er is allowed to see Y

an Dan.

Knowing a

soldier

is listening at the door, LI Er and Yan Dan exchange greetings and

converse formally

to maintain appearances

. Li Er says that she will sing a song of Yan for Yan Dan to help him feel better and recover from his illness

more quickly

.
Just then

, a group of masked men storm Yan Dan's manor. The group is led by Tian Guang, and this

looks to be

part of the plan. They make themselves out to be bandits looking for

valuable items.

A clash begins between the masked warriors and the

soldiers guarding

Yan Dan's

manor

. The commotion is h

eard inside, and

Han Shen orders

t

he

soldier

at Yan Dan's door to go check it out. 
With him gone, the conversation becomes freer. 
Yan Dan tells Li Er that he wasn't sure that she would help him, and Li Er says that she understands his feelings of homesickness and wanting to return home to Yan. Yan Dan thanks Li Er for her help, and Li Er tells him to get ready to leave 
while she g

oes out to have a look

. She tells Han Shen to stay and look after Yan Dan. Han Shen: "Be careful." The clash continues outside, as Jing Ke takes care of a number of

soldiers

on his own.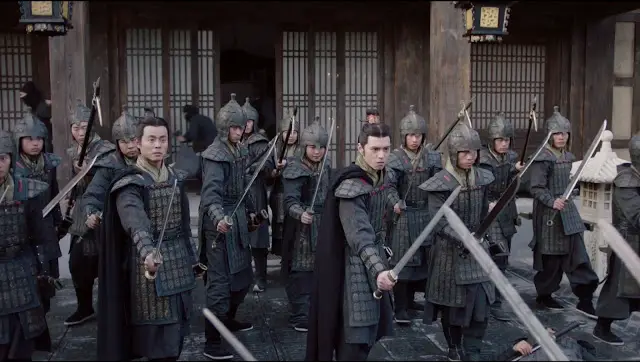 Outside, Li Er takes a sword from a fallen

soldier

and heads for Jing Ke, making it appear to the Qin soldiers that she is going to go fight him. Li Er tells Jing Ke to take her as a hostage so he and the others can escape. Jing Ke is shocked to see Li Er, but does as she asks. Meanwhile, Tian Guang sneaks Yan Dan out. The

soldiers

start to give chase, when Han Shen tells them that he will go rescue Li Er. He tells them to go report what happened to Li Zhong.
Ying Zheng is reading through his scrolls when Li Zhong arrives and tells

him

that Yan Dan's manor

was attacked by bandits

. Although Yan Dan

is

safe (heh), the bandits took Li Er as a hostage so they could get away safely. Ying Zheng is stunned and furious that his soldiers allowed

Li Er

to be taken. Li Zhong

says

he will investigate what happened and report what he finds out. 
Jing Ke asks Li Er why she was at Yan Dan's manor, and if she

had

planned everything. Li Er admits that she

did

. She didn't want Jing Ke to know so he wouldn't be distracted. Li Er tells Jing Ke that her grandfather would be very proud of him for having learned the Huluo sword technique so well. Jing Ke: "Is there anything else you're keeping from me?"
Tian Guang and Yan Dan catch up to them, and Yan Dan thanks Jing Ke for his help.

He

is honored to have had Jing Ke and Li Er's help in leaving Qin. He fears that otherwise, he would've grown old and died in Qin. Li Er tells Yan Dan to return saf

ely

to Yan.
Han Shen

catches up to them

, and Tian Guang and Yan Dan thank him as well. Han Shen tells them that they better get going becaus

e the soldiers are right behind

. Yan Dan tells Li Er that he greatly thanks her for her help. She tells Yan Dan to stay safe and to take care.
As Jing Ke and Li Er/Han Shen head off in opposite directions, Jing Ke and Li Er take

turns looking

back at each other as they think of the memories they shared in the past. Li Er thinks that with Lan Er taking care of Jing Ke, she has nothing to worry about.
Li Zhong

demands to know how

Ruan Qing and his soldiers were not able to take care of a group of common bandits. Don't blame him too much, Li Zhong

.

They

were not

ordinary bandits. Li Zhong says that they

are

the best of the best and can't believe they were defeated, regardless of how skilled the bandits were. 
Ruan Qing apologizes and asks

to be punished

. Li Zhong tells him to forget it for now and take care of their fellow soldiers who

were

hurt

. They

will leave it up to the King to determine any punishment. Li Zhong

takes a closer look at

the fallen soldiers, and he sees that all of them were killed with j

ust

one or two simple knife cuts. He realizes how strange

all of this is

and that the wounds

must have been

inflicted by a warrior

possessing

exceptional

martial arts skills. He becomes suspicious and asks where Yan Dan is. He is told that he is in his room, resting.
Ying Zheng

rides

through the forest on his way to

rescue Li Er

. He sees Li Er and Han Shen

heading towards

his direction, and im

mediately

jumps off his horse. Li Er tells him that she's

okay

, and Ying Zheng asks where the bandits are. Han Shen tells him that the bandits left Li Er behind

,

and took off already. He

was bringing

Li Er back to the palace so that Ying Zheng wouldn't worry. Ying Zheng becomes suspicious that the bandits

are gone

and wonders if this

was

a ploy. He tells Han Shen to bring Li Er back to the palace while he h

eads

for Yan Dan's manor.
Li Zhong goes to see Yan Dan, and "Yan Dan" tries to

get

him to leave by saying he is not feeling well. Li Zhong doesn't budge, and tells Yan Dan that under the King's orders, he must see

him in person

. When Yan Dan refuses, Li Zhong starts to reach for his sword. Just then, Ying Zheng arrives and storms into the room. He sees that "Yan Dan" is not Yan Dan at all. He is furious and yells at him to tell him where Yan Dan has gone. The f

alse Yan Dan

refuses and commits suicide before Ying Zheng can bring him back to the palace

to be tortured and interrogated

. Ying Zheng orders Li Zhong to start searching for Yan Dan, leaving no stone unturned.
Li Zhong leads a troop of Qin's soldiers in search for Yan Dan. He plans to go to Hangu Pass first, because Yan Dan must pass through th

ere

to return home. We know from before that is exactly where Tian Guang, Yan Dan, and Jing Ke are head

ed

. Li Zhong has a military seal from Ying Zheng that will allow them to take the fastest route to Hangu Pass and intercept Yan Dan.

Tian Guang, Yan Dan, and Jing Ke

arrive

at the Hangu Pass, traveling

 in the disguise

of

a funeral procession.

There are coffins and everything.

After some back and forth, the soldiers are about to let them through even though they do

n'

t have an official permit. Just then, Li Zhong arrives with Han Shen and his troop of soldiers.

Damn

. Li Zhong tells Han Shen to inspect everyone and see if any of them were the bandits who invaded Yan Dan's manor. How is Han Shen supposed to know? 1. He was inside when the bandits invaded the manor. 2. All of the bandits had been wearing masks over their faces.

S

urprised that Li Zhong didn't recognize Jing Ke since they had met each other in Luoyang City.

M

ust be because it was so long ago and it's so dark at night. 
Han Shen pretends to inspect everyone closely, and reports back that he doesn't recognize anyone. Li Zhong orders that the coffins be opened so he can inspect the bodies. Tian Guang doesn't get anywhere when he tri

es to argue. Li Zhong

taps each coffin to identify if there are any hidden compartments, and drives his sword through the bodies to confirm

no one is alive

. Smart. As Li Zhong makes his way down, Jing Ke starts to prepare himself. When Li Zhong gets to the last coffin in the procession, he taps the side of the coffin and starts to drive his sword in. At the same time, Jing Ke moves with the speed of light and kills many of Li Zhong's gathered soldiers. Yan Dan is in fact in the last coffi

n

, in a hidden compartment.
Thank you very much everyone for reading!