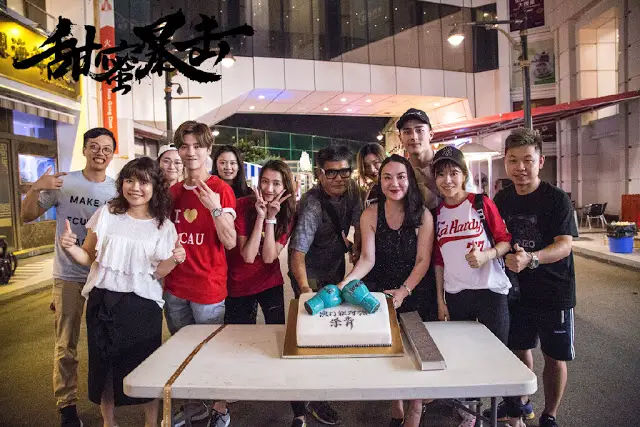 After almost three months, Sweet Combat 甜蜜暴击 finished filming yesterday, and if Luhan's bright red t-shirt wasn't a dead giveaway, the cast and crew are in Macau! Luhan and Guan Xiaotong take the lead as the main couple pairing in this upcoming drama about young athletes in the boxing ring, which kind of makes the boxing gloves cake a really nice touch.  
Given Luhan's popularity, it's a given that a lot of the focus will be on him, and it was pretty amusing to go through the articles dissecting his every move 
(you probably need to be a fan to appreciate it, so proceed at your own risk?). One article
 analyzes the pictures where everyone is gathered around for pictures, holding up v signs and thumbs ups, all except for Luhan who sticks to his signature pose.  
Apparently, what he's doing could be interpreted as a hand signal for the number seven, which is also his favorite number. Now that he's freed up from work, there are already talks on his next project and 
according to
Sohu
, he's going to be rolling with the big guns like
Shu Qi
and
Wang Qian Yuan
 to make a science fiction romance film. It will be an adaptation of 
the novel Shang Hai Bao Lei 上海堡垒 written by Jiang Nan 江南.