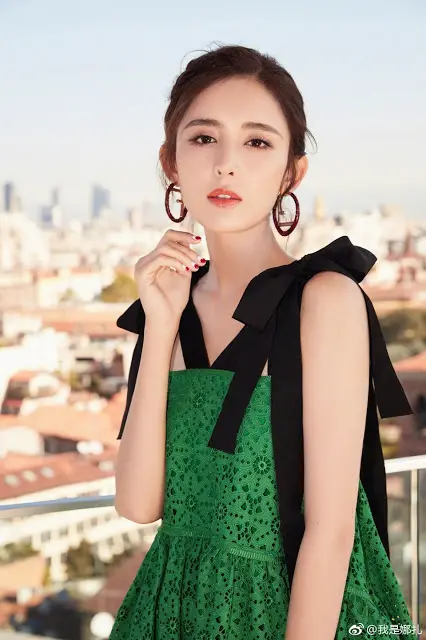 It's a been a week of fashion frenzy due to Milan Fashion Week, and among the stars in attendance are a number of Chinese celebs who flew all the way from China to Italy. First up is 
Gulnezer Bextiyar
who is the
new brand ambassador for Fendi
. 
Dilraba Dilmurat who is another well-known Uygher beauty walks the
 runway for Dolce and Gabbana that's themed Queen of Hearts. I love the bold colors, the confidence and the Sera gown that she wears
, but how come Dilraba's aged overnight from all that makeup. 
I thought her off-the-runway look fared much better in comparison just because it seems more natural, which compliments the fresh and young vibe of the rest of the D&G Millennials also seated at the VIP corner. 
Ever since chopping her hair short, Cecilia Liu seems to be bringing more androgyny into her wardrobe choices, and she's chosen an oversized leather jacket to go with a white tee and black pants. She has been the brand ambassador for TOD's since August of this year.  
The actress later slipped into something more feminine for a fun night out, though the high-cut boots retain a rugged touch. 
Jelly Lin Yun graced the Salvatore Ferregamo runway show in a black tailored suit and pants. I don't know how she does it, but she manages to rock it despite its simplicity. 
Tiffany Tang Yan channels the stylish elegance of a woman from the 1980's Chelsea neighbourhood in New York to match the theme for Bally.   
Last but not the least, Krystal Jung and Jessica Jung are in Milan too! They're the only ones who are not Chinese (they're Korean American), but Jessica has been quite diligent about uploading pictures on her weibo page (yay, for us), and we get a glimpse of the two spending some sisterly quality time together.