A Chinese Odyssey: Love of Eternity 大话西游之爱你一万年 is less than a month away and the more I see, the more I feel that 
Huang Zitao
 really suits the part.
He uses a stick during his martial arts performances, and guess what Monkey King carries around… On a side note, the character descriptions definitely give a taste of what to expect from this very unconventional drama. 
Huang Zitao takes the lead as Zhi Zun Bao, the reincarnation of Sun Wu Kong. He is the leader of a group of bandits. He has a tendency to be slow on the uptake. In his past life, he had an ill-fated romance with Bai Gu Jing that causes him to use the Pandora's Box to travel five hundred years earlier where he meets the most important woman of his life. 
Yin Zheng as Tang San Monk, the master of Sun Wu Kong, Zhu Ba Jie and Sand Monk. He is a monk from the Tang Dynasty with a heart for helping others. He can be overly selfless, overly nagging and adorable in his own way. He has a sharp tongue that is enough to cause any demon who's listening to want to kill themselves. 
Zhao Yi as Zi Xia, a stunning beauty. She has a very idealistic perception of romance. When Sun Wu Kong pulled the Zi Qing Sword, she knew that he was the one. However, he has already reincarnated to the next life and in order to find him, she declares that whoever can pull the sword will be the man that she loves. 
Liu Tian Zuo as Zhu Ba Jie, the second disciple of Tang San Monk. He carries an air of confidence that uncharacteristic and he's the type of person who falls hard when he's in love. In fact, the reason that he ended up in the human realm was because of a woman. To him, the journey to the west is a chance to eat, drink and play. 
Due to a series of events, he ends up having a baby with the Spider Demon, and that baby is Tang San Monk.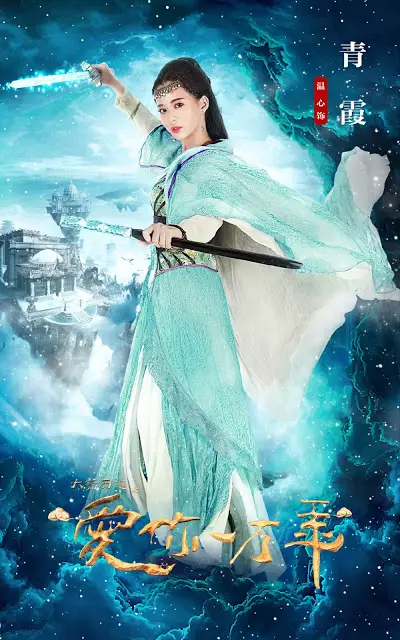 Wen Xin as Qing Xia, Zi Xia's older sister. Sword in hand, she travels the lands with a fiery passion that is the opposite of her icy facade. To help her sister, she and Liu Er Mi Hou concoct a plan to change the fates of Zi Xia and Zhi Zun Bao. 
Du Ruo Xi as Chun Shi San Niang, Bai Jing Jing's good friend. She is a human who was formed through the essence of a spider. She is used to having men at the palm of her hands, which is why seeing Sun Wu Kong falling for Bai Jing Jing was a blow to her pride that moves her to destroy their relationship.