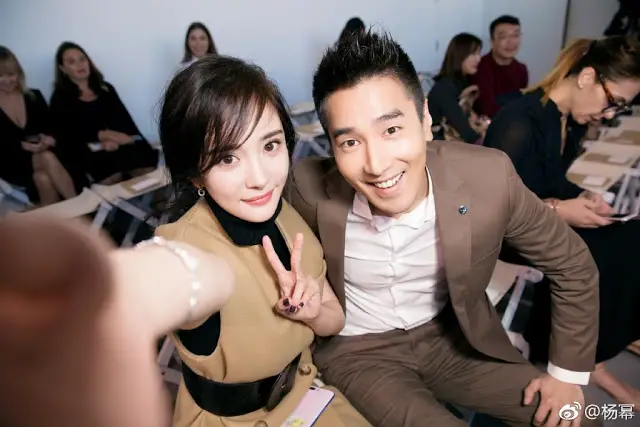 Michael Kors, thank you! After announcing Yang Mi as their global endorser, the fashion brand recently showcased its Spring 2018 Collection at New York Fashion Week and it has paved the way for a run in between Yang Mi and Mark Chao. Seriously, I'm over the moon because I'll take a Ten Miles of Peach Blossoms reunion in any way that I can. 
Yang Mi posted the hearty moment on weibo where she says, "Ah Hua Hua (Yehua), long time no see la la la la la la, you look so happy, not bloated at all
." He responds,
 "For photoshopping this image, many thanks." 
Maybe it didn't work so well when he was the one who had to take the selfie, and maybe she had to change the filter to brighten the image up a bit, but seriously, what is Mark Chao talking about, he looks great! And to think that he's still jetlagged after a long flight from Asia to New York.
What makes their rendezvous even more meaningful is that it is one of the rare instances where Yang Mi takes a selfie that fully shows her face. Her tendency not to show her face has been a running joke for a while now.
She recently uploaded photos from her birthday on Sep. 12 that still only show half her face. 
Her hubby Hawick Lau greeted her through social media by uploading a drawing instead of a picture that was the handiwork of their daughter. 
Even Ma Tianyu who is really good at throwing shade had to give it to her as he uploads a snapshot from his video chat with Yang Mi. As part of his birthday greeting to her on weibo, he added, "P.S. A person that never admits defeat, never showed her face during the entire time."
More pictures from the actual event below.