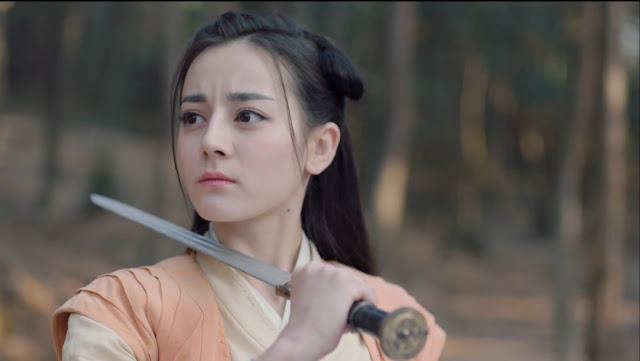 Although the first four episodes of this drama have done a great job in providing us backstory and introducing us to our characters, I thought it was about time that things moved along for Ying Zheng and Gong Sun Li to meet again. I've been wanting to see her reaction when she finds out who Ying Zheng really is, and how she ends up moving into the palace. 

This episode brings us closer to that moment, but I'm finding the way that it's happening a bit unnerving. We've known that Ying Zheng has a very domineering and heavy handed personality, but in this episode we see that he won't stop at anything to get what he wants and with him, the ends justify the means. Gong Sun Li is definitely going to have to forget her dream of a happy and peaceful life, and I hope that she makes Ying Zheng work extra hard for her acceptance and love.
We begin in the royal court where Ying Zheng announces his order to capture Gong Sun Li with a giant smirk. When Gong Sun Li, Jing Ke, and Lan Er find out what happened, they are in disbelief and can't figure out why the King of Qin would be after her. Han Shen, who we met in the first episode, is walking down the street when he also sees one of the wanted posters and realizes that Qin is after his martial arts sister.
In the palace, Li Zhong reports to Ying Zheng that as ordered, wanted posters for Gong Sun Li have been posted all throughout their territory and it is only a matter of time before she's found. Li Zhong tells Ying Zheng that the second mission he ordered has been assigned to Yao Jia to complete. It means death for Yao Jia if he fails (of course, no surprise there). What this second mission is remains a mystery.
Gong Sun Li and Jing Ke decide to go and hide out for a few days now that they know Qin is after Gong Sun Li. Hm….I don't really understand why Gong Sun Li is dressed in the disguise of a man again, since now she looks even more like the person on Qin's wanted posters. I think she's less recognizable when she's dressed as a woman, since the styling – hairstyle, outfit, etc. – are so different. 
As they say their farewells to Lan Er and Master Lu (oops, I guess it's his place that they've been staying at, not Ge Nie's like I thought in the previous episode), Master Lu tells them that if they ever need assistance, they can seek one of his old friends, Tian Guang of the Kingdom of Yan.
When Ying Zheng visits Lu Bu Wei at his residence, he meets Li Si, one of the Chancellor's retainers. Li Si was once a disciple of the philosopher Meng Ke, and he and Ying Zheng have a chat about power. He knows that Ying Zheng will not be satisfied ruling one kingdom and his ambition is to conquer and rule the Six Kingdoms and the world. 

Li Si: "If the power is with you, then you have the power to command human strength. If the power is not with you, then it will make you worry and and not benefit from it. If it flows elsewhere, you must cut it off at the source so you are the only one who wields the power." Li Si tells Ying Zheng that he needs to be willing to cut what needs to be cut, and this conversation has a profound impact on Ying Zheng, and he leaves without seeing the Chancellor. We're going to see a lot of what Ying Zheng does in the future come back to this conversation, aren't we?
Walking through the woods to find a safe place to hide, Jing Ke and Gong Sun Li run into a group of Qin soldiers. The leader of the soldiers notices that Gong Sun Li looks like their wanted person, and when he doesn't buy their ruse, Gong Sun Li leaps forward and stabs the leader in the hand with a reed that she had been playing with. Damn, that was a crazy moment. Don't get on Gong Sun Li's bad side! They run off with the soldiers in hot pursuit.
Ying Zheng has decided to bring his mother and her two young sons back to the palace. The Grand Dowager reprimands the Queen Dowager for not standing by the King, and tells Ying Zheng to do what he thinks is necessary. He immediately orders the death of the two young children, who are bastards of her and Duke Chang Xin. I'm not liking this at all – ordering the death of two young children? It's plain wrong. The Queen Dowager begs the King to show mercy since they are his younger brothers, but he doesn't recognize them as such. Another example of how ruthless Ying Zheng is.
Gong Sun Li and Jing Ke have been running all day and happen on an abandoned cottage where they decide to spend the night. Uh oh. There are Qin soldiers outside searching,  so they ultimately decide to move on. Since she used her cloak to put out their fire to avoid detection, Jing Ke awkwardly wraps his own cloak around her so she won't be cold. Aww. They wonder if the Qin soldiers are after the Huluo sword technique too, but Gong Sun Li doesn't think so. Gong Sun Li: "Qin army has always been terrible and unreasonable, how can we understand what they are after?"
Jing Ke blames himself for being unable to figure out the sword technique, and if only he possessed stronger martial arts, Gong Sun Li wouldn't have to be chased everywhere. Gong Sun Li tells him that it's not only his responsibility, and she also doesn't understand the sword technique. She says that she doesn't care about the Dan Ding group or the Qin soldiers and just wants to find a far away place with Jing Ke so they can live as regular people. Aww. She isn't ever going to be able to live her dream, not with Ying Zheng after her. As much as he wants to, Jing Ke tells himself that he can't since his Master would be disappointed with him.
Back in the palace, Ying Zheng decides to throw a party, with singers and all the works. Wait, what? Ah, of course – the attendees include the Queen Dowager and Chancellor Lu. Ying Zheng has the smile of a person planning something big. Feeling uncomfortable, the Queen Dowager says she's feeling unwell and wants to return to her residence since she knows that Ying Zheng only brought her back to torment her. 
Chancellor Lu tells Ying Zheng to aim his anger at him, not his mother. Ying Zheng asserts that he is the son of the deceased King and the legitimate ruler of Qin. He decides to spare Chancellor's life, but takes back the rights over the military. He then imprisons his mother in her residence and bars anyone from entering or exiting. Knowing he's lost, Chancellor Lu decides to retire so he can live a peaceful life, unconcerned with politics and world affairs.
Jing Ke and Gong Sun Li (dressed again as a woman) are walking through the woods when they encounter two members of Wind Forest Fire Mountain. They want to bring Gong Sun Li back with them to meet the King of Qin. She refuses. 
Gong Sun Li is not to be hurt, but the same cannot be said for Jing Ke. Of course, they fight. Nicely choreographed and filmed. Jing Ke fights one as his partner restrains Gong Sun Li. Unfortunately, he is stabbed and injured when he jumps in front of Gong Sun Li to shield her from an attack. Gong Sun Li takes her sword and puts it to her own throat, threatening to kill herself if they don't let them go. Gong Sun Li: "My life is in my hands. And your lives are in the King of Qin's hands". They let them go. As they leave, they say that it doesn't matter since Gong Sun Li will have no choice but to go to Xianyang herself soon enough.
We find out why Wind Forest Fire Mountain let Gong Sun Li and Jing Ke go. Back at the palace, Meng Wu reports to Ying Zheng that his mission has been accomplished. Jing Ke has been poisoned, and if he doesn't get the antidote within seven days, he will die. 
Ying Zheng is such a schemer. 
He's made it so that Gong Sun Li has no choice but to come see him for the antidote to save Jing Ke's life. Did he completely forget that Jing Ke saved his life when they were kids? It seems like he's forgotten all about that, and is only focused on capturing Gong Sun Li.
Jing Ke is severely injured, which makes Gong Sun Li worried sick. They are lucky to encounter Tian Guang, Master Lu's old friend, who takes them to his home. After examining Jing Ke, he tells Gong Sun Li that he will die within seven days without an antidote. Tian Guang tells Gong Sun Li that if the King of Qin sent Wind Forest Fire Mountain after her, he must want her more than anything. 
When Gong Sun Li says that she's just an ordinary girl, Tian Guang says that a smart and beautiful girl like her would not escape the King of Qin's notice. Gong Sun Li realizes that all of this is her fault and she brought this upon her martial arts brother. She asks Tian Guang to lend her a horse and take care of her brother as she has a trip to make.
In the preview for the next episode, we see that Gong Sun Li has gone to see Ying Zheng at his palace in Xuanyang City just as he intended. Ying Zheng: "I don't want your life. I want you". Gong Sun Li: "Okay. Give me the antidote." Ying Zheng: "How long?" Gong Sun Li: "Three months".

Thank you everyone for reading!