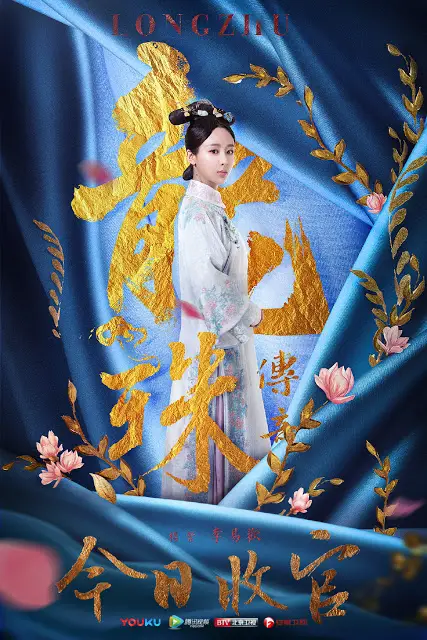 Who's still watching? After 100 days, Legend of Dragon Pearl 龙珠传奇 welcomes its series finale as it airs its last two episodes on Beijing TV and Anhui TV at 10 pm tonight (it's airing as we speak). The show has dropped another batch of posters to bid farewell to its adorable ensemble cast led by Yang Zi (The Destiny of White Snake), Qin Jun Jie, Shu Chang, Mao Zijun, Han Cheng Yu (The Mysterious Team), Liu Xue Yi and Sun Wei. 
I really can't speak much to a show that I barely made a dent on, but it truly seemed like a sweet romance drama in spite of its Romeo-and-Juliet-y premise. 
I only made it to the part where the Dragon Pearl kids got themselves into the palace to enact their master plan for revenge, but I had to give it up when the episode count became too much of a commitment. 
The show never had spectacular ratings, but to run for so long would have surely won over some loyal fans. And just 
to give you guys a glimpse of how sweet the main couple can be, here's a cute meme on how our hero treats his lady. M
erely 17 minutes after swearing to the Great Empress Dowager that he will never see Yi Huan again, he's pretty much back on her side at the first news that she is unwell. 
Will the star-crossed lovers get their happy ending? I really don't know how the plot went down, but it would be nice if all's well that ends well. Yet 
with the mean streak that c-dramas seem to be be having, I won't be the least bit surprised if it doesn't. 
At least, we can take comfort in the fact that 
Yang Zi
and
Qin Jun Jie
are already a couple in real life.