The character descriptions for 
See You Again
 时间都知道 
seem to paint the three main leads as interesting individuals while many of the remaining cast are either men who are greedy for money or women crazed for love. I'm not sure what to make of that though I am 
looking forward to the star-studded lineup
 starring
Tiffany Tang Yan 
(Princess Weiyoung), 
Shawn Dou
 (Princess Agents) and
Yang Shuo 
(Ode to Joy 2).
Tiffany Tang plays Shi Jian, the titular heroine in a drama where time is a prevailing theme such that even her name is a homonym for time. She defied the concept of time when she turned from being a 31-year-old woman into a young woman and relived ten years of her life once more. She is confident, intelligent and also stubborn enough to keep her own ideals. 
Shawn Dou as Ye Jia Cheng, a famous architect. He is self-assured and free-spirited. Sort of like pre-tragedy Yan Xun? He is like a beautiful kite that simply needs someone to hold onto him. 
"I want to spend the rest of my life with you. Every year, every month, every day, every hour, every minute, every second, until time stops, until the end of our lives." – Ye Jia Cheng.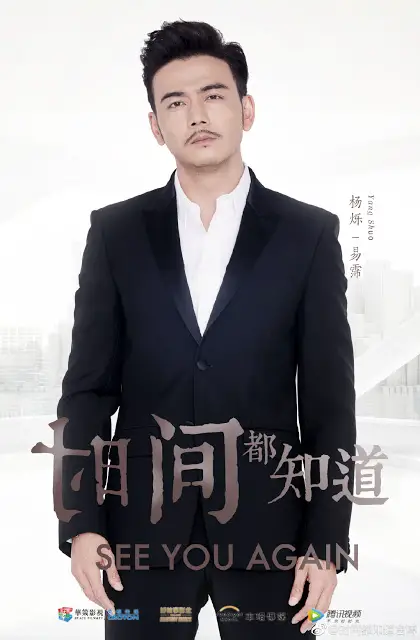 Yang Shuo as Yi Pei, a mysterious man with a cold exterior. Born from a wealthy and prominent clan, his existence was an accident and his life also tragic, yet everything changed because of a woman. 
"To really love a person is unselfish, I hope that she will be happy, so I will let her go, but I will never give up on her." – Yi Pei.
Eva Lu Yi as Yi Bi Ya.
"Perhaps loving someone is like this, only when you he leaves do you realize that you've unknowingly become that person."- Yi Bi Ya.
Lyric Lan Ying Ying as Zhao Wen Wen, a woman who thirsts for true love even if she becomes like a moth drawn to a flame. 
Jocelyn Zhou Qiqi as Song Xiao Jing. She believes that the way to a man's heart is not simply through his heart.
Leene Mu Le Si as Lai Qiao, a woman who just wants to be with her man as nothing else matters.
Alan Wang Ce as Yi Yin Dong. He has no need for love since he costs and benefits trump all. 
Zhang Guo Zhu as Old Master Yi, a businessman who believes that big things depend on larger situations and that a person shouldn't be easily influenced by emotions. 
Caesar Li Mao as Zhang Kai. He holds three philosophies at work, don't ask things that shouldn't be asked, don't listen to things that shouldn't be heard, don't be curious about things that you shouldn't be curious about. In short, he is the kind of person who thinks that it is always safer to be reasonably stupid. 
Gu Yan as Fang Rou.