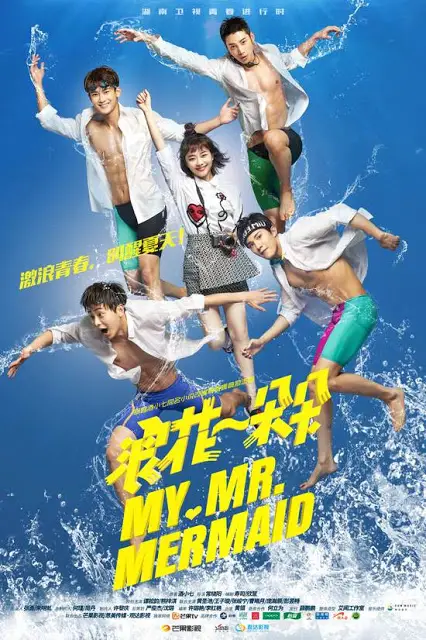 My Mr. Mermaid 浪花一朵朵 is a 36-episode Chinese drama based on a novel by Jiu Xiao Qi 酒小七 that revolves around the world of competitive swimming. The main protagonist is a swimmer hoping to regain his former glory. He meets an aspiring reporter, thus beginning a story about finding love and friendship, working hard and reaching for the stars. 
The ensemble cast is led by 
Tan Song Yun
(Fox Fall In Love),
Dylan Xiong 
(Painting Heart Expert), 
Huang Sheng Chi
,
Zhang Jun Ning
(Fighter of the Destiny),
Pang Han Chen
,
Peng Yu Chang
,
Wang Zi Xuan
,
Cao Xi Yue 
and 
Ma Kui
.
 Chinese olympian 
Sun Yang 
makes a special appearance too. 
The plot seems like standard sports drama to me and while I have an appreciation for the genre, I am probably the last person to be interested in sports. I don't recognize half the cast either but the boys supposedly trained like mad to not only get into character but also to get into tip-top shape. I'm envisioning everyone with rock-hard abs and it actually sounds
 tempting.  

Release Date: July 30, 2017 Hunan TV (two episodes every Sunday – Thursday 10 p.m.)