The countdown to Song of Phoenix 思美人 is down to two days and if you are in the mood for heavy palace politics, this this may just be the show that you are looking for. This 81-episode Chinese drama revolves around the legendary life of Qu Yuan who is known in history for his great literary works. It premieres this Friday, April 28, 2017 on Hunan TV. The best part is that it is broadcasting simultaneously on Viki for anyone looking for subs. 
Ma Ke as Qu Yuan, 
a talented scholar born to a prominent family in Chu. He is an upstanding man who dares to attempt the impossible. 
During the most turbulent period of the warring states era, he longed to turn his ideals into reality and was willing to devote his entire life for his country, putting up a fight against fate with no regrets. 
His strength of character is remarkable and inspiring and his talent for literature is unparalleled. 
Viann Zhang
 as Mo Chou Nu, an exceptionally unique woman from Chu. She is stunningly beautiful and a musical wonder. She is passionate, crafty, extremely resolute and stubborn. She is the successor of the witches whose status changes from that of a slave to the grand sorceress of the kingdom.
Mo Chou translates in English to 'no sorrow' and unfortunately for anyone who likes a happy ending, a name like that tends to foreshadow tragedy and heartaches. 
Coincidentally, Viann Zhang's role in 
Romance of the Condor Heroes
was also named Mo Chou.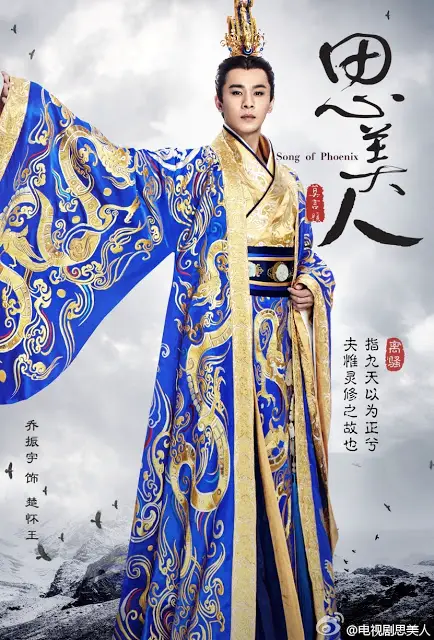 Qiao Zhenyu
as Chu Huai Wang, the emperor of Chu. He is gallant and regal, full of great ambitions yet indecisive. He is torn between love and hate, successes and failures, living a life that is full of contrasts.
Jackson Yi Yang Qian Xi as Young Qu Yuan
.
Li Zi Feng as Qu You, the older brother of Qu Yuan
.
Liang Tian as Zhao Bi Xia, Qu Yuan's wife who accompanies her husband through thick and thin. She is dignified and gentle and also a person precious to Qu Yuan. She is skilled in the art of music and dubbed as the best zither player of the kingdom. 
Liu Yun
as Zheng Xiu, one of Chu Huai Wang's concubines. She is intelligent and beautiful, yet calculating and cruel. She is a woman driven mad because of love. Being adept at reading the emperor's wishes, she earns his favor in return but develops complicated feelings towards the Emperor that borders between love and hate. She also has a liking for Qu Yuan.
Lan Xi as
 Nan Hou, Chu Huai Wang's wife and the Empress of Chu. She is of noble status but doesn't flaunt it and there is a story behind her filial duties towards Empress Dowager. She is initially kind, tolerant and giving but slowly descends into a person consumed by darkness. 
Gallen Lo as Qin Hui Wen Wang, the Emperor of Qin. During his reign, he waged war against his neighboring countries and was instrumental to weakening the Six States, paving the way for Qin to be in a position of power. 
Tanny Tien Niu
 as the Empress Dowager of Chu. She is Chu Huai Wang's mother and the master of the inner palace. She has a close relationship with her daughter-in-law Nan Hou and has many interactions with her son.