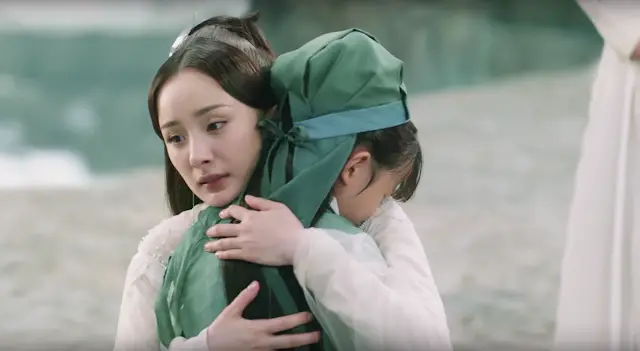 Warning: Spoilers ahead. 
With all the baddies conveniently out of the way, only one obstacle remains and it is the biggest yet, one that hinges on the revival of a hero who been dead, so to speak, for two episodes now leaving behind behind a widow and their young padawan. 
I am honestly far too invested in the show to accept anything less than a happily ever after so I decided to take comfort in knowing that there is a precedent for bringing people back to life.
Eternal Love 三生三世十里桃花 reached an all-time high of
 1.910 on Dragon TV, which is just shy of the elusive 2.0 but impressive nonetheless given that its simulcast on Zhejiang TV also netted a commendable 1.484. To top it off, web broadcasts racked up record breaking results with over 30 billion views merely days after the finale. 
Episode 58 begins when Bai Qian (Yang Mi) and Bai Zhen (Alan Yu) encounter a reincarnated Sujin (Maggie Huang). She is in dire straits as a human, desperately begging her husband to stay to no avail. 
Bai Qian admits to thinking that the Heavenly Emperor's punishment was too harsh (umm, no it's not) and given that Sujin has paid back her debts, Bai Qian no longer has anything to do with her former enemy and they leave without so much as a second glance
.
They run into Yan Zhi (Dai Si) who is accompanied by a little one of her own. Ah Li (Hummer Zhang Yi Han) also shows up, running towards his mother and asking if she no longer wants him. 
Bai Qian explains that she missed Ah Li everyday but she has been sleeping the past three years and has just woken up, intending to visit Ah Li soon but he found her instead.
When asked about where they were headed, Ah Li's guards pause for a moment, unsure how to answer but Ah Li openly tells his mother that they are on the way to visit father and invites her to come along.
The Heavenly Emperor promises to grant Yuan Zhen one request to make up for punishing him for a crime he did not commit. Yuan Zhen asks for an audience with Bai Qian because she was once his teacher, yet her name has become nothing but a taboo inside the palace. I don't know what the point of this scene is other than to make us dislike the emperor even more.
At the entrance to Wu Wang Hai, Bai Qian recalls Yehua's heroic deeds and considers herself fortunate because the father of gods had two sons, one is her master and one is her husband. There is no other man in her world from then on. 
Zilan chuckles at Bai Qian's unabashed declaration and leads the way to Yehua's burial site. 
Ah Li apologizes for visiting only after three years because he was kept in the palace to study day in and day out. 
Bai Qian turns emotional as well and takes consolation at the thought that Yehua is resting, with no more unending work and looming threat of warfare. 
Yehua (Mark Chao) appears briefly in a dream but disappears the moment she wakes. 
After everybody leaves, a fog engulfs the area and birds flock the sky, a sign of jubilation in the heavens. Zilan reports the anomalies which clues the royal family in on the possibility that Yehua may have returned. The Heavenly Emperor demands secrecy and immediately sends for Mo Yuan. 
And with a magical wave of a hand and a swoosh, Mo Yuan brings Yehua back a living and breathing Yehua. He tells Yehua to head for the ten miles of peach blossoms because it is the place where Bai Qian has carved out his tomb stone. Yehua looks back and says, "Thank you, big brother."
Bai Qian hears about the mysterious occurrences in Wu Wang Hai and heads straight for the palace hoping against hope that Yehua may be alive, yet she is devastated when a palace maid tells her nothing of that sort. 
Mo Yuan finds her in time to tell her the whole truth. Yehua who grew from a lotus flower was born with half of their father's power and he obtained the other half after destroying the four immortal creatures. He must have fought the Dong Huang Zhong at full strength and merely went in hibernation as a result. He should have remained asleep for decades but the crystal tomb and Wu Wang Hai helped his healing process and shortened his recovery to three years. 
Finally, finally, finally…. Bai Qian finds Yehua standing among the peach blossoms. He calls out to her like he always does, "Qian Qian, come here," and they share a long embrace. It seems fitting to end the story right here and right now but hey, I'm just glad that it's not over yet.  
Yan Zhi takes her daughter to Kun Lun Xu so that she can properly thank Zilan (Liu Rui Lin) for saving her life. Zilan is surprised to find that Li Jing and Xuan Nu's orphan is a girl when Xuan Nu used to refer to her as a boy, further alluding to how delusional a person she was. 
Despite their obvious connection, both make no mention of their feelings and neither does Zilan tell the truth about losing his powers for the sake of Yan Zhi. Instead, he tells her to never come looking for him again and they part ways while forcing a timid smile. 
Back at Kun Lun Xu, Mo Yuan shares the news that Yehua is back and his student excitedly comments, "Seventeen (Bai Qian) can finally be married off." Ouch, that had to hurt. Mo Yuan glances thoughtfully into the distance before breaking into a hint of smile to imply that he is at peace.  
Meanwhile, Ah Li waits for his turn to see his father because Zhe Yan (Ken Chang) was tasked by Yehua to keep his son busy with seven rounds of chess. 
Zhe Yan berates Yehua for being overly romantic and gives up on the game completely.
Instead, he asks whether Ah Li wants to hear a story about his mother or about his parents intensely passionate yet angst-filled romance. 
Ah Li corrects Zhe Yan by saying that there is no tragic romance only sweet tenderness. Zhe Yan surrenders, "Okay, okay, your father and mother have the best relationship. Then let's talk about your mother's childhood experiences."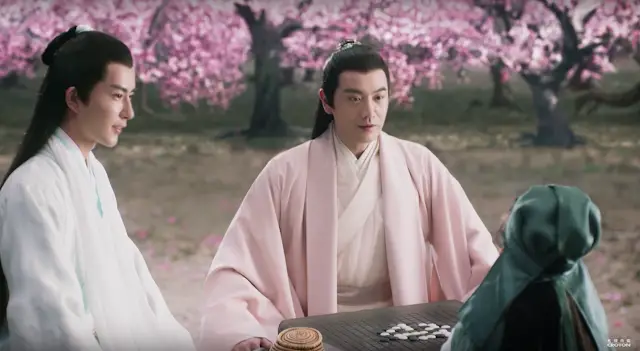 The scene cuts back to the reunited lovers. Bai Qian still cannot believe that it is real and Yehua assures her that it is not a dream. 
He recounts their past in vivid detail from the moment she first mistook him for a black snake, took him in and even fed him raw meat. He approached her under the guise of paying back a favor but she actually asked him to marry her. Just like that, they exchanged vows and became husband and wife. Those days were the first time that he felt happy. 
But not long after, she was forced to go to the heavenly palace and eventually jumped off Zhu Xian Tai. Luckily, he meets her once more after three hundred years and realizes that whether as Su Su or Bai Qian, she is who she is. He remembers everything so well because it is not a dream. 
He even recalls the first thing he said to her in Crystal Palace, "
Yehua did not recognize, that the lady is Bai Qian of Qing Qiu."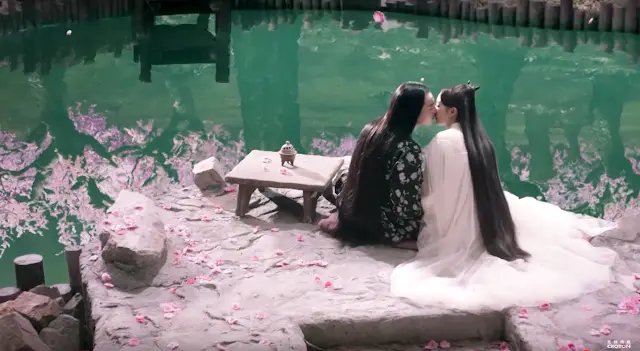 Final Impressions:
 Eternal Love really upped the ante when it came to costume dramas for being both spellbinding and flawless in style and execution. I have never seen a Chinese drama quite as enchanting as this before and that's saying a lot because I have seen a boatload over the years. 
The fact that it is fantastical as it is beautiful makes perfect sense for a story beyond the realm of humans
 but the real draw are the tales of romance that are riveting and heart-wrenching. 
I am eternally grateful that all is well that ends well (at least for the main couple) because I wouldn't have wanted it any other way.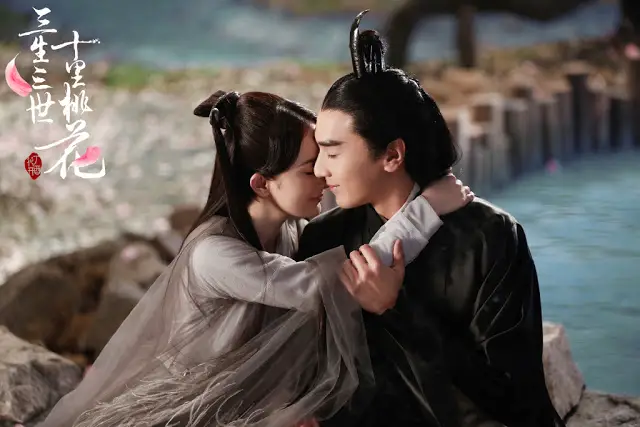 In retrospect, the outcome became predictable if not downright obvious the moment the hero was killed off long before the final episode even aired. I was a tad worried that he would be gone for good but only because I'm a cynic by design. The reason for 
Yehua's eventual return seemed hastily put together in hindsight but
 it doesn't even matter because what's important is that he survived. If I'm being honest, 
I may have squealed

a little

(a lot) when he finally appeared in the flesh.
The fairytale ended as most do with the titular lovers sealing it with a kiss. 
Now, I wonder if fairytale is the right term for a show that has eye gouging, a suicide attempt and self-mutilation. 
Any of the above sound disturbing enough to belong in a different genre but these shocking developments are the showstoppers that had people raving for days. 
One of my favorite things is how well the show played on our emotions, saying the right words and doing the right things when it counted. It boldly puts its heroes through a world of pain and takes us along for the ride but comes full circle every time to bring a satisfying resolution. Case in point above, everything owed must be paid back in full. 
Yehua's conversation with Bai Qian just about sums up what makes the show so good because each heart-fluttering and heartbreaking moment was an inevitable part of the journey. Now if only the Heavenly Emperor and Yehua's mother had some sort of retribution too because I can come up with a million scenarios where things hit the fan because of them and yet they are parading as the good guys and getting away with it scot-free. Also check out our review. 
For synopsis, cast and ratings, see 2017 Chinese historical dramas.