If you're having trouble moving on from 
Three Lives Three Worlds Ten Miles of Peach Blossoms 三生三世十里桃花, then wonder no more because the struggle is real or I wouldn't be here still trying to find closure weeks after the finale. It's bad because I haven't been able to watch anything else and I'm supposed to be blogging about dramas ?.
Plot Summary: Bai Qian is a fox goddess from Qing Qiu who pretends to be a young man named Si Yin in order to come under the tutelage of Mo Yuan. Tens and thousands of years later, she is rendered powerless as a human named Su Su and falls into a sweeping romance with Yehua, the crown prince of the heavenly realm. 
Another chunk of time passes and Bai Qian regains her status as an immortal, meeting Yehua for the first time once more.
The best thing about the show is rediscovering Mark Chao who hasn't been in a drama since 2009. 
At 32, h
e is close in age to popular idols though not quite in the same league, until now that is. 
Ten Miles
is certainly a career-changer
 for Mark Chao and well-deserved because he was riveting in every nuanced depiction of multiple characters. 
As Mo Yuan, he had an assuredness as Bai Qian's teacher in shining armor. 
As Zhao Ge, he held a strong conviction buoyed by longing. 
As Yehua, he was a layered individual, an intensely passionate man taught to dispel his feelings. 
Yehua's upbringing obviously had the opposite of the intended effect because once he found love, there was no letting go.
Yang Mi plays the leading lady that Mark Chao falls for three times. 
She is very popular but she is also no stranger to being criticized for her acting. While I don't necessarily think that to be true given that Yang Mi started out as a child actress, she does seem to stay within a range of roles as seen in 
Sword of Legends
and
Chinese Paladin 3
. 
With Bai Qian, Yang Mi had something to prove and she nailed it, giving a performance that can convert the haters into fans. She became
a goddess among goddesses, proud but not arrogant. 
With Su Su,
 she retained
 some of Bai Qian's stubbornness but was visibly changed and humbled by circumstance. 
When she woke up as Bai Qian once more, her deadened gaze spoke volumes, chalking up all that has happened into a shell of her former self. It was one among many emotionally-charged scenes that will have you thinking that yes, Yang Mi can definitely act. 
Dilraba Dilmurat and Vengo Gao provide a fun and light alternative as Feng Jiu and Donghua, the leads of the sequel to Ten Miles. I really enjoyed their story pre-angst, which pitted an old practically antique god and a sassy fox girl. Their age gap would have been creepy in real life but not here where time is measured in thousands of years. 
Dilraba's casting won the most nods right off the bat because she is probably one of the few actresses born for the role and she has that innate ability to make cringing aegyo look charming
. 
Vengo Gao didn't get as much love initially but he was a great choice in hindsight.
When it comes down to it, the show tackles every trope in the book but never becomes a cliche. 
Li Jing 
falls into the water with Bai Qian, setting up the classic underwater scene where someone falls in love. 
As a handsome, kind-hearted person smitten with the heroine, Li Jing was the perfect candidate for the second lead that you love but won't get the girl especially because it is played by Vin Zhang Bin Bin who has a history as a swoon-worthy second lead. The twist here is that 
he does gets the girl until before he
 turns into a
 douchebag. Even then, he is impossible to hate thanks to the actor behind the character
.
Sadly, no romance is complete without jealousy rearing its ugly head and Maggie Huang and Zhu Xu Dan take the cake as the show's resident evils. 
To their credit, seeing them deal their worst and
 forced to pay their dues afterwards created the show's most
 epic moments. 
I said this during my
ending recap
 and I'll say it again, the Heavenly Emperor and Yehua's mother are equally loathsome, they deserved the worst! 
I was grief-stricken when Yehua took Su Su's eyes, knowing that it was the handiwork of Sujin, but the thing about this show is that you know or hope that payback is coming and that when it comes, it's going to be gratifying (and it is, extremely).
On a side note, the eye gouging is probably the only time I truly detested Yehua to the extent that I wished Mo Yuan was around because surely, Mo Yuan would never have allowed any harm to come to Bai Qian.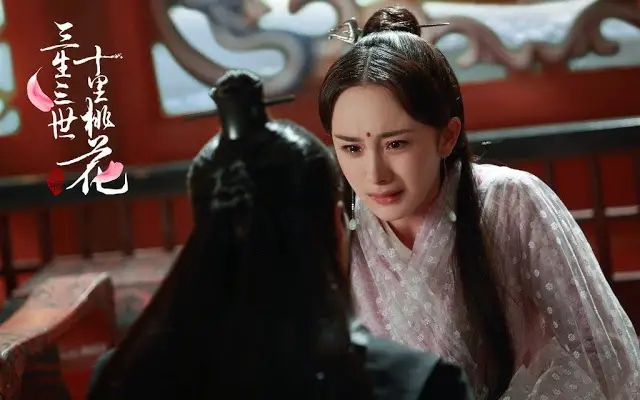 The show makes it clear that Yehua had the best intentions but to me, he was a nice guy making terrible judgments one after the other. Nonetheless, those moments make
 you sit up and take notice and that is great television.
Perhaps the weakest aspect in the show are the silly misunderstandings. I didn't know whether to laugh or cry at the knowledge that all of Su Su's sufferings was because Yehua was engaged to a "someone else," even worse, was when Su Su thought that Yehua was in love with Sujin, yea their names both start with Su. 

It's forgivable when Bai Qian was Su Su but I feel like Bai Qian should have known better. Then again, Yehua does the same, assuming that the relationship between Bai Qian and Mo Yuan was anything but platonic. It's like watching two generally sensible people toss their common sense out the window, and this continues even after both explicitly declare their love for each other and more. If only Zhe Yan said something, because you see, he knows all.
I just rambled endlessly about the heavy stuff but there's a heavy dose of fluff and sunshine to go along. Whenever the main couple are not fighting, they are very sappy. Girl steals a kiss from unsuspecting

guy

 

pet snake

dragon, guy falls in love and the rest is history. Bai Qian and Yehua's courtship has got to be one of the speediest in dramaland and we're lucky to witness it more than one lifetime.
If there is one thing, Yan Zhi and Zilan's story seemed tacked on a little too late. Compared to Zhe Yan and Bai Zhen's bromance which was established from the beginning, theirs just didn't carry much weight. 
I still don't mind it because 
every one of the characters from the oldest Donghua down to the youngest Ah Li (who was so so adorable) added a little something extra to the show. Special mention to
 Si Ming and 3rd Prince who delivered humor in the form of witty comebacks. 
I am a fantasy junkie so an exquisite world
with dragons, foxes, winged demons and mermaids is enticing enough, but the show blew my expectations out of the water with everything else. 
There is no broader picture to dissect aside from a straight up romance brought to life by people with amazing chemistry and that simplicity is spectacular in its own right.
When the first stills came out especially of Mark Chao, not a lot of people trusted that it'd do well because the visuals seemed less than ideal (the Sadako hair scared me at first). The show and its cast became underdogs in that sense but I am not surprised that it became a massive hit because it is that good.