The Flame's Daughter
 烈火如歌 is a Chinese historical drama based on a novel by Ming Xiao Xi 
明晓溪 that tells the story of Lie Ruge, a pure and high-spirited young woman who gets caught in a complicated web of lies that started spinning nineteen years ago.
It turns out that the rumors prove to be true as the cast will be led by Dilraba Dilmurat (The King's Woman), 
Vic Chou
 (Beauties in the Closet), 
Vin Zhang Bin Bin
(The King's Woman),
Liu Rui Lin
(Eternal Love),
Gong Bei Bi
(Legend of Qin),
Lai Yi 
(Legend of Fuyao), 
Daisy Dai Si
and
Ryan Zhang He
(Lost Love in Times). 
The character concepts, which seem largely inspired by Zhang Yimou's Hero may not be the most original but it is certainly breathtaking, except for maybe that one poster of Vic Chou and Dilraba Dilmurat that is cringingly awkward. 
If you're thinking what I'm thinking, then we might all be excited for this for the same reason because you guys, it's the kids from Yang Mi Studio! Vic Chou is an added bonus as he goes from being a costume drama noob to headlining not one but two dramas, to think his first one hasn't even aired yet.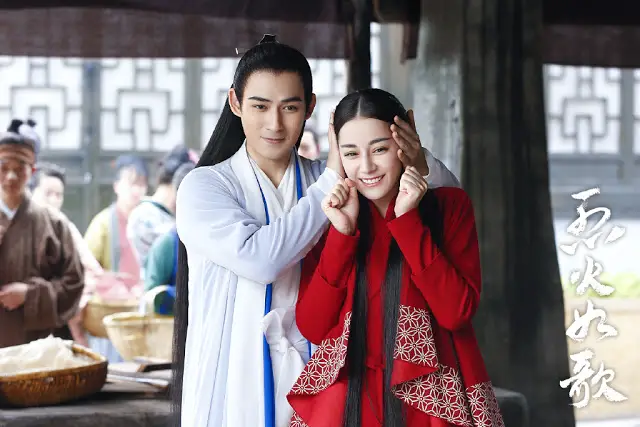 I'm happy with the cast but slightly bummed that Vic Chou's presence has bumped
Vin Zhang
into second lead territory once more though the synopsis plays up his role quite a bit
 in a story that lays on the angst pretty thick.
An Ye Luo becomes consumed by hatred after the woman he loves marries another man named Zhan Fei Tian, so he kidnaps their newborn daughter and switches the baby with the newborn son of Liehuo Manor. 
The daughter is raised as Lie Ruge, the sole successor of the Liehuo Manor. Her family takes in Zhan Fei Tian's son Zhan Feng along with Yu Zi Han, a member of the imperial family who was born without the ability to walk. The three grow up as martial arts students of the manor while Ruge and Zhan Feng fall in love. 
As fate would have it, An Ye Luo lies to Zhan Feng and tells him that the Liehuo Manor is responsible for his father's death and the realization tears the couple apart. Lie Ruge then meets Yin Xue, a man who devotes his entire being to protecting her. 

Release Date: March 1, 2018 Youku

Vote for your favorite Chinese dramas in 2018.