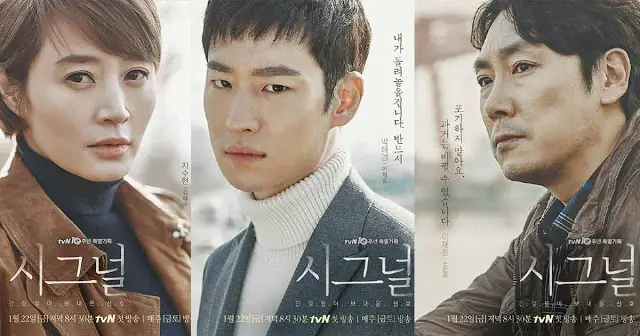 Probably one the most loved dramas of 2016,
Signal
시그널 is the crime thriller that will have you begging for more and leave you speechless with its emotional trajectory. Its fusion of time travel and crime makes it unique and fresh, a drama worth recommending to anyone regardless of whether they're a devoted K-drama fan or not…yea. It's
that
good.

Signal tells the story of Profiler, Park Hae Young played by Lee Je Hoon who has deep resentment and mistrust for cops despite being a part of the police organization himself. Having struggled as a child to convey valuable information about one of his classmates being kidnapped, he holds bitterness in his heart when the case is left unsolved and shelved.
While meeting a reporter at a cafe about celebrity news, mainly couple scandals, Park Hae Young gets arrested by veteran Detective, Cha Soo Hyun played by
Kim Hye Soo
who believes him to be a celeb stalker. Taken to the police station under a misunderstanding, Hae Young finds a walkie talkie there and connects with Detective Lee Jae Han played by
Jo Jin Woong
, and it becomes the catalyst that breaks down the walls of time.
Lee Jae Han believes Park Hae Young is a fellow cop, communicating with him in the year 2000 for the case of Park Hae Young's missing classmate, from 16 years ago. Their ability to communicate allows the Detectives to uncover crimes during their time periods respectively, solving the unsolvable and removing the dust off files labeled as cold cases.
The cinematography is beautiful, while each episode is intense and thought provoking. It will have you fall in love with the cast and writer, acclaimed for what she's done in Signal. The hype and recognition for this drama is real and rightly deserved – you'll be giving it a standing ovation, I know I did. ?
Release Date: January 22, 2016 (Eng Sub available on Viki)

Rate your favorite Korean dramas in 2016.