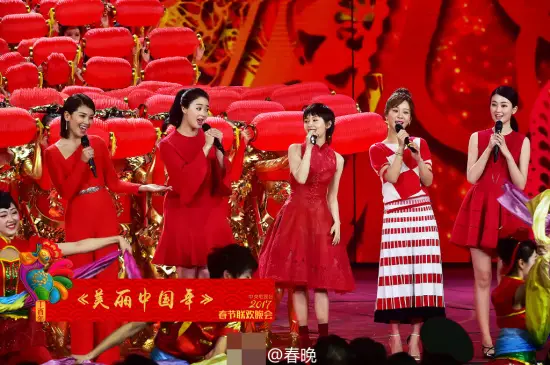 Wishing everyone a happy year of the rooster and lots of yummy food! It seems only fitting to cover the Spring Festival Gala held on January 27, which showered audiences with a grand affair of skits, acrobatics, traditional dances, martial arts and star-studded performances across five locations that include Beijing, Shanghai, Sichuan, Guilin and Harbin. 

I never actually sat through one of these because the entire thing always seemed too political and scripted down to the last detail. Even so, we like pop culture here so I'm sure I'm not the only excited to see the Ming brothers and Ode to Joy Ladies reunite.
The first performance featured TF Boys Wang Jun Kai, Wang Yuan and Yi Yang Qian Xi as well as Ode to Joy ladies Liu Tao, Jiang Xin, Olivia Wang, Yang Zi and Qiao Xin all smiles, vibrant and clad in red to give an upbeat rendition of Mei Li Zhong Guo Nian.
Despite earlier reports, Jin Dong was sadly not part of the final lineup though Hu Ge and Wang Kai were present to sing Zai Ci Ke. I often see actors singing as part of the job but seriously, how is it that most of them seem to have been blessed with impressive vocals?!
Many young and veteran performers graced the evening bringing varied styles that range from modern to folk. Luhan and Zhang Yixing Lay had separate performances of their own where they partnered up with William Chan and Jing Boran.

Last but not the least, what's a grand event without the man himself as esteemed actor Jackie Chan passionately sang a song about loving one's country. 
The event is on youtube, a whopping 5 hours and 37 minutes including pre-show and commercials. Here's a breakdown in case like me, you don't intend to watch the whole thing. 
44:59 Mei Li Zhong Guo Nian by TF Boys and the Ode to Joy Ladies 
52:13 Dance exhibitions across Beijing, Shanghai, Sichuan, Guilin and Harbin
1:15:27 Zai Ci Ke by Hu Ge and Wang Kai 
1:39:35 Tai Yang Chu Lai Xi Yang Yang by Hacken Lee and Charlene Choi
2:21:43 Ge Cong Li Jiang Lai by Zhang Xin Zhe and G.E.M.
2:24:16 Dai Shang Yue Guang Shang Lu by Ma Tianyu, Guan Xiao Tong and Wang Jia
2:49:13 Ai Ni Yi Wan Nian by Luhan and William Chan (originally by Andy Lau)
3:54:46 Jian Kang Dong Qi Lai by Zhang Yixing Lay and Jing Boran
4:12:49 Qian Nian Zhi Yue by Han Hong
4:22:27 Guo Jia by Jackie Chan
4:26:29 Meng Xiang Zhi Cheng by Coco Lee and JJ Lin