The rebellion that turns the tide in favor of the the good guys doesn't leave much room for conflict and what remains is a finale chock full of emotional goodbyes.

Everyone meets their end, some more literally than others though there's no better conclusion than seeing Tiffany Tang and Luo Jin get together in real life. Apparently, they also sang the beautiful duet at the end of every episode, which I may have been guilty of skipping because I had no idea it was them until now. [spoilers ahead]
Episode 54 begins with Tuo Ba Jun's (Luo Jin) collapse, which sends Weiyang (Tiffany Tang) into a state of a panic upon realizing that Tuo Ba Jun did not take the antidote. Tuo Ba Yu (Vanness Wu) divulges that there was only one antidote in the world (the one that Weiyang drank).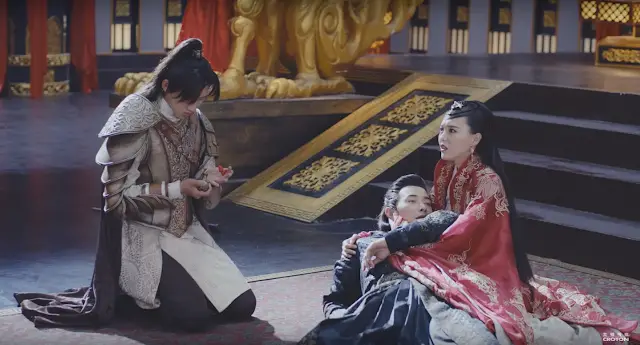 The next series of events progress in a flash. Li Min De (Liang Zhen Lun) kills the eunuch to prevent him from escaping while Changru (Mao Xiao Tong) accidentally plunges the sword through Tuo Ba Yu who shielded Weiyang from Changru's attempt to kill her. 
Tuo Ba Yu asks Changru why she did it but Changru deflects the question back and the two lament over their mutual obsession towards an unrequited love. 
Changru asks, "If there was no Weiyang, would I have been your wife?" Tuo Ba Yu responds, "Sorry, I have let you down." 
She then pulls Tuo Ba Yu into a tight embrace to follow him even in death.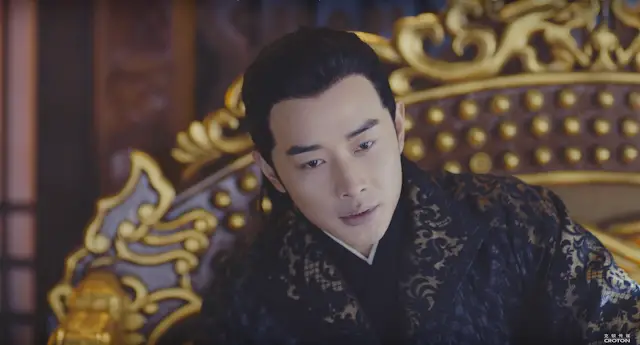 Meanwhile, the imperial doctor informs Tuo Ba Jun that he has five to ten years left to live because the most he can do is delay the effects of the poison since there is no way to remove it completely. 
Tuo Ba Jun asks that the doctor and Li Min De keep the truth from Weiyang so that she can enjoy the time they have together.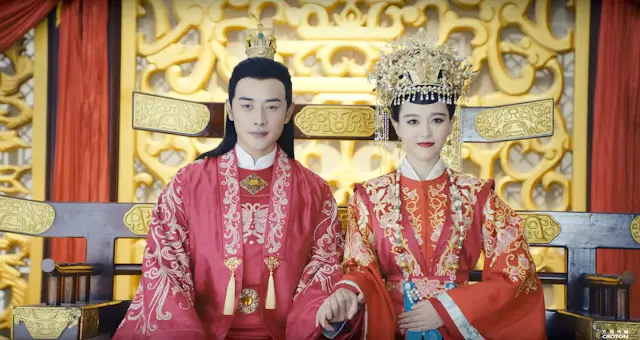 Weiyang and Tuo Ba Jun finally get married as emperor and empress though the joyous occasion has a hint melancholy due to Tuo Ba Jun's ailing health. I never paid attention during the trailer but it makes sense that Tuo Ba Jun's half of the frame is noticeably dimmer compared to Weiyang's vivid radiance.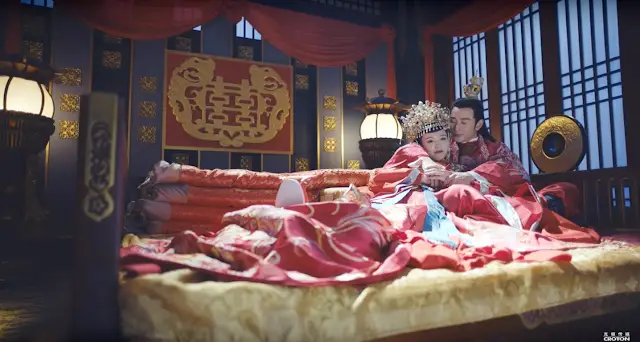 They muse at the long time it took to arrive at the moment (no kidding, it took 54 episodes in total) and 
Tuo Ba Jun declares that he would have waited a lifetime and the lifetimes after that just for the very same moment. Weiyang agrees that she would have done the same.
After hearing that Tuo Ba Di (Yukee Chen) is in critical condition, Li Min De rushes back to her side with tears streaming down his face and j
ust when all hope seems lost, Tuo Ba Di returns from the brink of death elated at the sight of Li Min De. They get engaged and they share kiss number 100 and kiss number 101 because the princess has apparently been keeping count.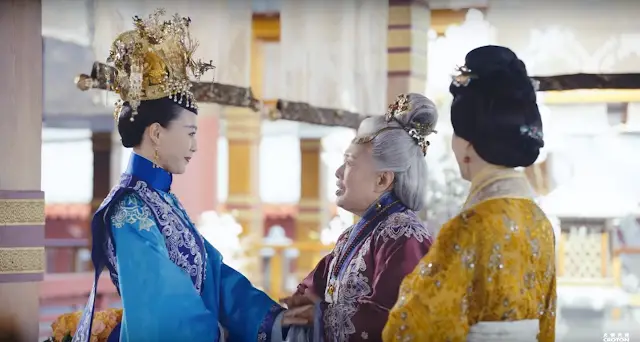 Tuo Ba Jun's first order of business as king is to right the wrongs and reward the good. 
He
 exposes the treasonous acts committed by Tuo Ba Yu and Li Chang Le, stripping Chang Le of her status as a noble and forcing her into slavery while 
Weiyang bestows the highest honor to her grandmother and mother on the orders of the king.
Despite being confined to live out her days in an abandoned manor, Chang Le  (Li Xin Ai) shows no sign of remorse as she
laughs that Tuo Ba Jun cannot kill her because he doesn't have evidence to prove that she murdered his mother.
She admits the crime to his face, which is reason enough for Tuo Ba Jun to order her death by poison. 
Chang Le demands that Tuo Ba Jun do the deed himself but he tells her that she is not worthy. 
The next scene jumps years into the future with the appearance of Weiyang and Tuo Ba Jun's little boy. T
he poison seems to be have gotten considerably because Tuo Ba Jun struggles to keep it together before receiving the audience of Weiyang and their young prince.
The next scenes shows more of the same as the doctor declares that Tuo Ba Jun has reached his end. 
Tuo Ba Jun orders the doctor to keep it a secret as usual but Weiyang breaks down in tears clearly aware of the entire situation. 
The couple spend some time in the center of a flower bed where Tuo Ba Jun draws his last breath and the
 last scene shows the young prince ascending to the throne alongside Weiyang as the Empress Dowager.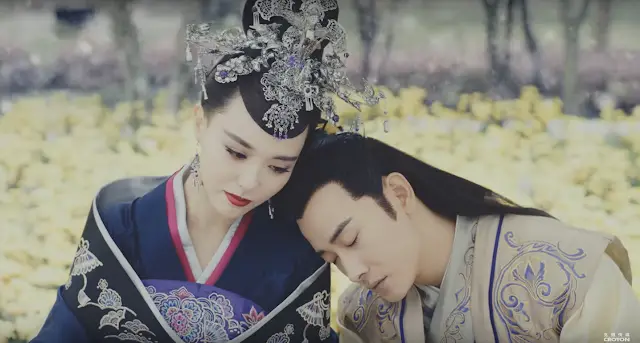 Final Impressions:
As someone who lives for storybook endings, this may be the first time that I feel at peace with a sad ending. 
Maybe it's the comfort in knowing that the main OTP's fictional romance lives on in real life or maybe it's because I've spent the entire series preparing for the bitter end due to a trailer that inadvertently gave everything away when it showed that one scene of Weiyang and her kid.
D
on't get me wrong, I thoroughly enjoyed the show, which is tragic when it needs to be and generous with the comeuppances, making it infinitely satisfying to watch. And the sweet romances among the many couple pairings are worth rooting for as well.
In hindsight, the last episode seems like the weakest link in a series with many up and downs because the villains get an easy way out especially Chang Le whom I feel deserved so much worse (I'm evil you see). 
Funny thing is… nothing significant happened other than waiting for Tuo Ba Jun to die but he kept pulling through until the very last moment leaving no time for anything else. 
Despite the episode being needlessly long, it was a nice touch to give the long-running series a proper sendoff.