Have you ever felt like you've been lulled into a false sense of security only to be completely blindsided later on (coughs, the election)? That's how I feel about 
Legend of Chusen
 诛仙青云志, which showed promise in the episodes leading up to the finale yet ended so abruptly that I still can't get my head around it. There's 
a season 2, right? Spoilers ahead. 
The final episode begins with a tense standoff between Gui Wang's army and Qing Yun's equally intimidating lineup, their ranks so massive that it stretches across the screen. 
Gui Wang tells Master Tian that he'll spare the students if Tian hands over the Zhu Xian Sword but Master Tian declines and literally every character in the series is swept into a rumbling battle as they fight for their lives.
Zhang Xiao Fan (
Li Yi Feng
) manages to hold the fort as he takes over the fight against Gui Wang but he becomes gravely injured after Gui Wang deals a critical blow. 
Just then, Dao Xuan, Qing Yun's headmaster, soars through the sky and surrounds himself with countless flying swords that he unleashes in a concentrated attack directed at Gui Wang. It works, successfully breaking the barriers of Gui Wang who doubles up in defeat. 
To everyone's surprise, Dao Xuan reorganizes his flying swords so that it takes the shape of the Zhu Xian Sword because of a voice inside his head that urges him to eliminate Xiao Fan who is a threat for being the only person in the world to possess both Qing Yun and Tian Yin techniques and the power of the ominous red stone.
Xiao Fan is stunned upon realizing what his master is about to do and he wonders what he did wrong to deserve such treatment. 
Dao Xuan renders 
everyone immobile except for Bi Yao (
Zhao Li Ying
) whose overwhelming desire to save Xiao Fan wins out as she heads straight to intercept the fatal attack. She pays for it with her life and she falls into the arms of Xiao Fan who is left in utter despair. 
The scene shifts to Gui Wang's headquarters where Xiao Fan has been forcibly taken to though he remains in shock while replaying his memories with Bi Yao in his mind
. 
Qing Long (
William Yang Xuwen
) tries to knock some sense into Xiao Fan because Gui Wang has important matters to discuss.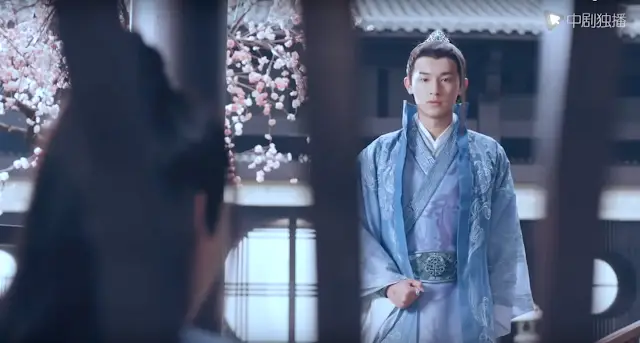 The ensuing dialogue between Gui Wang and Xiao Fan is more of the same as they express regret over the events that have come to pass. Xiao Fan blames Gui Wang for his misguided ambition to take over the world and Gui Wang blames himself for allowing Xiao Fan to return to Qing Yun. 
Gui Wang wishes that Xiao Fan died instead and Xiao Fan can only agree because after all is said and done, they would have done anything to keep Bi Yao safe. 
Gui Wang presses whether Xiao Fan ever expected that Dao Xuan would point the Zhu Xian Sword at him or that the evil sect that he despised so much would be the ones to save him. None of it matters anyway because Bi Yao clings by a strand of her life. 
Xiao Fan realizes that he can bring Bi Yao back in the same way that he was brought back from the dead but they must perform a ritual in order for her to survive long enough to receive the cure.
Before doing so, he bears his soul to an unconscious Bi Yao admitting that the reason he could never commit to her was because he knew that holding out meant that she would keep chasing him for an answer thus giving them more opportunities to see each other (that's some twisted logic but okay). 
Nevertheless, he blames himself for refusing to leave with Bi Yao before it was too late. Gui Wang walks in and the ritual begins. 
Cang Song chooses this moment to attack, defeating Qing Long in the process. A black mist comes out of nowhere to save the day and it transforms into Gui Wang whose towering presence causes Cang Song to retreat. It is just a front however as Gui Wang falters after Cang Song leaves.
Meanwhile, Lu Xue Qi (Yang Zi) suggests that Qing Yun make the first move to demolish what remains of the evil sect. Everyone concurs and they also agree to make make it a priority to save Xiao Fan.
The evil sect regroups as well with Qin Wu Yan (Mao Zi Jun) volunteering to help Xiao Fan in his quest to find a cure for Bi Yao and Jin Bin Er (Jiao Jun Yan) pledging allegiance to Gui Wang once again. Finally, 
the scene shifts back to Xiao Fan who arrives at a familiar backdrop and envisions that Bi Yao is right beside him. 
| | |
| --- | --- |
| | |
Final Impressions: Episode 55 starts with a bang thanks to impressive action sequences and a generous amount of computer generated effects that make everything surreal yet grounded enough in reality as far as realism goes for a fantasy wuxia. 

And then comes the highly-anticipated climax where Bi Yao throws herself into the line of fire for the sake of her true love. It allows Zhao Li Ying the chance to shine as an actress yet forces the spotlight on Li Yi Feng who is visibly lacking in comparison. I hate to say this as a fan but Li Yi Feng cannot do drama and opening his eyes really wide does not count as grief.

Even so, the first ten minutes that ends with Bi Yao's sacrifice is the best part of the episode while the rest seems rather uneventful, leaving me with the need to rant because of an ending that begs more questions than answers. 

How did Gui Wang and his men who were on the verge of losing escape with Xiao Fan? How on earth can everyone in Qing Yun pretend like their headmaster didn't just try to murder Xiao Fan? And they want to bring him back?! 

Maybe novel readers can shed some light because I refuse to believe that the ending is the ending especially because Xiao Fan's alter ego Gui Li has barely appeared.
If you are a fan of Chinese novels, also check out Chinese to English translations on volare.