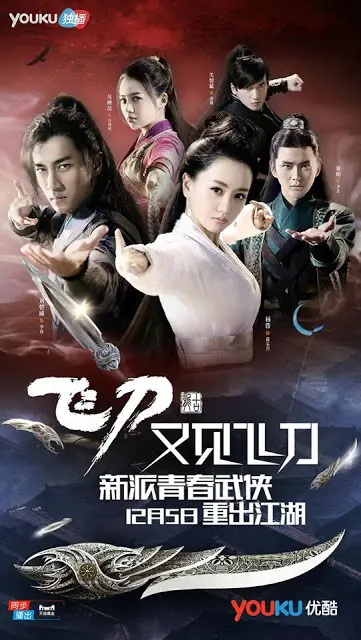 Legend of Flying Daggers 飞刀又见飞刀 is stylish and wuxia sleek in its latest batch of posters that feature Hawick Lau (Legend of Jade Sword), Yang Rong (Memory Lost), Huang Ming, Emma Wu and Kenny Kwan (Classic of Mountains and Seas). 
Also joining the cast are
Yuan Bing Yan
(Mystic Nine),
Howard Huang
(Liu Shan Men),
Kevin Yuan Kuan
(Three Heroes Five Gallants),
He Zhong Hua
and
Zong Feng Yan.
It's a mouthful to say because there's so many of them, a lot of whom I recognize and look forward to seeing in the flesh. T
he Gu Long novel adaptation is is a widely-read classic promising lots of hard hitting action and romance with not one but a few couples in their own sweeping love lines. The series begins on Dec. 5, 2016 releasing one episode per day on Youku.