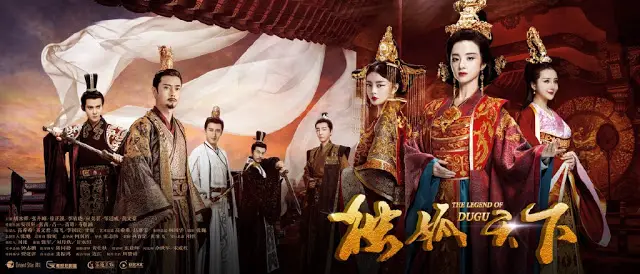 The Legend of Dugu
独孤天下 is a 55-episode Chinese TV series loosely based on the life of Dugu Jialuo, the first empress of the Sui Dynasty. The story takes place
 near the end of the Northern Southern Dynasties when the world was in chaos.
Aside from the palace politics, this is a drama that should be big on the romance as it features a couple pairing very much in love played by Hu Bing Qing and Zhang Dan Feng
. 
A prophecy bearing the words 'Alone in the World' reverberates across the lands to imply that the Dugu Family is destined for great things. Because of it, the attention turns to Dugu Xin, a righteous public official and his 
three daughters, each of them blessed with stunning beauty and intelligence.
Ady An plays the eldest daughter Dugu Banruo, an ambitious woman who has her heart set on becoming the empress no matter the price. Li Yixiao plays Dugu Mantuo, a woman greedy for wealth and status. She refuses to marry Yang Jian and shrewdly finds a better match for herself. 
Hu Bing Qing
plays the titular lead Dugu Jialu, the youngest of the sisters who carries the burden for her family.  
Release Date: February 21, 2018 Tencent
For synopsis, cast and ratings, see 2018 Chinese dramas.