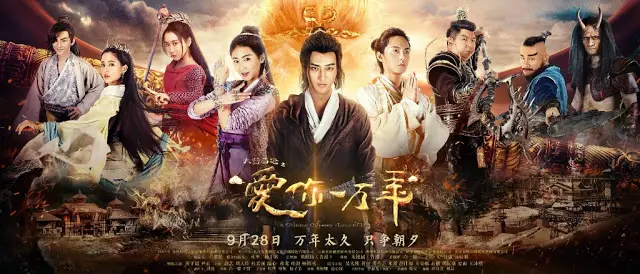 A Chinese Odyssey: Love of Eternity
 大话西游之爱你一万年 is a 54-episode Chinese web series starring
Huang Zitao 
(Les Interpretes 2),
Zhao Yi
, 
Yin Zheng
(Classic of Mountains and Seas
),
Liu Tianzuo 
and Wen Xin. 
It is loosely based on the 1995 film starring 
Stephen Chow which has enjoyed a cult following for so many years that it even earned a 
third sequel
more than twenty years later. The drama keeps the same unconventionality hat brings in time-traveling heroes and a Pandora's Box to the timeless tale of Journey to the West. 
In fact, it is directed by Jeffrey Lau who worked on the film versions as well.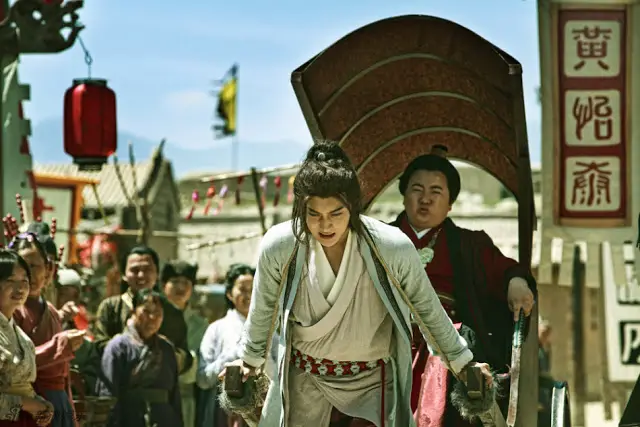 Five hundred years ago, Zi Xia descends to the human realm to find Zhi Zun Bao. He is the man that she loves and the person who pulled out the Zi Qing Sword. However, the sword gets damaged along the way and she uses the time traveling ability of the pandora's box in hopes of repairing it. She ends up five hundred years later and meets Zhi Zun Bao with no recollection of his past life. He is the leader of a gang of outlaws called the ax gang and has been spending time with Bai Jing Jing. 
The plot then takes on a whole new level of craziness that involves more time traveling and outrageous happenings. 
Former EXO member
Huang Zitao
 takes the lead in his first Chinese drama and whether he will rise to the occasion remains to be seen especially because the role of Monkey King is an iconic one previously played by A-listers like 
Jet Li
,
Stephen Chow
and
Aaron Kwok
. 
Just my two cents, I think he'd be great as Monkey King given his background in martial arts. 
Considering that A Chinese Odyssey 3 was widely panned for failing to live up to the classic, I'm really hoping that the drama fares better although looking at the styling and costumes, I'm a little worried that it'll go over-the-top ridiculous but who knows, that could work too.  
Release Date: September 2017 iQiYi, LeTV, Tencent QQ, Mango TV (two episodes every 8pm from Thursday to Sunday)