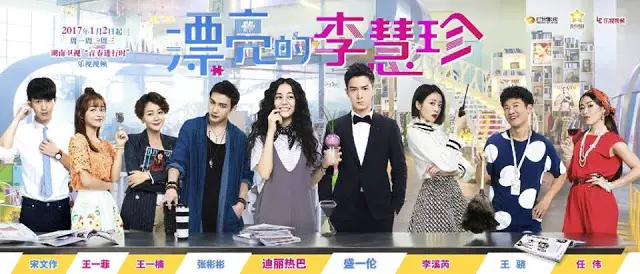 Pretty Li Hui Zhen 漂亮的李慧珍 is the Chinese remake of She Was Pretty, a hit k-drama that aired on MBC in 2015. 
It tells a reversal of sorts when the beautiful swan turns into an ugly duckling while her childhood friend who was the fat kid on the block grows up to be the opposite.

Dilraba Dilmurat (Liu Shan Men), Sheng Yi Lun (Go Princess Go), Li Xi Rui and Zhang Bin Bin (Just One Smile is Very Alluring) headline as the leads. It's hard to associate Dilraba Dilmurat who is of Uygher descent as anything but gorgeous and to be honest, the uglified version of her is still pretty, which makes the show a tad less convincing.

Even so, I have developed a newfound appreciation for Chinese rom-coms ever since Love O2O, so I'm actually really excited for this. Moreover, its Korean predecessor, which I never had the chance to see received such raving reviews so pardon me for repeating myself but yes, super excited.
Release Date: Jan. 2, 2017 Hunan TV (eng subs on Viki)

If you are a fan of Chinese novels, you can also check out Chinese to English translations on volare.