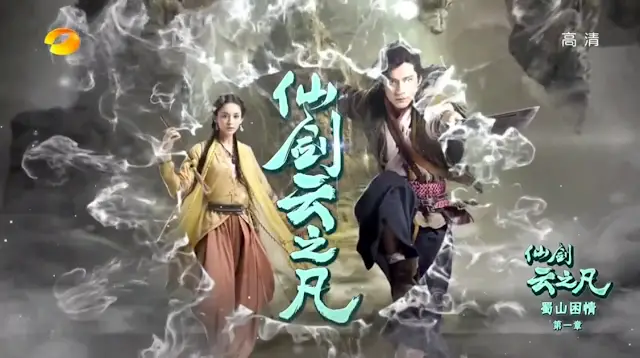 Chinese Paladin 5 Yun Zhi Fan (CP5) 
雲之凡 comes back with a tried and tested formula that is familiar yet unique to the franchise, rehashing the
archetypical diamond in the rough, the ravishing female heroine and the quintessential cool guy to match the plucky second lead.
The series is led by Elvis Han, Gu Li Na Zha, Joe Cheng, Gina Jin and Xiao Cai Qi, a beautiful cast as usual and I expected as much from the Chinese Paladin franchise.
Episode 1 begins with a voiceover introducing the events 20 years ago when Jiang Shi Li allegedly colludes with the You Min Tribe, immortals expelled by the Goddess Nu Wa, to take over the human race. 

In the name of good, the Four Great Houses and the Seven Saints of Mountain Zu launch an attack to destroy the alliance. Jiang Shi Li is defeated and captured in a pool of red blob but not before he sends his pregnant wife to safety (so many against one, it's hardly a fair fight).
In the present, Jiang Yun Fan (Elvis Han) is a foolhardy lad under the care of the big bandit, his protective godfather, who wishes for Yun Fan to live a happy and carefree life just 
as his birth mother entrusted.

After a job that goes off without a hitch, the gang is astonished to discover that the treasures they lugged back to camp are merely eight men bound men kept in a box. Determined to find the real treasure, Yun Fan takes it upon himself to interrogate the head eunuch only to be knocked unconscious by a hooded figure.
Up in the air, a blue shadow soars at full speed towards the Mountain of Zu. Sensing the presence of a demonic aura, the Seven Saints of Zu Mountain rush to secure the blood jade which has engulfed Jiang Shi Li for the past 20 years. 

Long You (Joe Cheng) succeeds in breaking the stone but soon notices that it regenerates with surprising ease. Since the Seven Saints are at his trail, Long You retreats while expressing amusement at his current predicament. 
Long You is the 2nd Prince of the You Min Tribe and he learns that only a half man half human can wield the Fu Xi Sword that is powerful enough to shatter the blood jade once and for all. 

This person is none other than Jiang Yun Fan, Jiang Shi Li's long lost son who wakes to realize that he lost all the captives during his watch. Ashamed, he writes his godfather a letter saying that he is leaving to hunt down the missing hostages. 
Along 
the way, Yun Fan meets Tang Yu Rou (Gu Li Na Zha) as she is caught in a skirmish with a band of demon monkeys. Always the courageous man, Yun Fan runs to save the damsel in spite of Yu Rou being more than capable of handling her own as she helps him in the background.
Yun Fan takes Yu Rou back to camp where she is welcomed with open arms except for Cai Wei
, the lone woman who finds something fishy behind Yu Rou's seemingly innocent persona. Upon discovering her medical skills, the men line up with their respective ailments and in order to find herbs, Yun Fan and Yu Rou head up to the mountains.
First Impressions:
Despite being a fan of Elvis Han in Monster Killer, I find him oddly out of place in ancient garb. Apparently, so do netizens who pick on his auburn hair and the fact that he isn't Hu Ge. However, I refuse to stay fixated on appearances because that aside, Elvis Han has been decent as the unpolished hero of CP5.

While CP5 does not pack the same punch as CP1, in its defense, the original had the advantage of a fresh concept, enamoring viewers with iconic characters made more memorable thanks to a spectacular soundtrack. CP5 on the hand has enormous expectations to live up to, and for the most part, it manages to entertain.

Besides, talk about contrasting opinions because Joe Cheng and his blue mane is a clear winner. As an actor who got his break in Taiwanese rom-coms, he is killing it in his first foray into Chinese martial arts dramas by becoming the living and breathing incarnate of a prince from the underworld. Is he evil or is he not? I have to know (fangirls)! Continue to episode 2 recap.

For synopsis, cast and ratings, see 2016 c-drama recommendations.