"If a person becomes neither human nor ghost, should it keep on living?", ponders Tang Yu Rou (Gu Li Na Zha) following a thoughtful conversation about an evil that turns humans into monsters.

She takes out her flute and plays a melody that evokes Jiang Yun Fan's (Elvis Han) memories of his mother. Just as he did as a child, Yun Fan promises that he will stay by her side and that there is hope in everything. Surprised at the sudden words of comfort, Yu Rou denies feeling sad and stresses that she is simply playing music.
On the way home, Yun Fan and Yu Rou become increasingly anxious that they are being followed, which is true enough as a ginormous gorilla appears in their midst.
Yu Rou orders Yun Fan to grab her hand, earning a silly smile from him at the thought of warranted intimacy. She uses her powers to fly themselves to safety and a fight ensues until Yu Rou stuffs a magical herb down the gorilla's throat to reveal nothing but an unassuming man.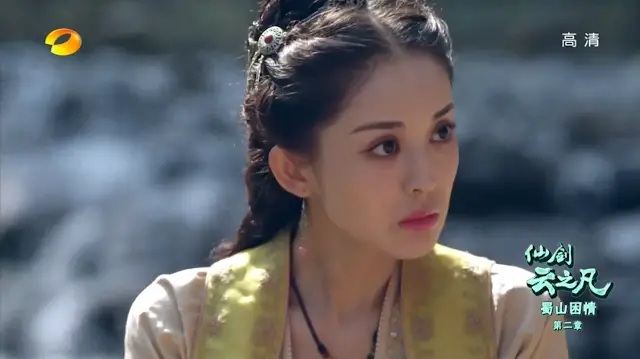 Yu Rou attempts to tend Yun Fan's wounds only to realize that it has already healed. Yun Fan admits to having a unique ability and boasts that he has never been sick, saving his godfather loads of medical bills.

Back at camp, Yun Fan pulls a classic Yun Fan by exaggerating his role in the fight, much to everyone's excitement except for Cai Wei who remains skeptical.
While Yun Fan is out hunting, a shadow attacks and it turns out to be the gorilla man from before. Fortunately, Long You (
Joe Cheng
) arrives in time to defeat him and his eyes flash with a hint of recognition upon seeing the gorilla man in possession of a certain glowing stone.
Yun Fan is impressed by his savior's fighting skills and they exchange niceties that consist mostly of Long You's stoic glares and one liners. When asked what he would like as a thank you, Long You utters, "water." 

They walk to a nearby stream where Long You gulps down water like it's the best thing in the world. And of course, no scene is complete without the quintessential bath scene.
Cai Wei is still perturbed over Yu Rou's identity so she drags Yun Fan to sneak a peek. However, they're both in for a shock when something comes bursting through Yu Rou's door and neither of them notice that it is none other than a blown up version of Yu Rou.
Apparently, her transformation from petite to gigantic is her best kept secret and also the reason why her father captured eight men as sacrificial lambs to rid Yu Rou of her affliction.
Given that Cai Wei fell unconscious after seeing the thing come out of Yu Rou's chambers, the bandits begin to suspect Yu Rou.
Comments: Aww, the episode is cute if you don't take it too seriously. Though I gotta say, what message is it trying to send? Yu Rou doesn't look like a monster at all, bigger yes, but at the end of the day, it's still her. It's a pun on Shrek and Fiona, I suppose.
Chinese Paladin 5 Episode 1