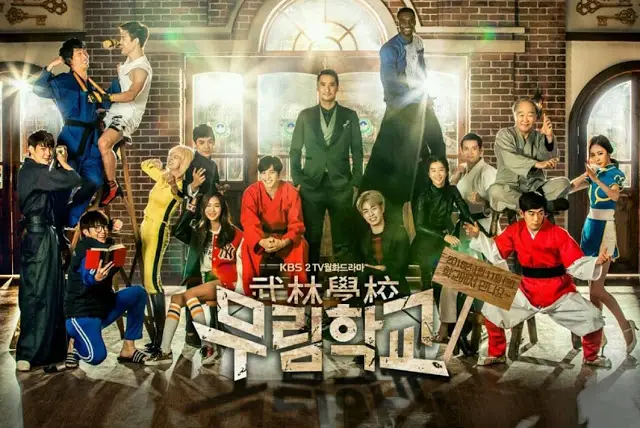 KBS2 college drama Moorim School started airing last week. Moorim is the Korean word for wulin (武林), a word every wuxia fan would know. But for those who don't, Moorim School translates in English to school of martial arts. I normally don't find school dramas appealing anymore, but I'm a sucker for dramas with this kind of concept.

Episode 1 begins with an action-packed chase through the forest where a man carrying a little girl runs from a group of assassins. Fast-forward eighteen years later and we are introduced to Yoon Shi Woo, Korea's hottest idol whose peaceful sleep is disrupted by an ear piercing sound that seems to be a common occurrence for him. 
Lee Hyun Woo's character as Yoon Shi Woo is your quintessential male lead who has it all except for a nice personality whereas the female lead Seo Ye Ji as Sim Soon Duk is the exact opposite. She is bright, cheery and working non-stop to support her family. Of course, she also happens to be a student at the mysterious Moorim School, which we only hear about thus far. 
To complete the love triangle, Hong Bin portrays Wang Chi Ang, the illegitimate son of Chinese-Korean parents and heir to one of the biggest conglomerates in China. For reasons we do not know, his father is determined to send Chi Ang to Moorim School going as far as to arrange his son's kidnapping. Chi Ang almost drowns trying to escape but fortunately for him, he is saved by his new love interest Sim Soon Duk and even meets her quirky family in the process.
Last but not the least, the triangle might be a square after all with the addition of Jung Yoo In as Hwang Sun Ah, another student from Moorim School who saves Yoon Shi Woo from a falling strobe light. She is also the reason why he will decide to go to Moorim School. 
First impressions:
Maybe my expectations were through the roof, think Volcano High, one of
my most favorite movies
ever. However, Moorim School falls short in the sense that it is not as funny, the actors are so-so and actress Seo Ye Ji's over-exaggerated expressions were a bit too much.
The main leads are all fresh faces to me except for Lee Hyun Woo who was the goto child actor in a number of dramas that it would be a crime not to recognize him. That said, it is too early to give a verdict and I haven't even seen the inside of Moorim school yet so I'm hoping next episode will be better. But seriously, check out Volcano High, a movie starring Jang Hyuk and Shin Min Ah way back when.
Release Date: January 10, 2016 (eng subs on viki)