I grew up watching TV adaptations of Jin Yong and Gu Long novels, two brilliant authors who have created a world of wuxia that has captivated so many to this day and unsurprisingly, a lot of their works make my top 20.
I believe that having major withdrawals is a good gauge of how good a show is and trust me, most if not all the shows below left me nostalgic for days. The list is not in any order because it's too difficult to choose though my number one pick rightfully deserves the top spot.
Nirvana in Fire is the best c-drama and I still stand by it no matter how many years has passed. It doesn't matter if one man's unyielding quest for revenge is not your cup of tea because it's worth the watch. Even though NIF is the type of show where each and every character is integral, Hu Ge in the titular role of Mei Changsu certainly takes the limelight. 
# 2
Heavenly Sword and Dragon Sabre (Yi Tian Tu Long Ji)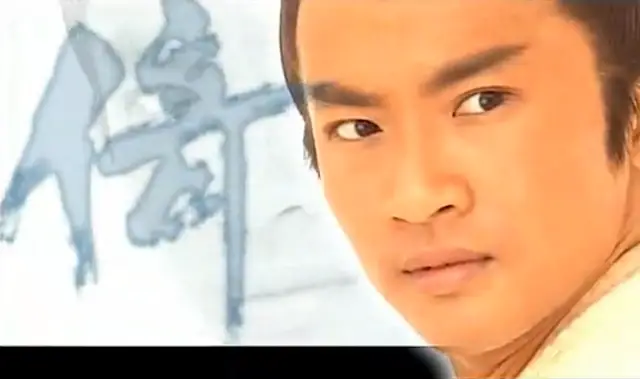 Due to the fight over the heavenly sword and dragon saber, a young boy becomes orphaned and on the brink of death, yet he encounters extraordinary circumstances that pave the way for him to become a martial arts hero.
The 2003 version above is a personal favorite where almost everyone is perfectly casted, especially Alec Su and Alyssia Chia who had amazing chemistry as the main couple.
Yet I say almost because the 1993 version starring Sun Xing as the morally ambiguous Yang Xiao is irreplaceable (left). Sun Xing really would have fit the bill in the 2003 version but
 the role went to Zhang Tie Shan (right). 
# 3 
Demi-Gods and Semi-Devils (Tian Long Ba Bu)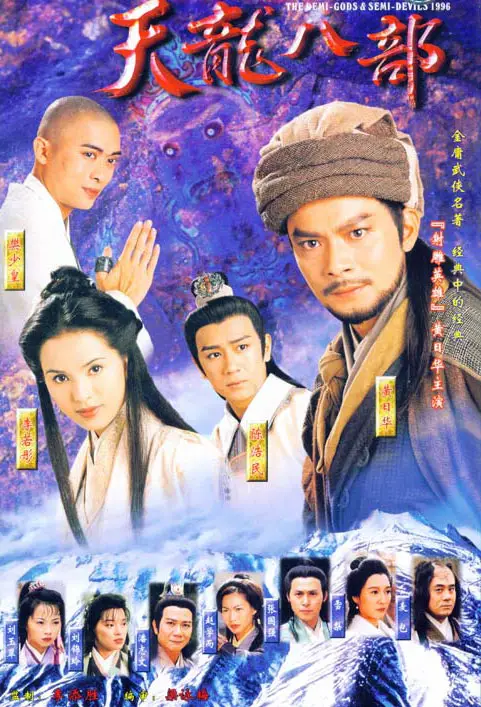 Qiao Feng, Duan Yu and Xu Zhu form a pact to become blood brothers. The 1997 version above is one of many adaptations, not to mention the movie version starring Brigitte Lin, Gong Li and Sharla Cheung, which you can watch 
here
.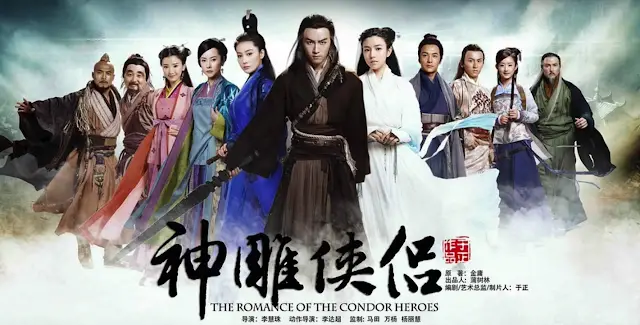 Return of the Condor Heroes takes the cake for the most romantic wuxia about the forbidden love between Yang Guo and his martial arts teacher Little Dragon Girl (Xiao Long Nu). 
Yang Guo is a good guy often branded as a bad guy and you see, I've always had a soft spot for misunderstood heroes…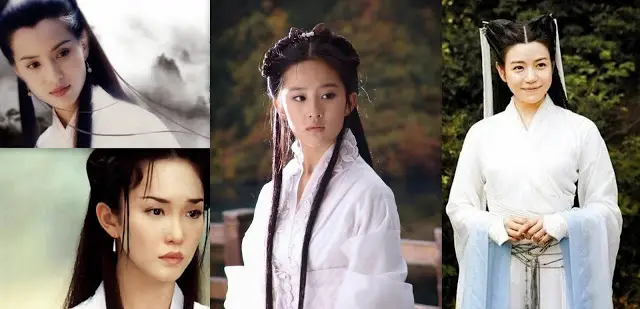 Xiao Long Nu on the other hand is a martial arts expert known for her ethereal beauty, which is why getting the right actress to play her can be quite a challenge. Above are Carman Lee, Fann Wong, Crystal Liu and Michelle Chen, four of the most recent actresses who played the iconic character. 
# 5
Xiao Shi Yi Lang
If you like Jin Yong's Return of the Condor Heroes, then you might like Gu Long's equivalent depicting a forbidden romance between a bandit and a lady. Theirs is a convoluted world of martial arts where the gentleman preaching chivalry and honor are the very hypocrites with a complete disregard for it.
# 6
Royal Tramp / Duke of Mountain Deer (Lu Ding Ji)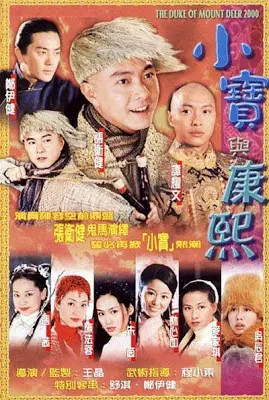 This is the comedic choice out of the bunch of Jin Yong novels. Wei Xiao Bao may be a gallivanting womanizer but he is a true hero nonetheless, willing to sacrifice his life for the sake of his country.
# 7 Flying Daggers (Fei Dao You Jian Fei Dao) 

Filled with a tinge of melancholy and for good reason, Flying Daggers is about Li Huai, a kind-hearted man who loves unconditionally. However, the woman he loves is determined to avenge her father at all costs pitting them against each other.
# 8 The Legend of the Condor Heroes (She Diao Ying Xiong Zhuan)
This is the prequel to the Return of the Condor Heroes and it adds great insight into the Jin Yong verse especially relative to the Condors Trilogy.

# 9 Swordsman (Xiao Ao Jiang Hu)


Swordsman is the last of my favorites in classic wuxia and similar to the rest, it emphasizes Confucianism teachings such as filial piety, moral values and honor, telling the story of a martial arts student who discovers that the lines between good and evil are often blurred.
From here onwards, the list goes on to include a variety of period dramas.
# 10 A Step Into the Past
An old TVB series about a cop who travels back to the Qin Dynasty. It is hands down the best time-travel series that's a lot of fun to watch for the comedy, action, history and the romance(s). A remake starring Chen Xiang and a movie starring Louis Koo is in the works. 
# 11 Ten Miles of Peach Blossoms
Bai Qian is a fox goddess from Qing Qiu while Ye Hua is a powerful prince from the heavens. Their destinies were fated to cross even before they first met and their ensuing love story continues across three lifetimes. This is undeniably the most beautiful, ethereal and elegant costume drama on the list, and at its core is a sweeping romance that hits you in the gut.
# 12 Princess Weiyoung
A princess is forced to take on a new identity after losing her home and her country. Rather than an epic revenge, expect an epic romance that has all the historical drama tropes you can think of, but done so well that it is crackingly good. 
# 13 The Prince of Lan Ling (Lan Ling Wang)
If you can laugh off the cheesiness, Lan Ling Wang is a wholesome historical drama with romance, heroism, humor and action all rolled into one. The best part is that it is not a novel adaptation so it's nice not to know the plot for a change.

# 14 My Fair Princess 
My Fair Princess which is one of the most iconic works of
 romance novelist Chiung Yao
is quite like a soap opera filled with tears and fist pounding drama. Nevertheless, the show is highly addictive or it wouldn't have made the careers of Fan Bing Bing, Ruby Lin and Zhao Wei.
# 15
Treasure Venture (Xia Nu Chuang Tian Guan)
Shui Ruo Han comes into Lu Jian Ping's life intending to steal the Divine Book by any means necessary. Nicky Wu from Xiao Shi Yi Lang plays the lead and I loved that he's pretty much clinched the role of tortured hero down to a tee. 
Chinese Paladin 1 started a wave
 of fantasy wuxias after proving that pretty idols, pretty costumes and pretty landscapes is an unstoppable combination. 
It tells the story of 
Xiao Yao, a gifted swordsman, Zhao Ling Er, a descendant of the Nu Wa goddess and their group of friends whose young love and earnest passion end up saving the people from the evil clutches of the Lunar Sect Cult.
It is so beautiful that I would watch it regardless of the plot. 
These productions, most of which are produced by 
Tangren Media
,
 complete the rest of my top 20.

# 17 Monster Killer
Monster Killer is underrated but so well-made especially with a premise that aptly puts it under the category of a live action anime. For what it's worth, the special effects actually look decent and I mean that as a compliment.
Liu Shi Shi must choose between Hu Ge and Eddie Peng, enough said. 
An office worker time travels to Qing Dynasty and witnesses history unfolding before her eyes. It sounds run of the mill but quite the opposite given the calibre of talent that has been poured into this drama and it pays off tremendously, even inspiring the k-drama remake Scarlet Heart Ryeo.
# 20 Princess Agents
A slave girl 
rebels against her fate, trains as a spy and eventually goes on to become a hero of the people. It's a show that revels in tragedy and the consequences of such a reality to focus on those that rise up and fight and those who succumb to the wickedness of their surroundings.The plot goes on a spiral downward somewhere along the line (which might make you mad), but it's good when it wants to be and tells a compelling story through an ensemble cast of solid actors. 
Honorable Mentions:

Sword of Legends (Gu Jian Qi Tan)
Sword of Legends is far from perfect but it sure started strong, introducing Baili Tusu, an intriguing character who is just a man trying his best to remain good despite his literal inner demons. He is the underdog that you can't help but root for even if he tends to battle the same demons over and over again.
A group of misfits band together to fight for justice. This is a wuxia-style Robin Hood visually stylized to read like a comic book. It's basically like the k-drama Return of Iljimae though now I'm confused. Is he Korean or Chinese? No fan wars please.